Rotary helps young people with job and placement applications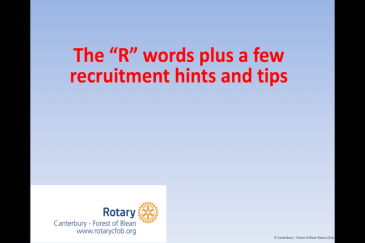 One of our (CFoB) members having been been a STEM Ambassador for many years and presented a wide variety of STEM related items/lectures to students in upper school, college & University about the exciting world of STEM, has over-seen the production of a video ably assisted by fellow CFoB Rotarians.
This short video offers some excellent advice to anyone applying for a job in today's competitive employment market. Covering the 3 stages of the recruitment process, it offers valuable advice on application letters and interview behaviour.
Coinciding with National Careers Week, it will be used from Monday 1st March for students via Canterbury Christ Church University who are entering the National STEM week event. This is an event where students are provided with resources from a wide range of organisations.
To see the presentation click on the image below.
Donations made in Rotary Year 2021/22
Past President David Milham's Charities were Pilgrim's Hospice Canterbury and the Canterbury Umbrella Centre. A concert held in February at the new Great Hall, Kent College with London Welsh Male Voice Choir and three talented students from Kent College raised £4000 split between the charities. A classic car show hels at Canterbury Rugby Club in June raised £3400 for the Hospice plus £2000 for other local Rotary charities and the work the club undertakes young people.
A quiz held at Tyler Hill Village Hall in aid of ShelterBox in January raised sufficint funds to donate 4 ShelterBoxes.
Club President Don Cockrill's Charity for 2022/23
Club President Don Cockrill has nominated Shelterbox, CatchingLives in Canterbury and the Seafarers Charity as his nominated charities for the year 2022/23. The club will continue to support Pilgrim's Hospice by marshalling at the Canterbury Half marathon on August Bank Holiday Monday - the fee of £1500 from race organisers Nice Work has been donated to the Hospice.
A sponsored cycle ride in September has already raised funds to donate 6 ShelterBoxes this year.
Club President Elect Mike Moore's Charity for 2023/24
Club President Elect Mike Moore's Charities will be announced at the Special General Meeting on Monday 14th November 2022.
Lord Mayor of Canterbury's Christmas Gift Fund
Each Christmas club members deliver to the elderly, the lonely and those in need parcels donated by the Lord Mayor's Christmas Gift Fund.