Rotary donates funds raised from the local community to Pilgrims Hospice
Three of our members presented a cheque for £2,500 to Pilgrims Hospice one of the many local charities which is supported by Canterbury Forest of Blean Rotary club with money raised from local people and businesses.
Rotary helps young people with job and placement applications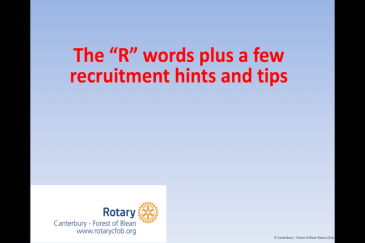 One of our (CFoB) members having been been a STEM Ambassador for many years and presented a wide variety of STEM related items/lectures to students in upper school, college & University about the exciting world of STEM, has over-seen the production of a video ably assisted by fellow CFoB Rotarians.
This short video offers some excellent advice to anyone applying for a job in today's competitive employment market. Covering the 3 stages of the recruitment process, it offers valuable advice on application letters and interview behaviour.
Coinciding with National Careers Week, it will be used from Monday 1st March for students via Canterbury Christ Church University who are entering the National STEM week event. This is an event where students are provided with resources from a wide range of organisations.
To see the presentation click on the image below.
Local Clubs get together to help Thomas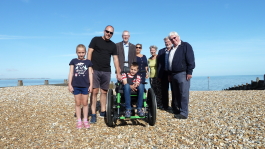 We joined with local Herne Bay, Whitstable and Chestfield Rotary Clubs together with Whitstable Non-Ecclesiastical Society to buy a special tricycle for Thomas Mumford, a child who is seriously handicapped. The tricycle will give him much greater mobility. His parents Caroline and Steve stressed how much easier this has made life for the family.
The photograph shows the Mumford Family with representatives of the donating clubs and the Whitstable Non-Ecclesiastical Society.
Club President Paul Cooke's Charity for 2019/2020
Club President Paul Cooke's nominated charity in the current Rotary year 2019/2020 is Porchlight to support its valuable work with the homeless in Kent and by its Rough Sleeper Team helping people off the streets. As a result of the club's fundraising activities including Country Pursuits Day last September and the Barn Dance to come in May the club will make a substantial donation at the end on the Rotary year. Other local charities will be supported as in the past.
Donations made in the Rotary Year 2018/2019
The club donated £6,000 to Hope for Tomorrow in Immediate Past Club President Les Leslie's year and £5,000 to the Umbrella Centre in Canterbury. Hope for Tomorrow is a national charity dedicated to bringing cancer care closer to patients' homes and which has provided a mobile cancer care unit in East Kent. The Umbrella Centre is a Community Centre located in Canterbury that is open to everybody and particularly provides support to people with mental health problems.
Club President Elect Laurie Wakeham's Charity for 2020/2021
Club President Elect Laurie Wakeham has nominated the Pilgrims Hospices for the club to support in the next Rotary year 2020/2021. For many years club members have acted as marshals for Canterbury Half Marathon, which is a fundraising event in aid of The Pilgrims Hospices.
Festability
A donation of £500 has been made in each of the past two years to Festability, a local charity putting on a Music Festival at Quex Park at Birchington in Kent in May for People with disabilities.
Lord Mayor of Canterbury's Christmas Gift Fund
Each Christmas club members deliver to the elderly, the lonely and those in need parcels donated by the Lord Mayor's Christmas Gift Fund.
Know Your Blood Pressure Day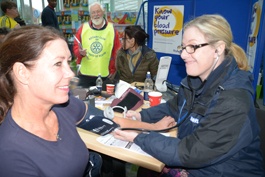 The Club's Annual Know Your Blood Pressure Day will be held on Friday 24th April 2020 at Asda offering free blood pressure checks to shoppers to identify those with dangerously high blood pressure and to publicise its dangers. The event is held in conjunction with The Stroke Association and with the help of stroke specialist nurses from the local NHS Kent Community Health Trust.
Photograph shows: Immediate Past President Les Leslie observing blood pressures taken by the nurses.