Canterbury Academy
We support Canterbury Academy's Sports Scholarship Programme, which offers financial support to those students competing in sport at a very high level, by an annual donation of £500 in order to help to meet the high costs of training and competing. The club also donates a prize at the Academy's Annual Graduation Evening.
Club members conduct CV Training and mock job interviews annually with students to help them to prepare them for the difficult task of seeking employment at the conclusion of their studies.
Kids Out Days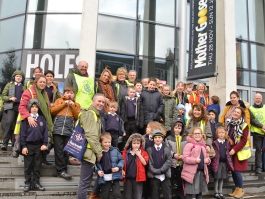 The club organises an annual Kids Out Festive Fun Day to the pantomime to The Marlowe Theatre in Canterbury for autistic and handicapped children. In January children from the Oysters Specialist Resourced Provision at Joy Lane School in Whitstable, from St. Nicholas School in Canterbury for pupils with severe learning needs and from the new Autistic Unit at St. Anselms School in Canterbury, all attended the special "relaxed" performance of Mother Goose specifically designed and adapted for children who are autistic and with special learning needs. The club also provides the children from Joy Lane with a Kids Out event in the summer, which this year will be to Faversham Activity Centre.
Photographs show the children and members of staff from Joy Lane with club members outside The Marlowe Theatre in January 2020 and the children in their seats waiting for the show to start.
St. Nicholas School Canterbury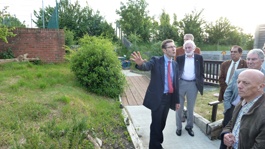 The club also in the past has made donations towards the various projects undertaken by the PTFA of the school, including the refurbishment of the playground area and renovation the school garden, making it more suitable for the use of the children.
The photograph shows Head Teacher Daniel Lewis explaining the use of the garden to club members.
Kent Young Carers Project
Young carers supported by the Kent Young Carers Project are also taken to the annual pantomime at The Marlowe Theatre. Young carers are children whose role caring for other members of their family makes normal childhood activities impossible. They enjoy a backstage visit after the show and meet the stars of the show. Club members then escort the young carers to PizzaHut to enjoy a meal.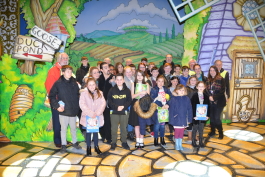 Photographs show Past President Les Leslie on stage after the performance of Cinderella in 2019 and young carers on stage with Ben Roddy after the performance of Mother Goose in January 2020


Try Angle Awards
The annual Spirit of Try Angle Awards organised by the Education and Young People's Services of Kent County Council to celebrate the achievement of young people from across Kent is supported by the club by a donation. The event was last held in January 2020 when four club members attended.
Canterbury Festival's Discovery Workshop for local Schools
The club sponsors Canterbury Festival's Discovery Workshop which provides an arts award delivered in local primary schools, which introduces children to the arts and involves children in the Festival.