Club News 2017 - 2018
Club News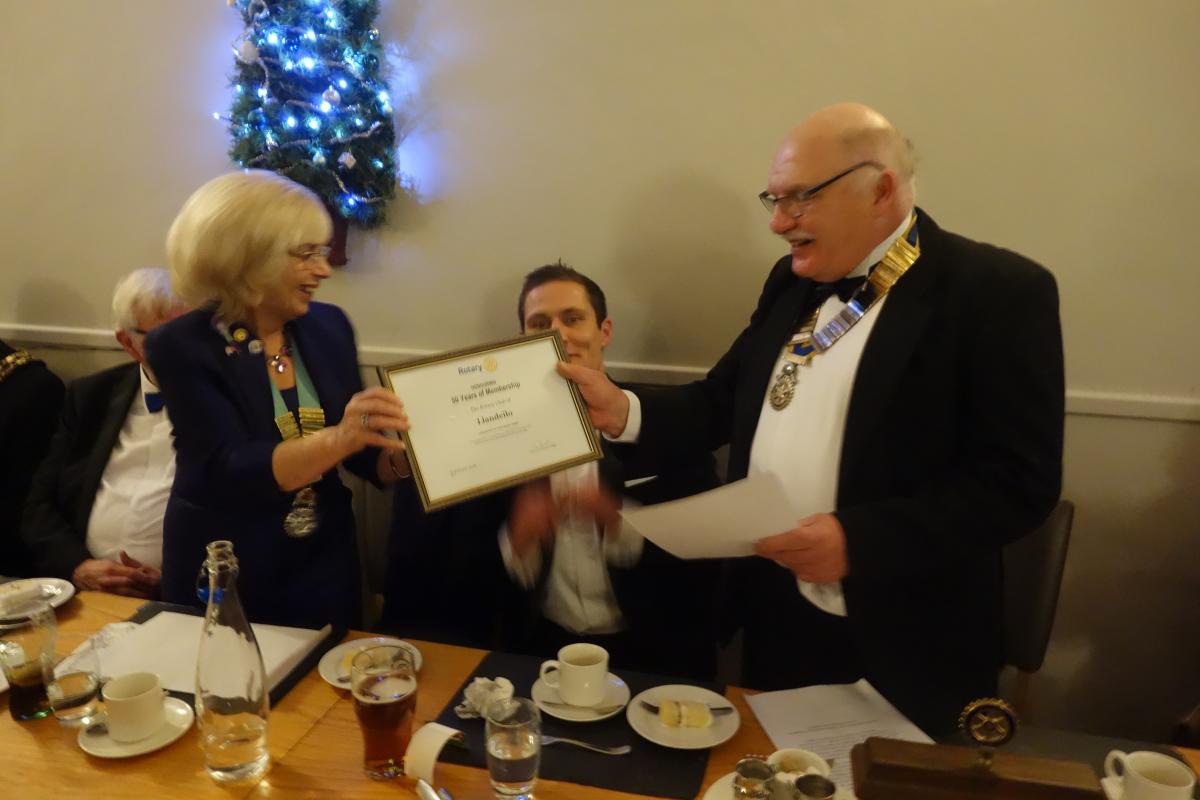 On Thursday evening 22 June Llandeilo Rotary Club met for the first time at their new venue the Plough Hotel at Rhosmaen. Since the club was founded in 1967
there have only been two previous venues the Cawdor Hotel and the White Hart Inn both in Llandeilo.
The occasion was the Handover Dinner when outgoing club President Rob Donaldson handed over the Presidency to Richard Hughes. Richard is no stranger to the position having been President on two other occasions in 2006-2007 and 2012-2013.
Prior to dinner, outgoing President Rob gave a brief resume of his year in office and this was followed by President Richard whose 87 year old father was present having traveled down from the Wirral, Cheshire.
Richard welcomed two new members that the club inherited from Ammanford Rotary Club, Howard Beynon and Alun Davies.
Richard informed Rotarians that his year was special in that 2017-2018 was the 50th Anniversary of the club and that he was going to support Children's Charities and undertake a number of fundraising events to include the ever popular Ploughman's Lunch.
Richard is a seasoned charity campaigner and a major supporter to the Rotary Club over the past year has been the Co-Op in Llandeilo. Their generosity has enabled the club to continue to support Autistic swimming at Pantglas and to send students from Ysgol Bro Dinefwr to RYLA (Rotary Youth Leadership Awards) in the Brecon Beacons National Park.
One of Richard's main aims is to increase the membership of the club in order that more resources can be put into supporting local and Welsh causes.
Newly elected Senior Vice President Martin Peake and Junior Vice President Colin Jenkins Councillor and previous Mayor of Llandeilo Fawr Town Council were welcomed.
Later at dinner the President welcomed Rotarians, their wives and partners, Ladies of Inner Wheel and guests including recently elected Mayor of Llandeilo Fawr Town Council Councillor Eifion Davies. A raffle to finish the evening raised £185 towards a children's charity in the Philippines supported by the ladies of Inner Wheel.
PHOTO- Rotary members standing and seated left to right President Richard Hughes and Immediate Past President Rob Donaldson.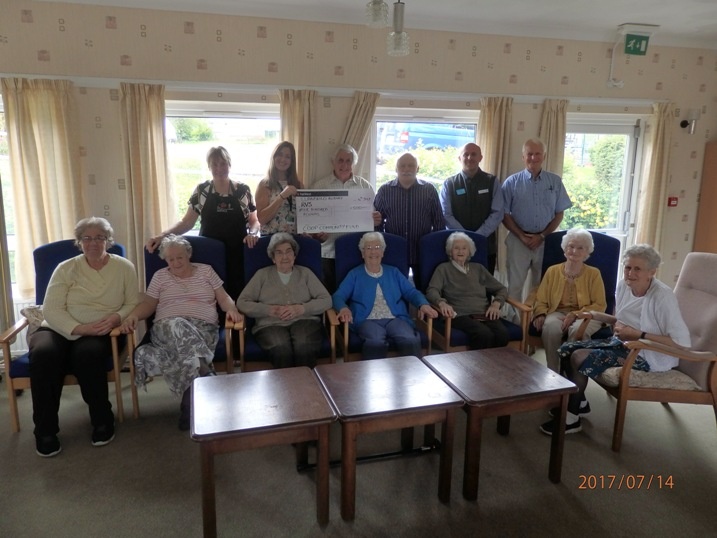 On Friday, 14 July Llandeilo Rotary Club presented a cheque for £500 to Amanda Jenkins and Jeremy Hewitt representing the RVS at Maes Elfryn Hall, Llandeilo.
The Royal Volunteer Service was one of the three charities chosen by Immediate Past President Rob Donaldson who completed his year as President of the club in June. The monies were made available to the Rotary Club as part of the Co-Op Community Fund and representing the Llandeilo branch of the Co-Op was David Morgan.
PHOTO-Left to right back row Jean Evans and Amanda Jenkins of RVS, Immediate Rotary Past President Rob Donaldson, President Richard Hughes, David Morgan of the Co-Op and Past President David Owen. Front Row-Ladies attending lunch at Maes Elfryn.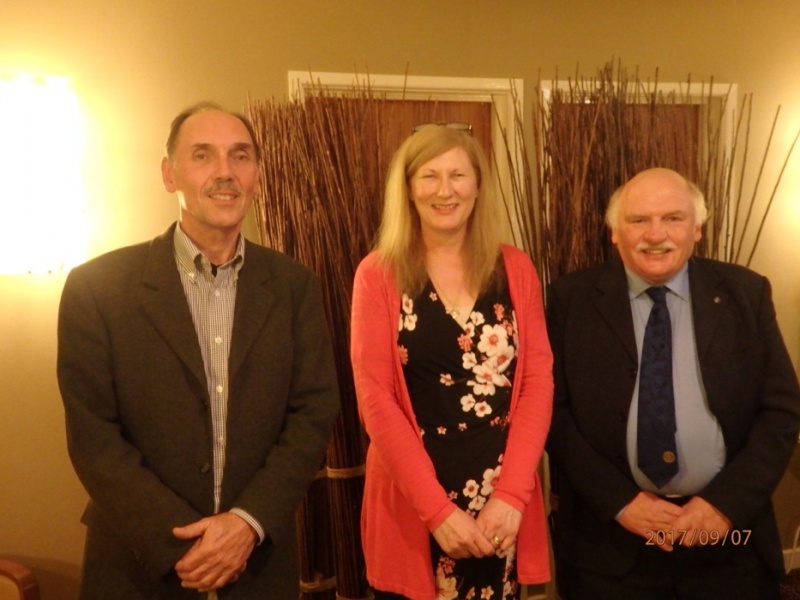 Following the Summer recess Llandeilo Rotary Club were delighted to welcome their first speaker at the club's new venue the Plough hotel at Rhosmaen, Llandeilo.
On Thursday, 7 September Samantha Winter, the catering manager for the National Trust at Newton House, Dinefwr Park was the guest speaker. Samantha, supported by her husband Wilf, is well known to a number of Rotarians who are volunteers at Dinefwr Park including the club's President Richard Hughes and his wife Jeanette.
Samantha gave a brief resume as to how she was appointed to her current position. She and her husband operated a catering business locally when at short notice the position of catering manager became available at Newton House and Samantha secured the position.
Samantha informed her audience that although the menus available are arranged centrally by the National Trust a good proportion of items on the menu are Welsh favourites and are locally sourced and varied according to the time of the year. The tearooms are open throughout the week and also prove popular with Weddings, 60th and Retirement parties. Recently other more unusual events have been introduced and include Bat Walks around the estate, Halloween sleepovers that include a 3 course meal with a backdrop of an open fire and the most popular event of the year the Christmas Fayre where stallholders selling crafts and local food and drink are present and local bands and choirs sing traditional Welsh songs and carols.
Samantha presented her talk with a lot of enthusiasm and following a number of questions the vote of thanks was delivered by Past President David Owen.
PHOTO- Left to right Senior Vice President Martin Peake, Samantha Winter and President Richard Hughes.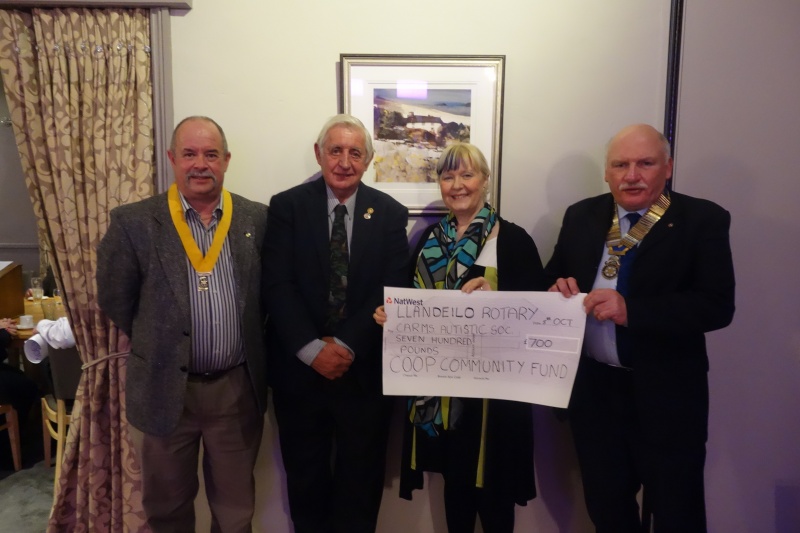 Marie James was delighted to have been presented with a £700 donation towards NAS Carmarthenshire Branch activities from Llandeilo Rotary Club, from their successful Co-op Community Fund Application.
These funds will be used for the NAS Carmarthenshire branch cinema visits, their Christmas party and purchasing children's meals at their Pant Glas swimming sessions
Marie James thanked the Coop Community Fund as well as the Members of Llandeilo Rotary Club for their continued & long standing support to NAS Carmarthenshire Branch.
Llandeilo Rotary have supported swimming sessions at Pantglas Hall since 2002 & in addition to having made contributions over the years to a number of the Carmarthenshire Branch Activities. . Llandeilo Rotary would like to thank all the people in the Llandeilo Area who have contributed to the Coop Community Fund and Llandeilo Coop which made this donation possible . The picture shows Junior Vice Colin Jenkins, past President Rob Donaldson Marie James from the NAS Carmarthenshire and President Richard Hughes. The presentation took place at the Plough Rhosmaen on Oct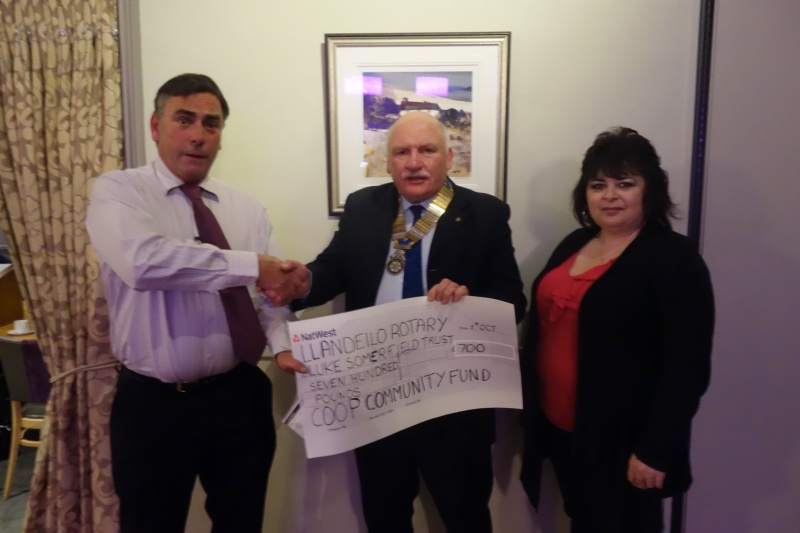 Llandeilo Rotary were delighted to present the Luke Somerfield Trust with a cheque of £700 from their successful Coop Community Fund Application . These funds will be used to make sure that local children are made aware of the dangers associated with water activities . The picture shows President Richard Hughes presenting the cheque to Luke's parents David and Kim . Llandeilo Rotary would like to thank all the people in the Llandeilo Area who have contributed to the Coop Community Fund and Llandeilo Coop which made this donation possible . This presentation also took place at the Plough Rhosmaen on the 5th OCtober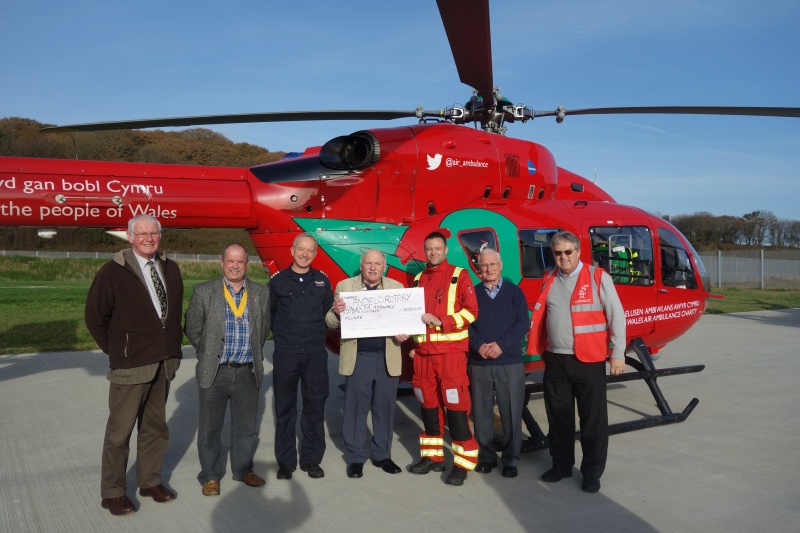 Pictured left to right – Brian Thompson, Junior Vice Colin Jenkins, Capt . Andy Icheon, President Richard Hughes , CCP Marc Allen , Ken Griffiths and Alun Davies
On the 30th Oct Llandeilo Rotary visited Wales Air Ambulance at their headquarters in Llanelli . Richard Hughes President of Llandeilo Rotary presented a cheque of £1500 to Wales Air Ambulance . Richard was deputising for Past President Rob Donaldson who had raised the funds during his year as president but unfortunately could not be present . He thanked Rob, members of Llandeilo Rotary , their wives/partners , Llandeilo Inner Wheel and friends of the club for raising the funds throughout the year .The club would like to thank Rotarian Alun Davies for organising the visit and both Capt.Mark Icheon and CCP Andy Marc Allen for explaining the operation of the helicopters and details of the medical equipment used to save lives throughout Wales . Currently the budget for running Wales Air Ambulance is £8 million pounds per year which is put to good use in saving lives and treating people with serious injuries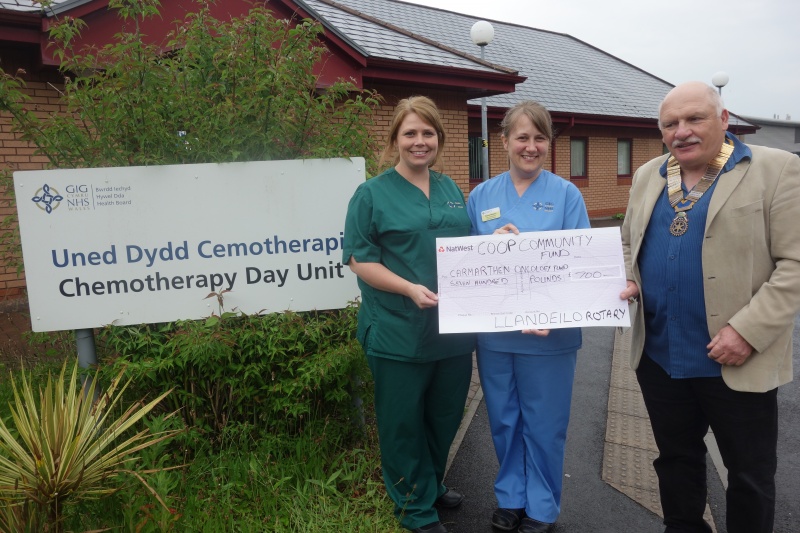 President Richard presenting Glan Gwili Hospital with a cheque of £700 towards its fund for the skull coolin cap .which will combat hair loss during chemotherapy treatment .This donation has been kindly financed by the Coop Coop from it's second round of funding to Rotary . On behalf of the club Richard would like to thank the Coop and Coop members in the local community for allowing Rotary to support such a worthwhile cause . The picture shows President Richard presenting a cheque to the nurses from the Oncology Unit at Glan Gwili Hospital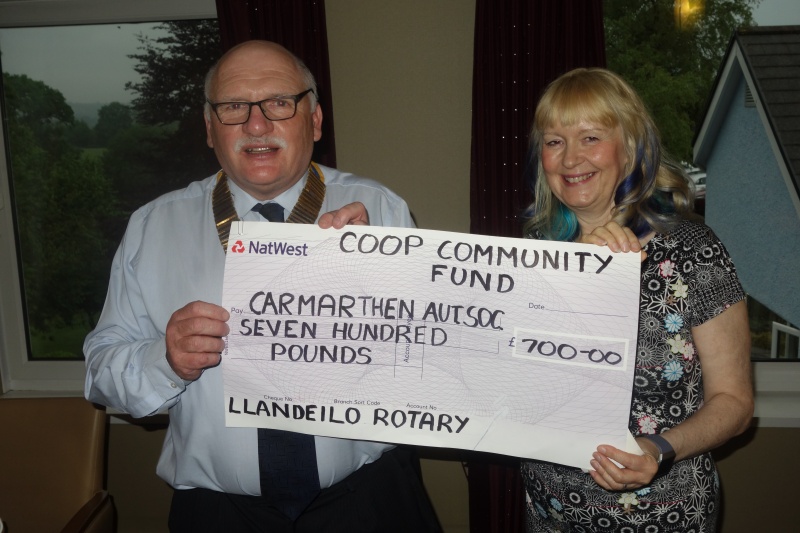 President Richard Hughes is presenting a cheque of £700 to Marie James of the Carmarthenshire Autistic Society for various projects such as the Pant Glas Swimming , Cinema visits and alternative therapies for the Autisitic Children and adults . This donation has been kindly funded by the Coop Community Fund from the second round of funding . The previous donation was from the first round of funding . On behalf of the club President Richard would like to thank the Coop and it's members from the local community for this kind donation which will be put to good use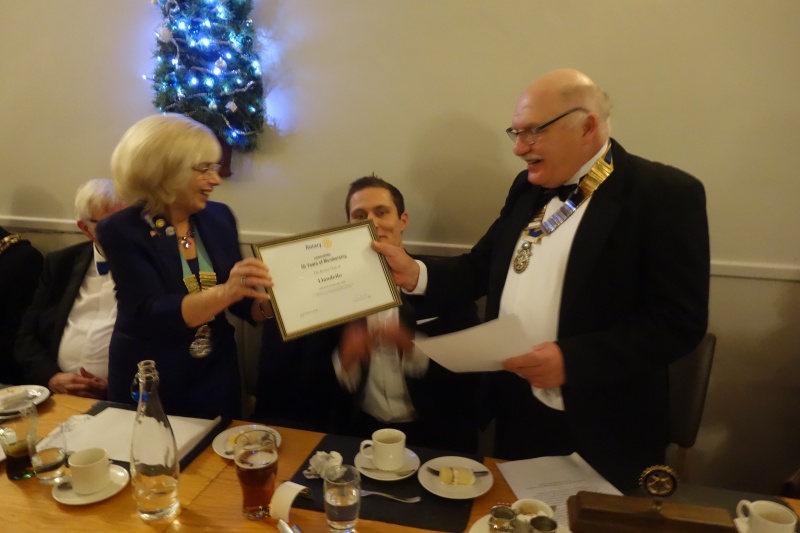 Maggie Hughes presenting President Richard with the 50 years of membership certificate at the Clubs combined Christmas Meal and 50th Anniversary Celebration . Below are pictures of some people at the event . I apologise for not including everyone as some pics were blurred or not very flattering . I would appreciate it if members will forward pics to me so I can improve the content - Thanks Richard
Left to Right below is James Crichton- Smith Guest Speaker, Eifion Davies Mayor of Llandeilo with his partner Helen , President Richard Hughes, District Governor Maggie Hughes, Llandeilo Inner Wheel Sec Jeanette Hughes and Sonia Beynon President of Llandeilo Inner Wheel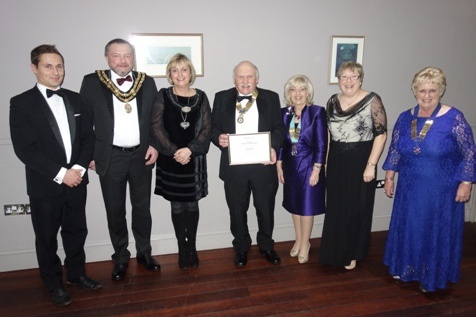 Pics of the Evening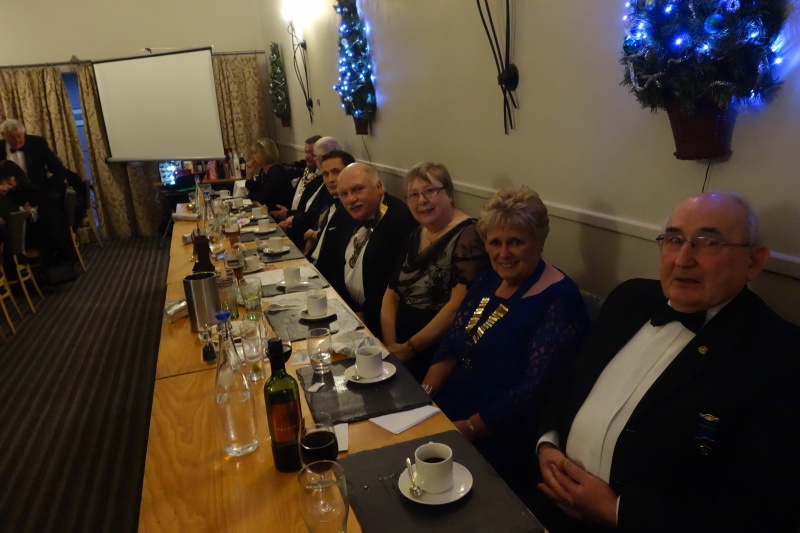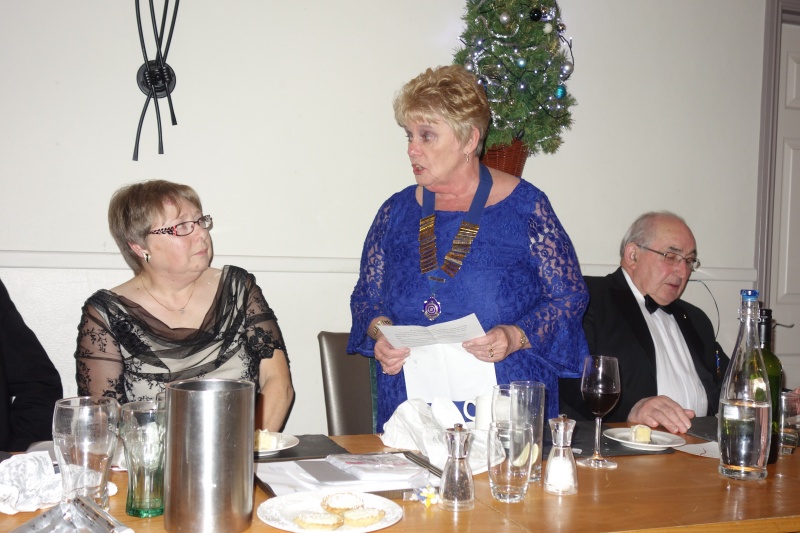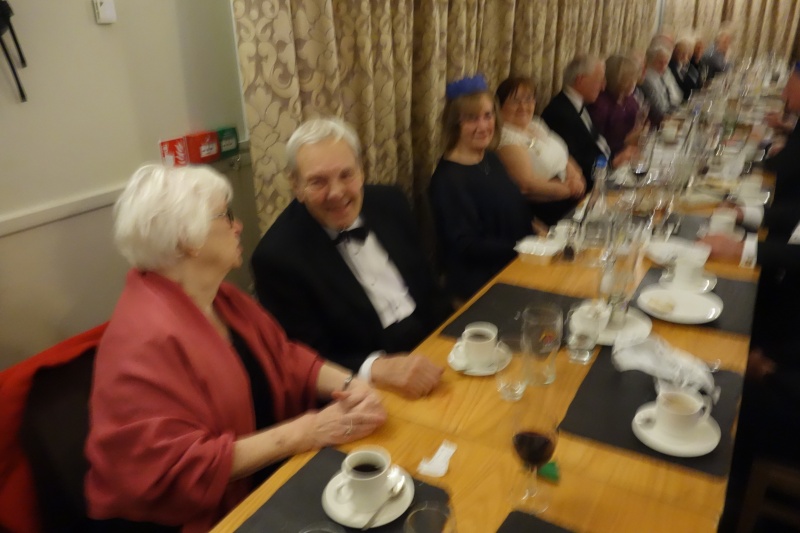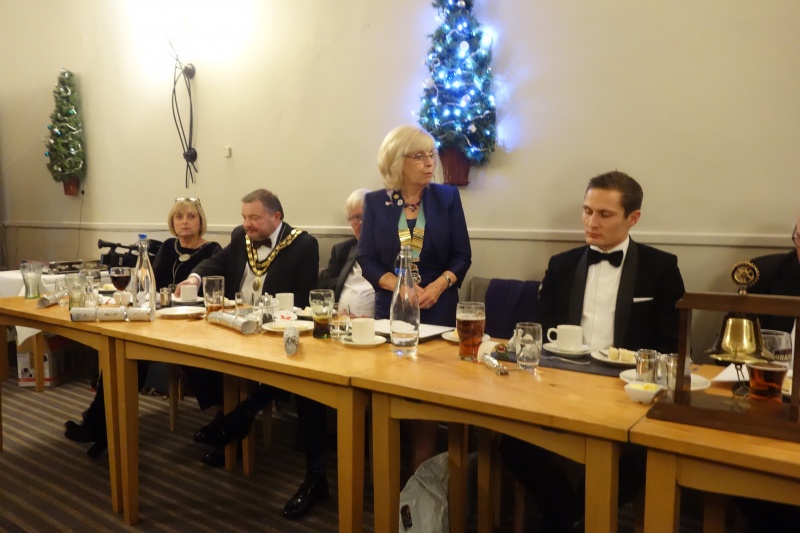 District Governor Maggie Hughes and next to Maggie is James Crichton-Smith our guest speaker - health correspondent for ITV Wales