BODMIN - A NATIONS TRIBUTE
Sun 11th November 2018
Sunday 11th Nov. 2018 - On this day it will be 100 years since the end of the First World War. PRESS REPORT
100 YEARS SINCE THE END OF WW1

Press Report 12/11/18

BODMIN ROTARY CLUB – FINAL TRIBUTE
100 years since the end of World War One - The National tribute 'Battles Over' and Bodmin Town Council 'Remembrance 100', was brought to a close on the evening of Sunday 11th Oct. by Bodmin Rotary Clubs 'Beacons of Light'.
A bonfire lit by Bodmin Mayor Cllr. Sara Kinsman and tribute by the Bodmin Royal British Legion took place in Priory Park Bodmin.
The Walter Raleigh Gilbert Monument on Bodmin Beacon was illuminated in Red, White & Blue.
A signal beacon was lit, by Bodmin Deputy Mayor Cllr. Jeremy Cooper, on Steppes Farm high ground, Bodmin, with the kind permission of the Dingle Brothers. Hopefully, this was seen in Cornwall and beyond, as a symbol of ongoing remembrance and returning to light after the darkness of war.

Bodmin Rotary Club would like to thank the 100's of local people that supported us on this cold night and hope that our three 'Beacons of light' events well marked the occasion.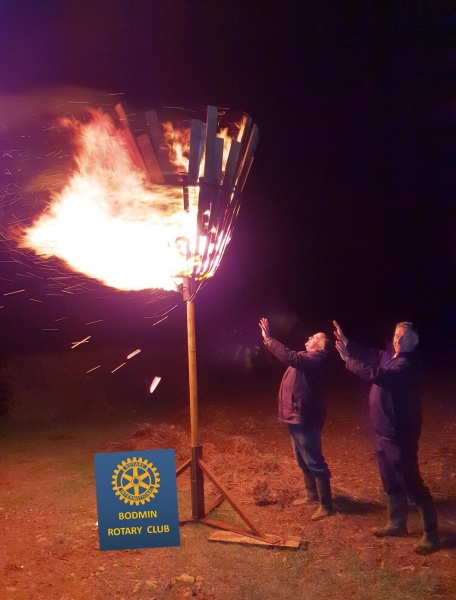 <

A lot of events will be taking place through Cornwall and the Country - Bodmin Rotary have been discussing with BTC possible events that could be set up in Bodmin.

In line with the National Tribute it is proposed to set up Fire Beacons (Beacons of Light). Bodmin Town Council ( BTC ) have agreed use of the Bodmin Priory, 5th Nov Bonfire site, to light a 'Symbolic Beacon' bonfire with British Leigion representation, a tribute and 'last post' at 6.45pm . Lighting the bonfire at 7.00pm. will be at 7.00pm together with.... a second Fire Signal Beacon at Callywith (The higest point in the vacinity) in case any other town in Cornwall are on the look out for a signal from Bodmin !! ??
Also at 7.00pm the Beacon Monument will be floodlit in Red, White and Blue.
Bodmin Priory will be the main public event to attend, the Callywith and Beacon Monument events will be additional 'Beacons of Light'
Our thanks for all disuussions and arrangements go to Rtns. Colin Bell, Dave Jenkins & Peter Old.

<>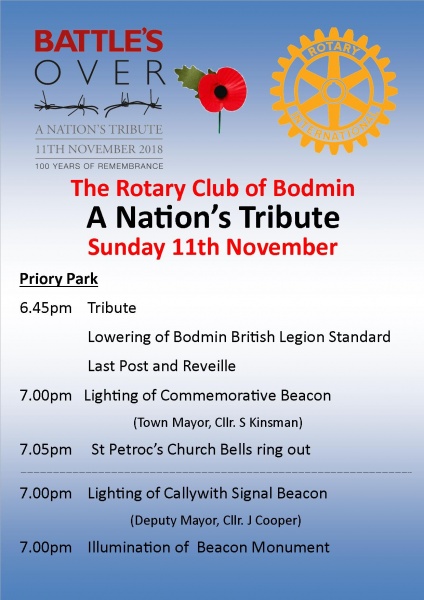 <>