JUBILEE EVENT - Slide Show
Many thanks to Robert Dawson and Bodmin & District Camera Club
70 BRITISH CARS >>> 70 Years >>> 70 Miles
If you have a British Car - Registration year 1952-2022 and would like to take part please see below:

Latest Update - 3rd June 2022....URGENT !
YEAR 1957 Car is now urgently needed - George Williams has saved the day for the Bodmin Rotary Car Run on Sunday with his 1957 Ford Popular when the 1957 MG developed engine trouble and couldn't make it. So we now have 70 cars, manufactured in each year from 1952 to 2022.
<
Many Classic cars are in the line up - don't miss taking part in this special event if you have one of the Registrations needed. There are many famous and classic names already entered - to name a few recent additions - Bentley, MG, Reliant Robin....

<
THE START: Will be from Priory Park, Bodmin - Sunday 5th June - Assembly and viewing from 9.00 - 9.30am, depart at 11.00am....

THE 70 mile ROUTE: Initially - Will Start from Priory Park > Turf St > Dennison Rd. > Higher Bore St. > Westheath Ave. > Lanivet >>>>>>>>Penzance? Please see the attached map select - Bodmin / Penzance Route Map.pdf
More route details will be issued to the drivers at the start....
A welcome reception will be held at Penzance upon arrival of the cars, agreed with Penzance Town Council and hosted by Penzance Rotary Club and hopefully Media coverage will be present.
CAR LIST : All makes & years: Select here....
<
The entry fee is £5.00 and every participant can have a bacon butty at the strat for an extra £5.00.
A Monte Carlo style plaque (see picture above) for attaching to front of car will also be given at the start.
Also, each participant will receive a commemorative mug at the finish.
<
Only British Cars: - Year Reg. between 1952 - 2022 can take part.

FOR MORE DETAILS CONTACT: Peter Old 01208 832333 / 831935 or email: abbie.scawn@mcbinsurance.co.uk with your contact details....

<<<<>>>>
Also see National EVENTS website - please select here for events search map....
< Initial Press Release >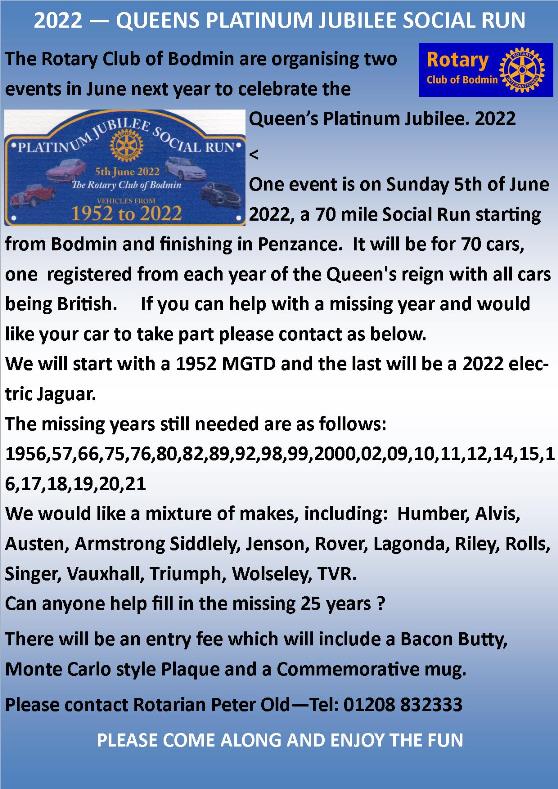 <

Printable poster - Select....