Community Grants
The Rotary Club of Dundee can provide grant aid for projects that improve the lives of people living within the Dundee area. The fund is administered by the Rotary Club of Dundee and draws on funding from the Rotary Club of Dundee Trust account.
The fund aims to support and help local charities, worthy causes, community groups or individuals with the passion needed to create such project's within the Dundee area. Projects should be able to show that they help meet one or more of the following objectives;
improve the lives of a group of residents
encourage volunteers
support environmental amenities and/or projects
encourage resident-led projects
show sustainability
Whilst there is no arbitrary limit to the amount that can be requested, our funds are limited. However, we firmly believe that given a truly worthwhile project we would not leave a stone unturned in our efforts to assist and hopefully, makes things happen. Rotary is very much a part of the community in which we operate, we live and work here too! Such funding is intended to support resident-led projects and it will not provide ongoing funds for general running costs.
The Rotary Club of Dundee have members with many skills and where needed we will make these available to projects with the potential to make a real difference to your community.
There are no application deadlines. Applications will be dealt with on a first-come first served basis. All applications will be initially assessed by the relevant Service Committee of the Rotary Club of Dundee. You should hear back within 8 weeks of your application being received by us if your application has been successful. Please note the project must be completed within twelve months of receipt of any monies.
Simply click on the image below to access the Application Form
---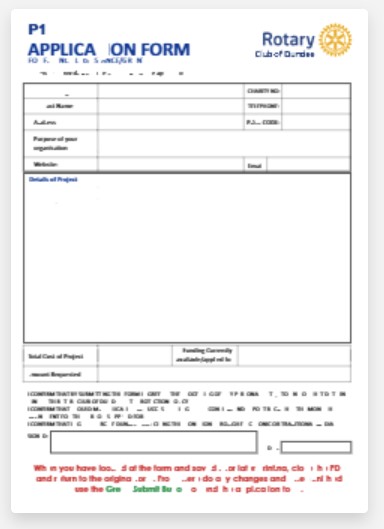 Rotarian Members Only Page - Instructions