Community Chest Project
Supporting local charities, groups and non-profit organisations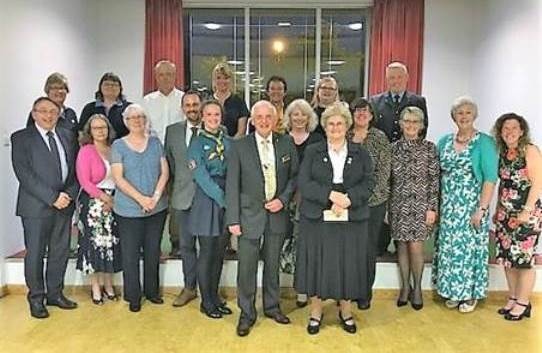 2018 Community Chest Awards Presentation
The Rotary Club of Medway supports a number of high profile charities, but there are many local charities, groups, and organisations in our own community that we may not know about which could benefit from a relatively small sum of money. A grant from our Community Chest could make all the difference as to whether or not a community project happens.
The Community Chest project was set up in its current form in 2014. Many small local charities depend on the hard work and support of unpaid volunteers to continue their good work. We aim to assist these local charities by raising funds from our various activities and collections to make funds available.
In the past 5 years Medway Rotary has helped around 50 local charities with grants totalling about £12,500. Examples of some of the organisations assisted are Medway Asthma Self Help Group, Medway Watersports Trust, Air Training Corps, Without Walls (Dementia Support), Hospital Radio Medway, Good Intent Youth Club. In addition many local Cubs, Brownies, Scouts and Guide groups have received assistance for their projects.
Each year between January and April, we invite applications from local charities, groups, projects, etc in the Medway area that serve the local community, to bid for sums of money up to a maximum value of £250.
There are a few simple requirements which must be met to qualify for funding:
Organistions should be non-profit making, if possible applicants should be a registered charity, or attached to or associated with one.
Have a bank account in the name of the group.
The request must be for a specific item they need, such as equipment or a trip, not just an addition to a larger general fund.
The maximum sum available for each project is £250. Organisations may only apply for one grant,
Your organisation must not have received a Medway Rotary Club Grant in the previous year.

2017 Community Chest Awards Presentation
2019 Community Chest Applications
Applications for the 2019 Community Chest grants are now closed. We are in the process of evaluating the entries received to decide which bids best support the needs of the local community.
Successful applicants will be notified shortly and invited to send a representative to the Rotary evening meeting at Gillingham Golf Club on Tuesday 28th May to receive their award.