6.30 for 7.00pm Evening Meal
Wed 24th July 2019
The Mayor of Bodmin Jeremy Cooper will be our speaker this evening.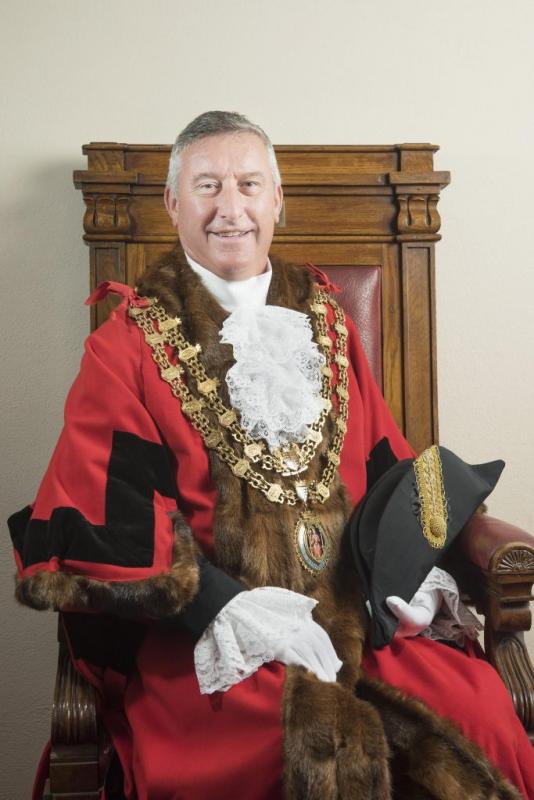 THE MAYOR of BODMIN - Cllr. Jeremy Cooper
The current Mayor of Bodmin is Councillor Jeremy Cooper. Councillor Cooper served as Deputy Mayor to Councillor Sara Kinsman for the 2018/19 term and was formally appointed Mayor for the 2019/20 term at the Annual Mayor Choosing Ceremony on 16 May 2019.
Councillor Cooper is joined in office by his cousin, Councillor Phil Cooper, who has been appointed as Deputy Mayor for the 2019/20 term. Although there are many instances of family connections throughout the history of Bodmin's Mayors (Councillor Kinsman following in the footsteps of both her grandfather and great-grandfather; Councillor Margaret Denholm taking the helm a decade after her father-in-law, Councillor Tommy Denholm, last held the post; Councillors Linda Spear and Michelle Griffiths being the first mother and daughter to have served as Mayor; and brothers Bill and Harold Vanderwolfe both having been in office, 37 years apart), it is thought that this is the first time that cousins have served together.
<
Just a bit of extra news....
A row has erupted at Bodmin Town Council with a councillor facing censure for alleging that "sadly democracy can be bought".
Councillor Andy Coppin was found guilty of breaching the Code of Conduct for the Council in May after he took to Facebook to comment on the local elections.
The former mayor of Bodmin shared his thoughts in a post on his personal page, saying "sadly democracy can be bought" and "however, I will say that someone tried to influence my vote. I can't prove it so I won't say any more…"
He was reported to Cornwall Council by Councillor Jeremy Cooper, who assumed the post was aimed at him and his recent election by fellow councillors to the post of deputy mayor and believed it showed a lack of respect.
On May 23, the local authority's monitoring officer considered the complaint.
Although the officer denied there was a lack of respect towards Mr Cooper, who was not named in the post, it was found that the post constituted a breach of the code in the "concerning" way the matter was approached by Mr Coppin.
<