ROTARY YOUNG PHOTOGRAPHER
Annual Competition for 7 - 17 year old photographers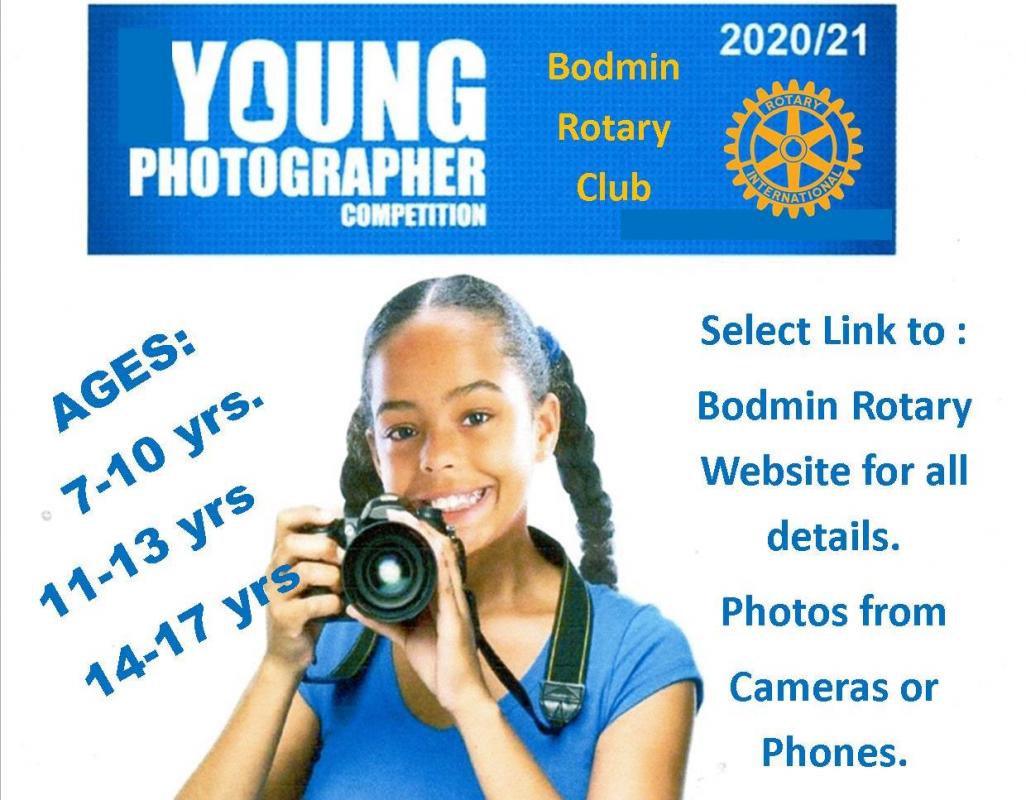 ROTARY YOUNG PHOTOGRAPHER 2020/21
The main Rotary National Photographic Competition for young people is held each year and highlights a particular Theme. This year being - ' Wild Nature '

At the same time and using the Local (Red) Entry Form, Bodmin Rotary Club will be holding a 'Best Photo' Competition - which will be for a single photo, (max of 2 entries per person) judged locally.

Bodmin Rotary Certificates / Trophy and a Prizes will be awarded. (To be decided )

< See below for all information & Entry Form links....
Please complete the entry form (see below) and email with your photographs, for 1,2 or 3 photos: Email to - bodminrotary@btconnect.com
All Entry forms and photos for District & National Competition will be forwarded as necessary.

Single Photo Local entries will be retained for local judging.

< Good Luck - Look forward to seeing your photos.

< Rtn. Susan Tune, Bodmin Club, Organiser. - ( Contact Susan - scroll to bottom of page )
<
< Photo Theme - must be - 'WILD NATURE' >
Animals, Birds, Pets in the wild.
The Sea, Weather....
<>
Whatever you think ?
~~~~~~~~~~~~~~~~
Remember: Age Groups: 7 - 10 years, 11 - 13 years, 14 - 17 years at 13st Aug. 2020.

<<<< Closing Date for entries: Monday 26th Oct. 2020 >>>>
Links to forms and details:
Information Pack: 2020-21-Young-Photographer-Information-Pack.pdf

Poster: 2020_PhotoPoster_Rev2.pdf

Entry Form: (National) - 2020_PhotoEntryForm32042.docx - (doc format for completion and return )
Entry Form (Local only) - (Red) 2020_PhotoEntryForm32042_Local2.docx

<