<< OUR KIND of MUSIC >>
Bodmin Rotary Club were very proud, to be working with Bodmin College to present Our Kind of Music! on Friday November 10th at St Petrocs Church.
<
CONCERT REPORT: (Photos by Bodmin College)
The 'Our Kind of Mncert' concert on November 10th at the St Petrocs Church was an incredible night of entertainment. So many people have told us how much they enjoyed the evening and that they were really quite shocked at how fantastic the performances were. And they certainly were!
Bodmin Rotary Club would like to thank the amazing young people and their teachers from Bodmin College , Newquay Tretherras and Penrice Academy for their hard work and creative talents. A very special thanks to Mr Ben Vincent, Director of Music at Bodmin College for organising the programme and pulling everything together to make it happen.

Thanks also to Bodmin Inner Wheel for providing the refreshments and Roland at the Church for all of his help.
And last but not least a big thank you to all of the people who attended the concert and helped raise funds to support young people have the opportunity to participate in perfomring arts.
<<<<
PRE-EVENT Notice:
This is going to be a fabulous evening showcasing the musical talents of young people from Bodmin College, Newquay Tretharras and Penrice Academy. The fabulous line up features a variety of ensembles, bands, groups and soloists. So there is something for everyone from a steel band, Indie Rock and many amazing voices.
You can see the full line up on the Ticketsource booking page where you can buy your tickets. Just follow the link below and scroll down to " Bodmin Rotary Club ..."
Doors open at 6pm and the show starts at 7pm. Adult tickets cost £6, tickets for children (under 16) cost £4 and a family ticket ( 2 adults and 2 children) costs £15. Any profits will help to ensure that our young people can continue to benefit from the incredible work that Bodmin College does with their performing arts programme.
Bodmin Inner Wheel will be selling refreshments and we will also have a raffle with some great prizes including family tickets for the Bodmin and Wenford Railway and the Bodmin Jail Attraction. The raffle will raise funds to help young people in Bodmin this Christmas.
Plentiful parking is free in Priory Park Car Park after 4pm. So get your tickets now as this is going to be a very special evening that you wont want to miss.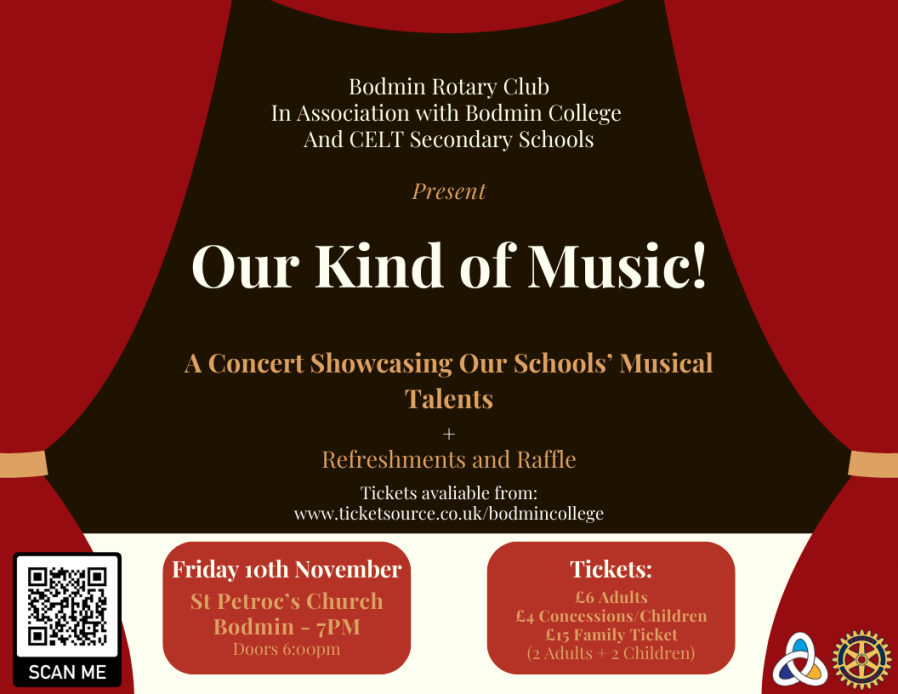 <