Fellowship & Luncheon
.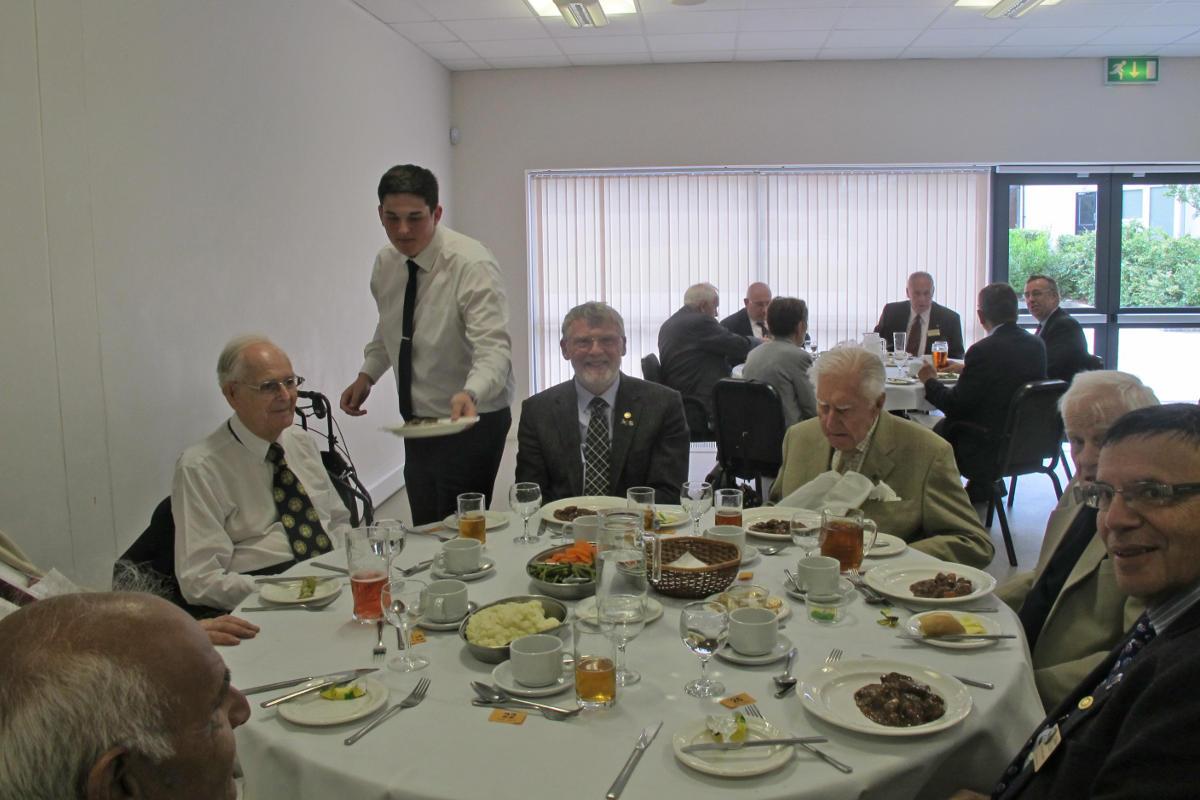 Fellowship is Rotary - much can be spoken; many a word is quoted, but in Rotary the true meaning will be found that is equal to all.
The club meeting is held on a Thursday - 12:45 for 1pm at Hamptons Sports & Leisure (formerly the Marconi Athletics and Social Club), situated off Beehive Lane, Great Baddow, Chelmsford CM2 9RX.
Direction to travel: from Chelmsford town centre to the Army & Navy roundabout take the Baddow road (sign-posted Gt. Baddow) after 500m. take left into Beehive Lane, continue on for 500m. take fourth turning on the left - sign posted Marconi Club; car parking is available.
If you would like to attend one of our lunchtime meetings, just contact our Attendance Officer, Malcolm Hamlyn. We'll be pleased to welcome you!
Happy Birthday, Bill!
Our oldest member, Bill Partis, was born on 26 April 1918, so on Thursday, 26 April 2018, we took the opportunity to celebrate his birthday in style. Fifty-one of us sat down to lunch, including Bill and his daughter-in-law Mary (a member of the Rotary Club of Chelmsford Phoenix, seven Rotarians from the Rotary Club of Billericay Mayflower, our Area Governor Ann Holmes and fourteen other guests (spouses, partners and former and honorary members). Bill paid for the drinks; we don't know whether he realised just how many would be there!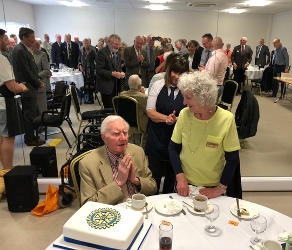 After we finished lunch the caterers brought in a special birthday cake. It did not have 100 candles but it did have the Rotary logo on the top. The rest of us stood to sing "Happy Birthday, Bill". Our Area Governor commented that she did not think we should consider forming a choir! The cake was then whisked away again so the caterers divide it into pieces to distribute to everyone there.
We also presented Bill with a card from the Club, one from District Governor Nick Sillitoe and another from the Rotary Club of Chelmer Bridge. The front of our Club's card bore a photograph of Bill when he was President in 1974-75. Our gift to him was a purpose-made wooden box bearing birthday greetings and containing a bottle of red wine. Hopefully he and his family will find a use for the box once the wine has been drunk.