Club Chronicle
Latest meeting and other events
17 October 2019: Jokes
Unfortunately our scheduled speaker was unable to attend today, so our member Philip Smith stepped in at short notice. It was even shorter than it should have been as he has had difficulties accessing his emails and didn't see the request from our Programme Officer, David Axon, until some days after it was sent.
Philip opted to tell us jokes. It is impossible to recount them all here so our webmaster selected two.
The first goes like this:
Three friends drink far too much at the pub one evening. As they stagger out they see a policeman walking towards them. "Quick," says one, "we musn't give him our real names."

"How can we think up names quickly?" asks another. "I know, let's draw from inspiration from the names of the shops."

The policeman duly asks the first his name. He swiftly glances around. "Mark Spencer," he says.

The second also looks around and gives his name as John Menzies.

The third beams at the policeman and declares his name: "Kentucky Fried Chicken!"
Here is the second:
An engaged couple are killed in a road accident. As they wait before the Pearly Gates for St Peter to speak to them they agree that they would still like to get married and wonder whether it would be possible to get married in Heaven. They decided to ask St Peter.

"I don't know," he tells them, "but I will try to find out." He disappears behind the Gates.

After two months St Peter has still not returned and the couple begin to have misgivings. Supposing it doesn't work out, will they be stuck with each other for eternity? If the worst comes to the worst, will it be possible for them to get divorced in heaven?

St Peter finally returns after a further month. He looks somewhat dishevelled and travel-worn but he has a smile on his face. "Yes," he tells them. "You can get married in Heaven."

"Oh, good," the couple reply, "but if we find we don't get on after all, will it be possible for us to get divorced in Heaven?"

"Of, for goodness' sake!" exclaims St Peter. "It's just taken me three months to find a priest up here. How long do you think it's going to take me to find a lawyer?"
District Conference
Sixteen members and spouses represented our Club at the District Conference held at Wyboston Lakes over the weekend of 4-6 October 2019. This was an opportunity for people to attend the various events on offer, let their hair down, enjoy themselves and socialise with other Rotarians and friends.
As you can see from the first photograph, our group opted to dress like Wally from the "Where's Wally?" books. We're not sure what this did for our Club's image - but Rotary is about fun as well as service. For the formal dinner the men all turned up in dinner jackets, with their ladies appropriately attired.
Our thanks to Rotary District 1240 for organising such an enjoyable conference and congratulations to our member and Past District Governor Stan Keller on the Certificate of Appreciation he received for three years' service to Rotary International as Assistant Rotary Public Image Coordinator (see the photograph on the left).
Visit to Chelmsford CCTV Control Centre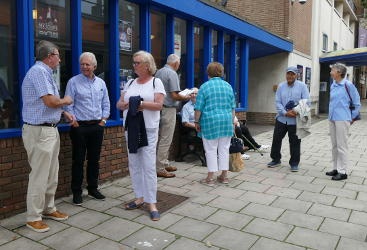 On Wednesday, 28 August 2019, a group if us gathered in the city centre (see photograph) to visit the CCTV Control Centre. We were met by the manager, who told us he had found himself in charge of the Council's CCTV operations because Brian Collings, one of our Past Presidents and Honorary Members and then Borough Engineer, knew he was responsible for the introduction of new sewers, which involved the use of remote-control CCTV cameras to inspect the drains. At least he therefore had some experience of CCTV!
CCTV was first thought advisable after the High Street was pedestrianised. When traffic stopped running down the High Street the area ceased to be "self-policing" so measures to increase security became advisable. At first there was just one camera but the system was gradually expanded. The Council had to build all the early cameras, housings and control systems itself. All the screens in the Control Centre were 21" CRT screens, like the old TVs, so it became very warm.
The Control Centre now uses flat screens like those in modern TVs and monitors well over 300 cameras in the city and some of the nearby towns. It is manned 24 hours a day, normally with two operators monitoring the screens and with an extra operator at busy periods over the weekends. It costs £360,000 a year to run.
Modern CCTV cameras give high-resolution images and the operators can zoom in to see greater detail. We saw this happening when one operator spotted a group using cameras fitted with long lenses and zoomed in to read the organisation name displayed on their T shirts.
Each operator has two screens immediately in front of him, each displaying the scenes from four cameras, and can also see the main bank of screens. The operators are able to switch between cameras and control the cameras with joysticks.
We asked whether the work ever got boring but we were told there is always something happening somewhere. Having so many screens to watch is not a problem because something happening on a screen will draw an operator's attention.
The Control Centre has radio contact with the police and with local businesses and pubs that subscribe to the city's TownLink and PubWatch.
The surveillance is intended to increase public safety. It is not only a matter of preventing crime or taking rapid action when it is spotted. The system can also be used to summon help if someone is taken ill in the street or there is an accident. Potential suicides have also been spotted and action taken to get someone to them as soon as possible.
Individual cameras can be programmed with a "dead area" which, in order to protect privacy, is not transmitted to the Control Centre. We were shown the output from one camera in the High Street that might incidentally enable the operator to look into the windows of private flats. Whenever the camera is turned in that direction the view of the flats is blanked out. The flats continue to be blanked out as the operator zooms in and out.
Not all the cameras overlook the streets. There are some in the Council offices, in the new Riverside Leisure Centre, in pedestrian underpasses, in parks and monitoring the top of the multi-storey car park.
We left the Control Centre with a much better understanding of the way the CCTV cameras are used to look after us - and in the knowledge that the operators were capable of checking our movements to make sure we did leave the vicinity!
Visit to ARU School of Medicine
On the evening of Thursday, 27 June 2019, we joined other Rotarians at Anglia Ruskin University for a tour of the new School of Medicine. The tour was conducted by Tony Stringer
of the Rotary Club of Chelmsford Rivermead and was followed by a buffet and an entertaining audio-visual presentation entitled Beyond the Call.
Beyond the Call was a collection of anecdotes, brief history, letters, poems, diaries and bulletins presented in words and pictures. It included the extraordinary story of the Voluntary Aid Detachment ("VAD"), largely naive shire girls and vicars' daughters who had never done a day's work and couldn't even boil an egg. A jolly jape to dress up and become a volunteer nurse became a surreal world of mud, blood, lice and mustard gas, a million miles away from the Edwardian drawing-room charades they left behind.
The presentation was followed by a collection on behalf of the Nursing Memorial Appeal. The appeal has two purposes. The first is to maintain the permanent memorial at the National Memorial Arboretum. This is in the form of a globe held up by two hands. The seas contain the names of nurses who lost their lives in service during both world wars and conflicts since. There is no complete record of nursing lives lost and names are still being discovered and added.
The second purpose is to provide grants and bursaries to fund training and research for students in humanitarian and conflict nursing to enable nurses to provide vital life-saving support in extreme situations both at home and overseas.
We thank the Rotary Club of Chelmsford Phoenix for organising the event.