Saffery Rotary Walk
Sat 3rd June 2017 at 04.30 -
Guernsey's only around-the-island walk.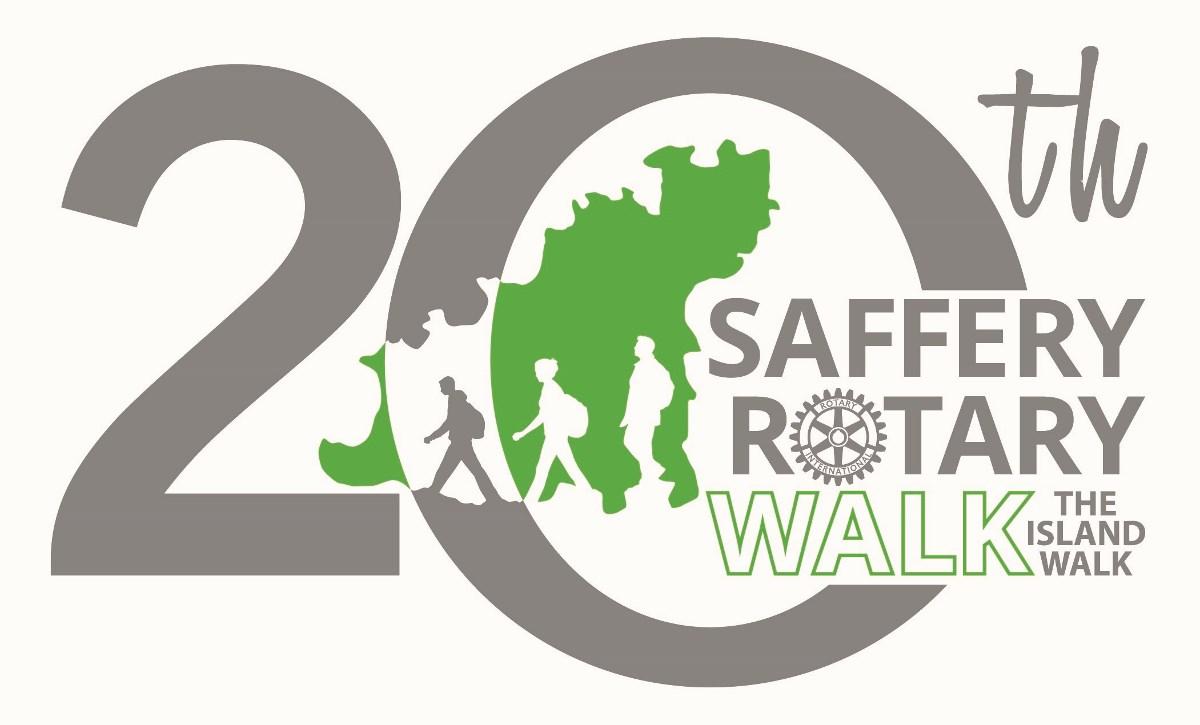 Please click HERE to Register or Donate

| | | |
| --- | --- | --- |
| | | |
Deputy Bailiff Richard McMahon & Jurats Support 20th Saffery Rotary Walk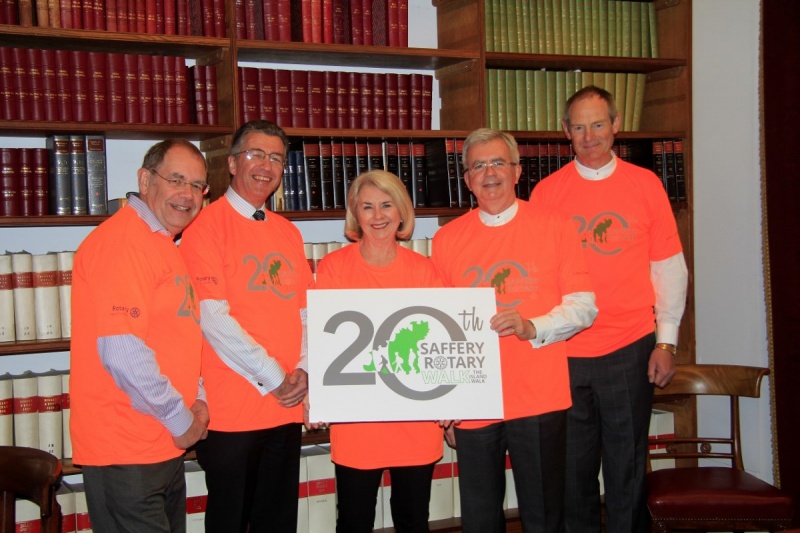 L - R, Jurat Stephen Jones, Deputy Bailiff Richard McMahon, Jurats Connie Helyar-Wilkinson, Jonathan Hooley and Steven Morris
Please click HERE for the Press Release

15 May 2017
Saffery Rotary Walk YouTube Channel
Please click HERE to access the Saffery Rotary Walk YouTube Channel.
13 April 2017
Rotary Club Presidents lead by example in the 20th Saffery Rotary Walk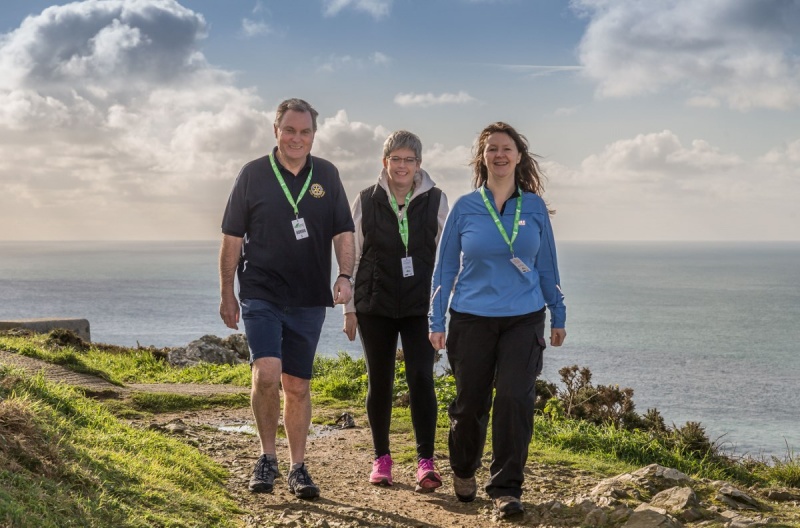 L-R: Rotary Club of Guernsey President Brian Acton, compliance director at Saffery Champness, Allison Brouard and Rotary Club of Guernesiais President Katie Court

Please click HERE for the Press Release.

12 April 2017

Vice Admiral and Lady Corder support the 20th Saffery Rotary Walk
The Lieutenant-Governor of Guernsey, Vice Admiral Sir Ian Corder and Lady Corder will be taking part in Guernsey's only round the island challenge, the Saffery Rotary Walk, in June. Rotary President, Brian Acton, said, " It is an absolute pleasure once to see His Excellency supporting our Club and the Island in general. Sir Ian's role in Rotary is honorary, but his support and contribution is far from that."
This year marks the 20th anniversary of the Saffery Rotary Walk and with the Lieutenant Governor's help the committee is hoping to make this year its best yet.
Sir Ian will be contacting some of his past Service colleagues to encourage them to come over to Guernsey and take on the challenge and it is hoped that in setting this great example he will encourage locals to invite their own friends and family from off-island to come over to Guernsey and take part as well.
Sir Ian said: "My wife and I are very glad to be part of the 20th anniversary of this important and inclusive annual event and are very much looking forward to meeting islanders and visitors along the route."
Simon Milsted, chair of the walk's organising committee, added: "Each walker is given an identification number to wear during the walk and, to mark their amazing support, Sir Ian and Lady Corder will be given the numbers 1 and 2 respectively.
"We are extremely grateful to them both for supporting the Walk in this way and we hope that many other people will be enthused to join them on the 20th anniversary of this iconic island event.
"We are also grateful that His Excellency is also planning to award a Governor's commemorative medal to be presented to the walker who displays exceptional personal endeavour."
Sponsor Saffery Champness is looking forward to supporting the walk for the fourth year running and is pleased to be celebrating its own 40th anniversary alongside the walk's 20th anniversary.
Over 650 people participated in last year's walk with one in six coming from outside the island making a significant contribution to the total £57,526 raised.
28 local charitable projects have been selected to receive funding from the monies raised by participants this year and organisers are calling for walkers to sign up now to take advantage of the early bird offers which end on 31 January.
The pictures shows Walk Chairman, Simon Milsted, explaining to His Excellency with the help of his ADC, Major Marco Ciotti, the extent of the challenge ahead before guiding him through the On-Line registration process.
20 January 2017
Record 28 local charities to receive funding from 20th Saffery Rotary Walk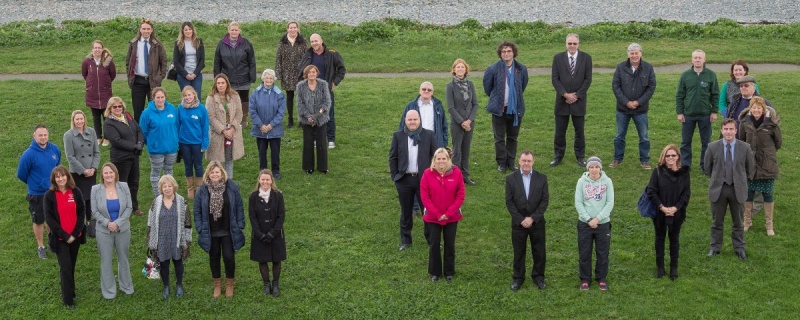 A record number of charities have been chosen to receive funds from the 20th Saffery Rotary Walk this year.
The walk's organising committee, made up of representatives from the Rotary Club and sponsor Saffery Champness, had the difficult task of selecting which applications would benefit from the overall funds raised.
After receiving 41 applications, the committee chose 28 local community projects to receive money raised by walkers who will participate in Guernsey's only around-the-island walk.
The projects selected for 2017 funding are:
GROW Ltd – training for staff and service users on a variety of courses
Safer – funding for three day training course for practitioners to become Community Group coordinators and facilitators
Les Voies School – purchasing a Computer Aided Design (CAD) equipment and classroom furniture
Headway Guernsey – purchasing new laptops for the weekly IT training sessions to re-develop skills of members
Vale School PTA – for the purchase of new playground equipment for pupils
Philippi Guernsey – For a training course for volunteers to help meet an existing waiting list in referrals.
Active – funding an afternoon tea for 150 at the Peninsula
Ormer FC – purchasing the entry fee to an eight a side league
Wigwam support group – to fund IT systems for one year
Guernsey Disability Alliance – supporting a campaign to raise awareness of issues facing people with disabilities
Jumbulance Holidays – funding towards a trip in May 2017
Multiple Myeloma Support Group – For training sessions and workshops run by a specialist
Autism Guernsey – funding a two day training programme for 25 parents to learn communication and other skills
St John Ambulance – for the purchase of safety equipment and training for volunteers
Guernsey Child Contact Centre – purchasing a large TV and games console
Guernsey Hard of Hearing Association – providing hearing aids for those who fall outside the States support.
Lihou Charitable Trust – towards a replacement tractor
Guernsey Chest and Heart – purchasing replacements for two Tanita body scales
CI Air Search – procurement and installation of a TETRA phone to improve communications on rescues
Access for All – bring experts from the UK to train people in access audition and the Equality Act and to use the expertise to build a local network and expand the Access Ambassadors
Guernsey Sailing Trust – purchase one 20hp safety boat outboard engine
Home Start Guernsey – Funding training for five new volunteers
Notre Dame PTA – to support improvement programme through a grassed area in the school grounds
Bailiwick of Guernsey Victim Support and Witness Service – for the delivery of specially tailored sexual abuse awareness training and education events for staff, volunteers and some outside agencies
Guernsey Art Network – to fund 10 art workshops for five adults and five children.
Constables of St Peter Port Xmas Lights – a contribution towards the replacement of the commercial arcade area lights
Forest School PTA – purchasing replacement junior playground equipment
Edible Guernsey 'Growing Skills' at the Edible Guernsey Farm – equipment for the newly donated land, for disabled access in particular
Simon Milsted, chair of the walk's organising committee, said: "Every year the impact that the Saffery Rotary Walk has on the local community increases as we support more and more organisations that provide important services for islanders.
"Our focus now is to inspire the walkers to raise as much money as possible for the 28 selected charities, whether completing the full 39 miles or a section of it as a relay team. We are committed to making the 20th walk our best year yet."
The Saffery Rotary Walk is one of Guernsey's largest annual charity fundraising events and the only round-island walk which this year takes place on Saturday 3 June.
This is the fourth year that sponsor Saffery Champness has supported the walk and the firm is committed to assisting the Saffery Rotary Walk committee. Saffery Champness is celebrating its 40th anniversary in the island this year and is pleased that this coincides with the 20th anniversary of the walk.
15 January 2017
Registration
Registration has officially opened for the 20th Saffery Rotary Walk, Guernsey's only around-the-island walk, offering participants early bird prices for those who sign up before 31 January 2017.
2017 represents a very special year for the Walk's organising committee with it being the 20th anniversary of the first Rotary Round the Island Walk. Event sponsor, Saffery Champness, also celebrates 40 years here in Guernsey in 2017.
Those who register by 31 January will pay a discounted price of £20, after which the regular registration fee will be £25.
Due to the incredible success of the relay team option, which was launched during the 2016 walk, walkers will once again be able to take part as a relay team with a maximum of seven people in each team. The early bird price of £100 for team registration will be available until 31 January, after which the regular team registration fee will be £140.
Chair of the walk's organising committee, Simon Milsted, said: "The relay option was a popular addition to last year's walk with 19 groups taking part. It's a great alternative for people who may not want or are unable to complete the whole walk but still want to take part and support local charities.
"The walk is divided into sections by a number of checkpoints along the route, with each section being between four and eight miles in length and of varied levels of difficulty."
Next year's Saffery Rotary Walk takes place on Saturday 3 June 2017 and the organisers hope to attract a record number of participants.
"The 2016 walk raised a record breaking £57,526 which was donated to 18 local charities. We plan to do better still both in terms of numbers of people taking part and money raised in this our 20th anniversary year of the Walk," said Mr Milsted
The Saffery Rotary Walk, sponsored by Saffery Champness, has launched a new website to mark its 20th anniversary. Participants can register through the event's website: www.safferyrotarywalk.com via the online sign-up and fundraising platform Race Nation which also enables people to raise sponsorship and donate through a secure online server.
Alternatively, paper registration forms are available from the offices of Saffery Champness at La Tonnelle House, Les Banques, St Sampson's.
Director at Saffery Champness and head of the firm's CSR activity, Lisa Vizia said: "We are pleased to sponsor an event which helps so many deserving charitable projects on the island. Being involved in the 20th Saffery Rotary Walk is also a great way to celebrate Saffery Champness' 40th anniversary in Guernsey and we are determined to help make this year's walk its best event yet."
Walkers complete the challenge in aid of a range of local charities and not for profit organisations, all of which operate in Guernsey and the Bailiwick. The 2017 recipients will be announced in January.
5 January 2017