Community and Vocational
The Club undertakes numerous activities throughout the year to assist individuals and groups in the local community.
Examples are:
Providing a team (about once every six weeks) to read and to record onto USB sticks, the Godalming edition of the local paper, The Surrey Advertiser, which is then distributed to visually impaired people who have registered for the service through Guildford Talking Newspapers.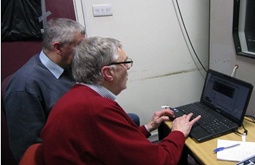 John Reid edits the recording before duplicating onto USB sticks.
The Club has a rota of Members who visit Loseley Fields School every day to hear young children read, improving their confidence and allowing the teacher more time for other tasks.

Street collections are carried out, sometimes to fund specific charities, such as Prostate Project, Cancer research or End Polio Now; sometimes to provide vital funds to give aid where there has been a natural disaster.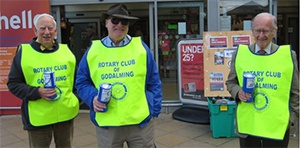 The Club also provides stewards for various events such as the Godalming Music Festival and the Godalming Town Fireworks.

The initiative adopted in 2016 comprises a range of activities to help the residents at Hydon Hill, a Cheshire Home for the severely disabled, just outside Godalming. So far we have helped with the maintenance of their new garden for residents, staffing the shop on a rota basis, befriending, and providing stewarding assistance for a big event, but plans are in place to widen the activities to include the provision of evening entertainments and interactive music.