Godalming Club was one of the founders of the Rotary Jaipur Limb Project and continues to support it.
Here is their Newsletter.
We look forward to supporting them again with a Fund-raising Curry Eveneing in May, when Roger While will be present to give first-hand information about the project.
The_Jaipur_Journal_First_Issue.pdf

Fundraising Dinner for the Lake Natron Project

February 2017
We hosted an Italian-themed dinner at the newly refurbished Wilfrid Noyce Centre in Godalming in support of the Natron Healthcare Project.

Our guest speaker was Dr. Penny Aeberhard, who founded the charity in 2008.

The Lake Natron project provides health care support services, particularly aimed at the well-being of women and young children. Lake Natron is a soda lake in Northern Tanzania, home to Maasai communities.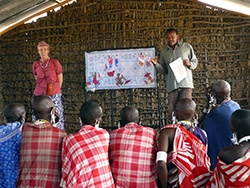 Doctor Swai and Penny Aeberhard
teaching about anaemia.

NATRON HEALTHCARE PROJECT
The charity was established in 2008 by Dr. Penny Aeberhard (pictured centre) and Melanie Finn. It works with existing medical and social organisations aiming at local sustainability.
The Lake Natron project provides health care support services, particularly aimed at the well-being of women and young children. Lake Natron is a soda lake in Northern Tanzania, home to Maasai communities.
The Natron Healthcare Project has been supported by Rotary for six years.
The project brings basic healthcare to isolated villages in the remote region of Longido, without regular and accessible health services. The Project aims for sustainability: extending, supporting and integrating existing resources, with particular emphasis on health education of communities.

Recent activities include: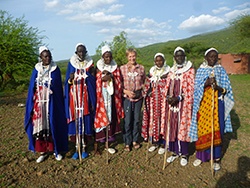 • School lunch programme, with deworming and Vitamin A supply.
• Burns workshop.
• Mobile eye clinic.
• Support for anaemia testing. Anaemia affects up to 50% of children and young women. Can lead to maternal deaths, and intellectual and physical impairment in children.
• Three day residential first aid course for selected villagers.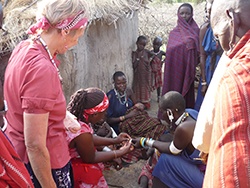 Future plans:
• Continued support for Traditional Birth Attendant training, incorporating government midwives for ante- and post natal services:
> In Tanzania, less than half of births are attended by skilled health staff.
> Infant mortality is 35 per 1,000 live births and maternal mortality 460 per 100,000.
• Extension of anaemia testing by the Traditional Birth Attendants.
• Introduction of family planning services.
• Continuing education: instruction on HIV, STDs, eye care, dehydration, hygiene, rabies and TB.
Mark Rankin - President 2009-2010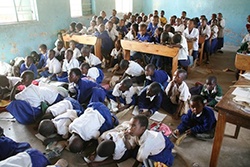 It was sometime in late 2012 or early 2013 that Mark came to Skillway to talk about designing a desk which could be easily made and easily transported in Tanzania, and maybe throughout Africa, as he had recognised a tremendous need for the children to have basic facilities in school.

He called it the Wosi Wosi desk after the community where he had seen hordes of eager children, happy to be in school, but sitting on floors in cramped, bare rooms.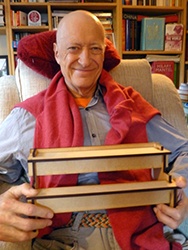 So began a long journey through some enormous difficulties sourcing the right kinds of materials - an economic as well as a sustainability issue - and developing a design that could be cut from one sheet of material and assembled without tools. One of the tutors at Skillway came up with a conceptual design; a family friend of Mark's made a small model, and Skillway made a first full size model.

However, the greatest difficulty and sadness was that much of this development was done while Mark was terminally ill. He remained passionate about it, and cheerfully continued to pursue progress of the project.

At his funeral in March 2014, generous donations were made in Mark's memory to enable the project to progress.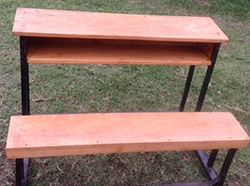 There are many people who have been involved in finally achieving a successful outcome and the provision of (hopefully just the first) 110 or so desks seating 220 children, but the biggest thank you must go the Peter Ricketts, a Guildford Rotarian and Faye Cran, a Rotarian in Arushu, Tanzania. Together they have smoothed the pathway and Faye found a local man who has run with the concept and built a desk that can be easily transported, put together without tools, and be produced economically from local resources.

Thank you to all the people involved – and to Mark who was so passionate about many things. We trust that we have honoured your vision, Mark. Rest in Peace.

International activities of Godalming Club
In August 2012 Godalming Rotary club supported a project through a new member who was previously a member of the Rotary Club of Pietersmaritsberg, South Africa before coming to the UK. That Club supports the Msunduzi Hospice Association, and Godalming donated £500 towards the cost of a weeks residential course training 18 women in Palliative care for Older Persons. This course was very successful and cost a total of 20.000 Rand (£1450).We have continued to support Marys Meals, a Scottish Charity which is feeding over 750.000 school children daily in over a dozen countries in the developing world.
We have had speakers from and supported:
The Lake Natron Project ( a clinical unit in Tanzania), Marys Meals, The Jubilee Trust, Sand Dams (a Charity building Dams which will fill with silt and sand which will hold water and will provide Water in drought Areas), School in a bag (a Charity providing Haversacks for School children containing all the necessary stationary and other materials to help them for their school work), The Rotary Jaipur Limb Trust, The Children of Sumatra,( a Charity run by the Rotary Club of Billingshurst operating a Clinic for Children with Cleft palates), and many other Charities as needs arise, especially where there have been natural disasters.
In 2013 and 2016 we have organised a Curry evening to raise a donation to the Rotary Jaipur Limb Trust. This Trust was originally started by a Godalming Rotarian many years ago and is now one of the most successful Rotary projects operating Limb replacement centres in India, Africa and Haiti. These evenings were well supported by of our neighbouring Rotary Clubs and wehave donated over £2,000 to the Trust.