News Update
Since Sunday 29 July, the island of Lombok in Indonesia has been struck by a series of violent earthquakes, leaving dozens of people dead and hundreds more injured.
At least 270,000 men, women and children have been left homeless and urgently need shelter.
Shelterbox teams are on the ground right now and hope to provide tents and tarpaulins to help families who have lost everything.
Rotary teams will be helping the Shelter Box Response Team to deliver the aid into the hands of the families who need it.
Partnership background
The project partnership between Rotary and ShelterBox offers opportunities to collaborate in providing emergency shelter and vital supplies to stabilize, protect, and support communities affected by disasters and humanitarian crises.
About ShelterBox
ShelterBox is an international relief charity that provides immediate assistance to people affected by disasters such as earthquakes, volcanic activity, flooding, hurricanes, cyclones, tsunamis, or conflict. With 18 international affiliates, ShelterBox provides shelter, lifesaving equipment, and educational materials to hard-hit communities worldwide. Since its founding in 2000, ShelterBox has responded to more than 200 natural disasters and humanitarian crises in almost 90 countries, providing vital aid for well over 1 million people.
How do ShelterBox response teams operate?
A highly trained ShelterBox response team, composed mainly of volunteers, distributes ShelterBoxes at the site of a disaster, working closely with local organizations, international aid agencies, and a global network of volunteers. Each ShelterBox, tailored to the particular disaster, typically contains a relief tent for an extended family, blankets, water storage and purification equipment, cooking utensils, a stove, a basic tool kit, a children's activity pack, and other essential items. Distributions may also include SchoolBoxes containing essential tools for teachers and basic educational supplies for 50 children.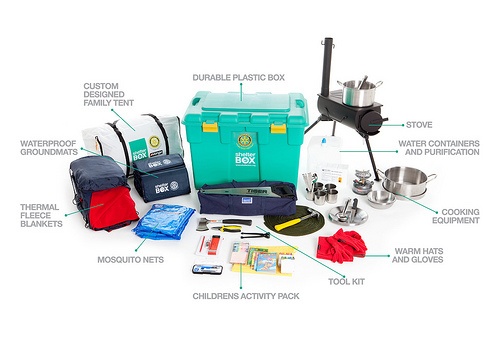 The image above shows the usual contents of a shelter box
The club has sponsered a number of shelter boxes and has a Shelter Box that has been used for demonstrations and is displayed each year at the Annual Duck Race. The United Reform Church in Sandwich has also sponsered a number of Shelter Boxes