Two Choir Concert
Brilliant evening with Sir Joshua Reynolds AND The Plymouth Area Police Choirs. Many thanks to the St Eustachis Church and great to work with Tavistock Rotary.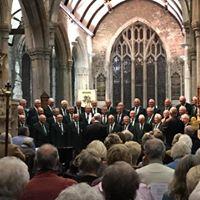 Tavistock & Roborough Clubs hope that everyone involved in the evening enjoyed themselves The income generated will produce at least 3 boxes for Literacy in a Box and go a long way to Chemotherapy Pump via Plymouth & District Leukaemia Fund.
Thank you to all who attended and gave so generously on the night the result will offer a great benefit to a lot of people via Rotary and the nominated Charities.