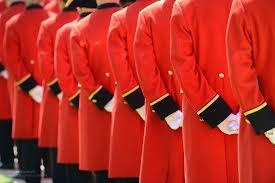 Rob Grant, the Liaison Officer for the Chelsea Pensioner and Liberation Visit and himself an ex-infantryman, gave a very interesting presentation about these two iconic groups, focussing mainly on the Chelsea Pensioners.

He described the history of the Royal Chelsea Hospital from its instigation by Charles II, who died before it opened, and took in its first "in-Pensioners" in 1692. Nowadays, the Pensioners, who are all ex-Army - Navy or RAF personnel are not eligible - must have served at least twelve years in the ranks (or be in receipt of a disablement pension) and have no financial dependants. Officers, unless they have served at least twelve years in the ranks, are not eligible. Rob gave histories of some of the people who had been Pensioners, which were amazing and included one story of a woman who served as a man in the Army (this was a couple of hundred years ago), was wounded three times and was eventually admitted to the Royal Hospital. These days, female ex-Army personnel are freely able to apply to become Pensioner
Rob described how visits to Guernsey for the Liberation Day celebrations are very popular and care is taken with allocation of places.
It was a very well-received talk about this very well-known and much loved group of veterans.