What is Macula
What is a Macula and why is there a society for it? These were questions which Stella Black of the Macular Society was well qualified to answer when she addressed members of Staines Rotary recently at one of their dinners.
These were questions which Stella Black of the Macular Society was well qualified to answer when she addressed members of Staines Rotary recently at one of their dinners. Stella has spent 12 years involved with eyesight conditions, firstly with RNIB then Sight for Surrey and since March 2015 with the Macular Society as the Regional Manager.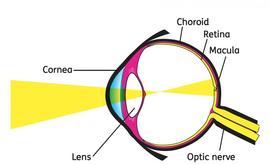 Stella first explained what the Macula is. Along with the retina, the Macula is responsible for our sight, and whereas the retina covers a large part of the back of our eye, the Macula is a much smaller area of the eye, close to the optic nerve; the retina is responsible for our peripheral vision but the Macula provides us with our central vision and is vital in our ability to read and see objects up close. Unfortunately, it can and does deteriorate and leads to increasing loss of central vision, particularly amongst those of advancing years. So those afflicted, and not everyone will suffer from Macular degeneration, can no longer do normal everyday things like read a book, watch the television, drive a car, even cook. And that can be very worrying for those who get what is now known as Age-related Macular Degeneration, or AMD. There are two types of AMD: dry and wet. Most AMD starts as the dry type and in 10-20% of individuals, it progresses to the wet type. Age-related macular degeneration is always bilateral (i.e. occurs in both eyes), but does not necessarily progress at the same pace in both eyes. It is therefore possible to experience the wet type in one eye and the dry type in the other. There is no cure, the degeneration cannot be slowed or arrested. Wet AMD can develop very suddenly. It can now be treated if caught quickly. Fast referral to a hospital specialist is essential.
Stella explained that the Society, which has some 21,000 members in 300 support groups around the UK, helps people who suffer from AMD through setting up support groups. Stella advised that she has responsibility for 50 of such groups and noted that a support group was recently established in Staines, meeting at the Hub on the third Thursday of the month. She said fear is the biggest concern of those with AMD and one of the purposes of the support group is to exchange experiences and to learn that they are not alone and thus help allay those fears.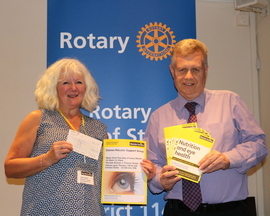 The Society provides a help line, on which AMD sufferers can discuss their deteriorating eyesight and can offer counselling, organises seminars and conferences, raises funds for research into what causes the Macula to degenerate in some people and not others and thus find a drug that can slow and maybe arrest the process; and undertake public awareness campaigns.
Stella advised that prime causes of AMD are smoking, a poor diet, age, and genetics. She emphasised the need for a proper diet to include leafy vegetables, particularly Kale and spinach, as well as yellow fruits and vegetables, such as yellow peppers and mangos which can delay the onset of AMD. She also recommended regular, annual eye tests, as increasingly opticians are looking at the Macula for early signs of degeneration.
If you are concerned about a loss of central vision, have blurred vision or experiencing increasing areas of blackness or bendy lines in your sight, or know of someone who does, you can contact the Society through Stella at
stella.black@macularsociety.org
or phone 01306 644908, and you will be welcome at the Staines support group. For more information on the Macular Society, visit
www.macularsociety.org
.