Club Vice President Bernard Stevens welcomed the award recipients and guests to the meeting, observing that working with them on good causes encouraged and enhanced the club's objective of serving at the heart of the community.
The evening had been organised by club President elect Nick Charalambous, coordinator of the club's Christmas events, who explained that funding for the awards had again come from the traditional Christmas Santa Fun Run and Christmas Float Street Collections, in which several of the charities had helped, augmented this year by a contribution from the September 2021 Gala dinner held to celebrate the club's 90th anniversary.
He thanked the recipients who had helped with the street collections, noting that many of them were youngsters, for their enthusiasm and willingness to accompany the float. Some of them had turned out twice or more!
Award envelopes were presented by Nick Wood Dow, Deputy Lieutenant of Surrey and a long-standing friend of the club. to representatives of the charities: Home-Start Spelthorne, 6th Staines (Christchurch) Scout Group, spelthorne_youth, Surrey Clubs for Young People, The Phoenix Project and Transform Housing & Support. In thanking the club for their awards, the representatives gave the meeting a summary of their charity's membership, activities and plans.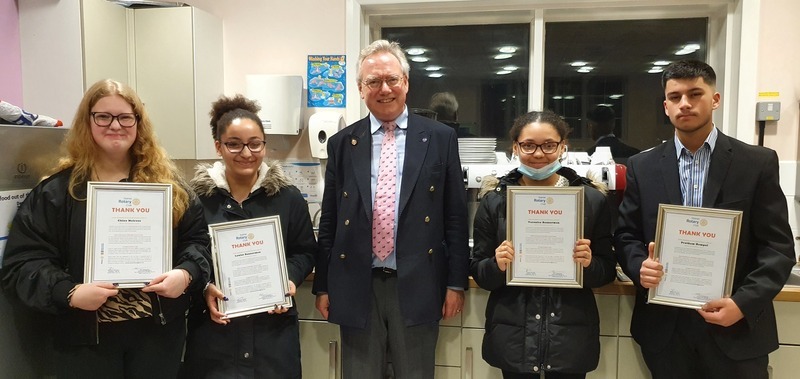 The evening concluded with light refreshments and the opportunity for award recipients to mingle with each other, guests and the Rotarians to talk more about their activities and achievements.