Staines Rotary has been playing its part in a global campaign to eradicate polio, raising funds over several years to help achieve it.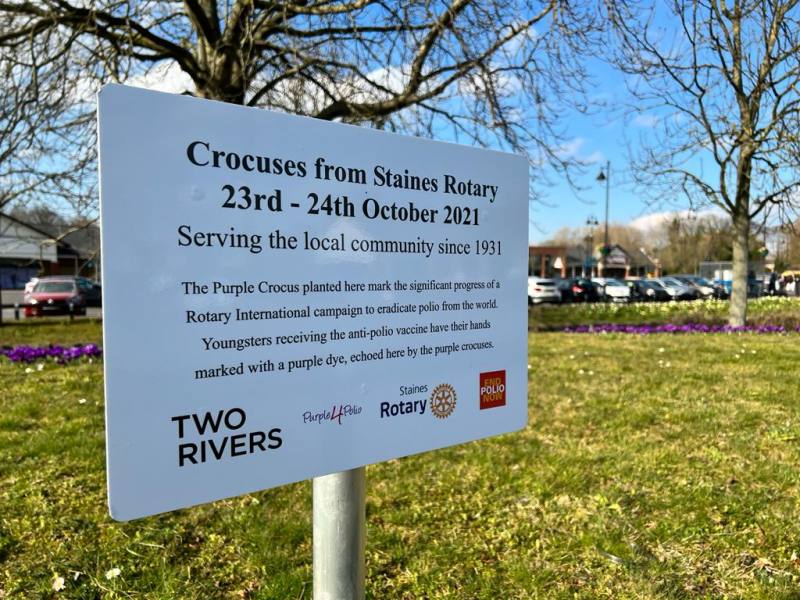 Rotary's governing body, Chicago-based Rotary International, started the campaign over 30 years ago, attracting support from the World Health Organisation and huge financial backing from the Bill & Melinda Gates Foundation.
The campaign vaccinates children with an anti-polio vaccine. Many Rotarians have ventured overseas to help deliver it. To check on who has or has not received the vaccine, a hand of children who have deceived it is marked with purple dye, thereby making purple the campaign colour.
The campaign has now reached its aim in most countries, including all of Africa. Just two counties remain to be freed: Afghanistan and Pakistan where a strong anti-vax lobby has spread the fake-news that the vaccinations are a Western plot to sterilise their children.
To mark the success of the campaign elsewhere. Rotarians around the world have been planting crocuses with the purple campaign colour. In Autumn 2022, Staines Rotary planted lots adjacent to the Papa India Memorial at the rear of the Moormede Estate; in 2021 in Lammas Park of Wraysbury Road, as did the Two Rivers Management Team on the banks of the River Colne. In Autumn 2020 Staines Rotary planted several batches on the banks of the River Thames near Penton Hook lock and at Silvery Sands. With the arrival of Spring, they have come splendidly into bloom.