Volunteering at Heathrow
Remember the Pink Army? Remember 2012? The Olympics? Well, the Pink Army you might now recall was a 1,000 strong group of volunteers who worked at Heathrow before and during the 2012 London Olympics; and what did they do?
Well, to answer that question, we invited Gerald White who was a team leader and remains a Heathrow Volunteer to explain quite what he and his teams did.
Gerald is no stranger to volunteering. In 1991 he assisted with the Charity Breakthrough Breast Cancer before moving on to work with MacMillan Cancer Support. In 2006, he became the Staines and Ashford organiser for the Poppy Appeal, which later was extended to include Heathrow. In 2012 he was selected to join the Heathrow Volunteers, later referred to as the Pink Army on account of their pink/ purple uniforms.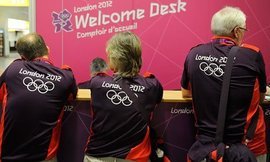 The Heathrow Volunteers, or Ambassadors were a part of a much larger group of volunteers, some 70,000 in number, who volunteered to assist in helping athletes, dignitaries, supporters etc. find their way around London and the Olympic Village. Gerald's team were recruited specifically for Heathrow to greet the visiting Olympians as they exited their planes, sort out any problems with luggage, direct them to registration and get them onto their transport to their quarters. This gave them access to many of the sensitive areas airside and as such they had to have extensive security clearance. Being the first point of contact for many of these athletes, it was important that this gave a lasting and good impression, which is what they did and gained much praise for it.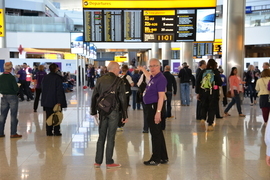 Once the Olympics was over, Heathrow was so impressed with the professionalism displayed by the volunteers that they asked 150 of those volunteers to remain as Heathrow Ambassadors, doing work very similar. They we employed during the UEFA finals, and have been used for large conferences or sensitive groups passing through the airport. Their duties include helping passengers transfer from one flight to another, retrieving baggage, directing travellers wanting to get from one terminal to another.
They also worked closely as dummy passengers during work up trials for Terminal 2, testing check in, security, boarding, arrivals, baggage claims and so on. They were also on hand to assist Delta when they changed from T4 to T3. Gerald explained that an Ambassador is required to be available on at least 6 days per year, although many work more often. He said that it was a most interesting job, and although unpaid, the Ambassadors received reimbursement for travel costs and were provided with meal vouchers. He said he gained much enjoyment from meeting and helping a wide diversity of people. Sounds interesting.