Industrial Heritage of the Colne Valley
Fiona Brewer, project officer for Groundwork South based at the Colne Valley Park Centre near Uxbridge, gave us an illustrated presentation on the Industrial Heritage of the Colne Valley.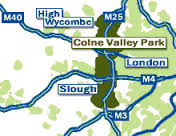 Fiona described how the Colne Valley Regional Park, founded in 1955 and covering 43 square miles stretching from Staines to Rickmansworth , displays the legacy of range of industrial activity from gravel raising, quarries for brickmaking, water mills and watercress beds, which had created today's attractive landscape of lakes, pathways, nature reserves and watercourses including rivers, the mill streams and even the Grand Union Canal, which runs with the Colne through most of the park before turning east towards Brentford and Paddington.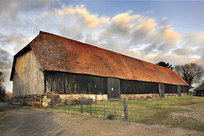 Near the southern end of the park its farming heritage remained to be seen at the Great Barn of Harmondsworth which had remained in use from the 15th century until the late 1970s.
The talk included soundbites from local people describing sightings of kingfishers and other wildlife and pictures of canal festivals at Rickmansworth and on the canal's Slough branch at Langley.
Fiona's project had the aim of publicising the often overlooked attractions of the regional park, which continued to work on improving public access with a view to encouraging visitors.