It's often interesting to know a bit more about your fellow members in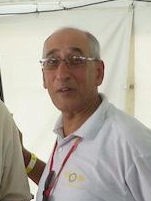 Rotary, their interests and ancestry. One such Rotarian is Feroz Wadia,
not only is he a Past World President of the 'International Fellowship of Flying Rotarians' (IFFR),he also has a maritime connection through his ancestors who were accomplished ship builders. Below is a short extract
about his family's shipbuilding history;
When their connection with the Bombay Dockyard ended in 1913, the Lovji Wadia family had left a legacy of ships, from sloops to schooners, merchant ships and man-o-wars, cutters and clippers, frigates, water boats and steamships – over 400 ships!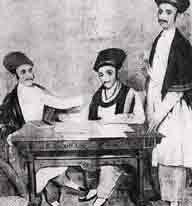 Photograph of young Wadia cousins - Jehangir Naoroji and Hirjeebhoy Meherwanji with Uncle Dorabji Mancherji on the left, ca. 1838.
According to a publication in 1955 of The Bombay Dockyard and the Wadia Master, the ship HMS Trincomalee was built by a nephew of Lovji - Jamshedji Bamanji Wadia and launched on October 12, 1817, for the British Navy. Later the ship was named Foudroyant (1897). It served the British well during the Crimean War (1852-1857) and World War II (1939-1945) and now rests in Britain, soon to be converted into a museum.
Jamshedji, Nowroji, and Dhanjibhai Wadia have been the outstanding shipbuilders of the 19th century British India, building 22 ships for the British Navy alone.
Like the HMS Tricomalee, the HMS Cornwallis, launched on May 2, 1813, saw active battle in the British-American War of 1812 and twenty years later as Flagship of the British Fleet in the China Seas, she led an expeditionary force during the "Opium War" of China. The historic signing of the Treaty of Nanking, ceding Hong Kong to the British took place on HMS Cornwallis August 29, 1842.
Several other warships like the HMS Asia saw action in various parts of the world.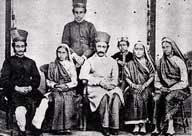 Wadia Family, Bombay, ca. 1870s. Cursetji Naoroji Wadia (seated center), grandson of Jamsetji Bomanji Wadia, third Master Shipbuilder.
Nusserwanji Maneckji Wadia (1753 – 1814)
Grandson of the great shipbuilder Lovji Wadia opened up trade through shipping with foreign countries.
Other descendants of Lovji –
Jehangir, Nowroji , Dossabhoy,Dhunjibhoy and Cursetji further developed worldwide trade with Europeand America.
In 1834 Ardeshir Cursetji Wadia was the first to introduce gas to Bombay. He became the first Indian Fellow of the Royal Society of London in 1841.