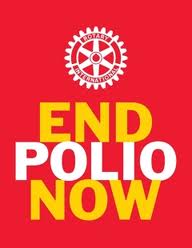 Eradication of polio in the world is a major project for Rotary and its clubs.
We have been fighting polio for 30 years and the fight is nearly won.
The Global Polio Eradication Initiative includes Rotary, UNICEF, the U.S. Centers for Disease Control and Prevention, the Bill & Melinda Gates Foundation and governments of the world, with the support of many others.
Please click the image left and above for an interactive web site where people can come together to end polio.
For more information
about a pioneer of the End Polio Now campaign
Click Here
For what we are doing in November 2023 click here