FOOD
Like many others, we have replaced our regular get togethers with Zoom meetings. In consequence many members donated to the One Can Trust the money they saved by not paying for a meal each week. The amount raised in this way during 2020 was in excess of £12,000. This went directly to fund food parcels for families in crisis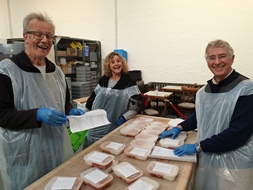 Another community project Meals from Marlow delivered meals prepared by Tom Kerridge's kitchen team to the homes of vulnerable or isolating people in and around Marlow as well as to NHS workers. This project has been delivering prepared meals to housebound people in Marlow since the start of the lockdowns and throughout this time several of our members volunteered to help with local deliveries.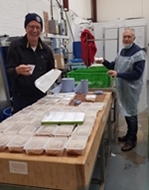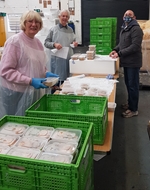 In the three-week run up to Christmas the pressure on the kitchens was such that they needed extra support in packing and labelling the meals prior to distribution and fourteen Rotary volunteers were involved in helping. Typically these 'elves' labelled and packed about 300 meals each day, but the last day saw a team of six pack no less than 1,600 meals - enough stock to satisfy even Good King Wenceslas when he looked out on the Feast of Stephen. The elves didn't seem to want figgy pudding but when Tom Kerridge's Mac and Cheese was offered at lunchtime it disappeared very quickly. This work continued into the New Year and by the end of April we had completed 92 shifts which amounted to 140 working hours and 18,000 meals labelled.
In parallel with this, another group of members prepared 'Food for Thought' (a weekly quiz and puzzle sheet) which was distributed with the meals to help boost the morale of people isolating.
FUND RAISING
This year's Santa's Fun Run was virtual' with runners allowed to run in small groups anywhere in the world.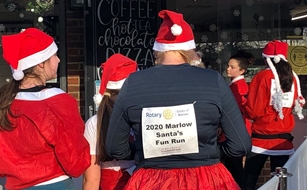 The Shanly Foundation was the the lead sponsor, supported by many other local businesses. 900 entries were received from Marlow to New York and over £20,000 has been raised for mainly local charities.
After the event there was an explosion of Santas on social media and many miles had been travelled by the entrants before the 31st December deadline. This included some of our own members undertaking a socially distanced walk in pairs along the Thames Towpath.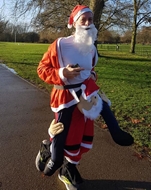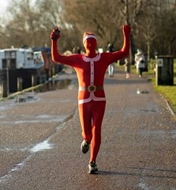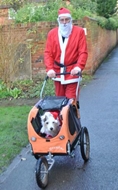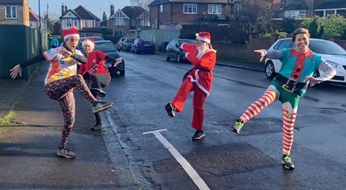 Hopefully next December we can get back to something like the normal Sunday morning mass start.


In November the local Royal British Legion branch appealed for volunteers to help with their annual Poppy Appeal. As many of its long-standing collectors were in vulnerable groups or isolating several Rotarians volunteered to assist just before lockdown and, despite the short notice, what looked like a large potential shortfall in the local Poppy Appeal in fact turned into a successful year.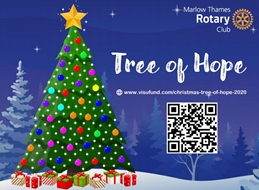 The Tree of Hope erected in Marlow Causeway is emblematic of Rotary's presence in the town.
As the impact of the virus hit the community in many ways it became ever more meaningful. Anyone could place a personal message on the dedicated web site and have their message tag hung on the tree in return for a small donation to charity.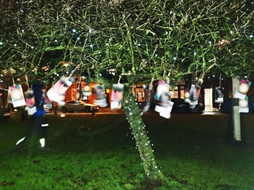 This incentive raised approximately £1,000 which will go to:
Marlow Mayors charity (mental health in young people).
Alexander Devine Children's Hospice.
South Bucks Hospice
Thames Valley Adventure Playground (for children with special needs).
Marlow Age Concern.
COMMUNITY
Members of Headway South Bucks (which supports people who have a brain injury) were unable to attend their regular meetings. To help them our members created game and puzzle sheets to incorporate into the frequent newsletters which were being sent to support them and also helped fund their distribution. When their usual Christmas party fell victim to Covid restrictions it was planned to send them Christmas hampers instead. Unfortunately with staff shortages and time running out the charity was struggling with the workload of organising, sourcing and packing the hampers. Our members took on the task and in co-operation with the charity sourced and packed twenty-three large hampers to distribute.
When primary school children were sent home we contributed funds so that those in most need could receive the books and materials that were necessary.

In September The Marlow Medical Group called upon our club to assist with marshalling cars into and out of their drive-in vaccination clinics for the winter flu jab at Marlow Rugby Club. A team of six Rotarians managed to keep the traffic flowing and thereby reduce the workload on the medical centre staff.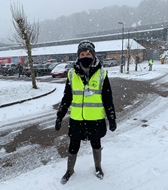 As a result of marshalling at the flu jab clinics, when the NHS Covid vaccination programme started at Adams Park stadium in January, our members were asked to help by marshalling there too. The need for support grew with the vaccination roll-out and two club members took on the organisation of all the marshalling rotas there, which relieved the site manager of the responsibility, and has been much appreciated. To meet demand we supplemented our numbers by calling upon Friends of Rotary, family members, additional support from Cookham Bridge RC and Bourne End & Cookham Rotary Club and also the Bucks Volunteers pool. By mid-May our Rotary team had completed nearly 300 shifts and 1000 hours of support to the local Covid vaccination programme.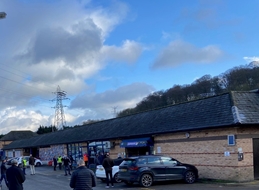 Since before lockdown the Club has organised a forum in which local small charities can swap ideas and information and receive specialist advice. During lockdown this became even more vital as charities struggled to meet demand with ever-reducing funds. The help given was invaluable and more than one participating charity has been helped to access substantial financial grants.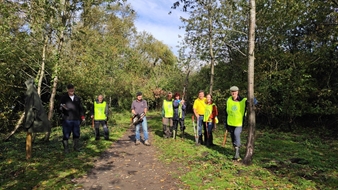 In October a Club team made two visits to Spade Oak Nature Reserve supervised and managed by Chiltern Rangers.

Our members enjoyed some much-needed socially distanced outdoor therapy clearing undergrowth, bushes and branches around the public footpaths.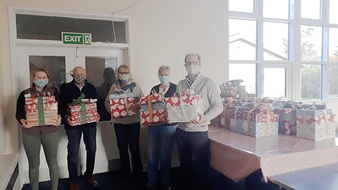 Both Marlow Rotary clubs donated gifts and a small team packed Christmas boxes for distribution to young carers in the community, local disadvantaged children and their families.
They were delivered to some very grateful families just before Christmas. The boxes looked amazing and the children and families were excited when they discovered the contents!
A selection of comments:
"such lovely grateful families made the task the best part of Christmas"
"the most exhilarating task in the whole wide world. Such grateful lovely people"
"the best part of Christmas"
"What a great project, it was humbling taking those parcels to families"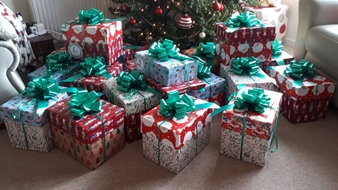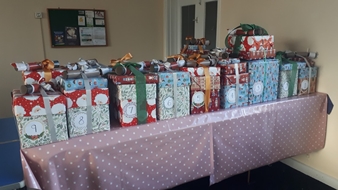 What better examples to illustrate what Rotary is all about – giving back to the community.
Unfortunately due to ever tightening restrictions the Rotary Christmas Drive In Movie planned in conjunction with Brand Events had to be cancelled. Nevertheless the message that Rotary was giving something to the Community was broadcast loud and clear and many more people are now aware of Rotary.