GETTING TO KNOW - Carole Broom, past President and current Secretary.
Friendly Chat with Carole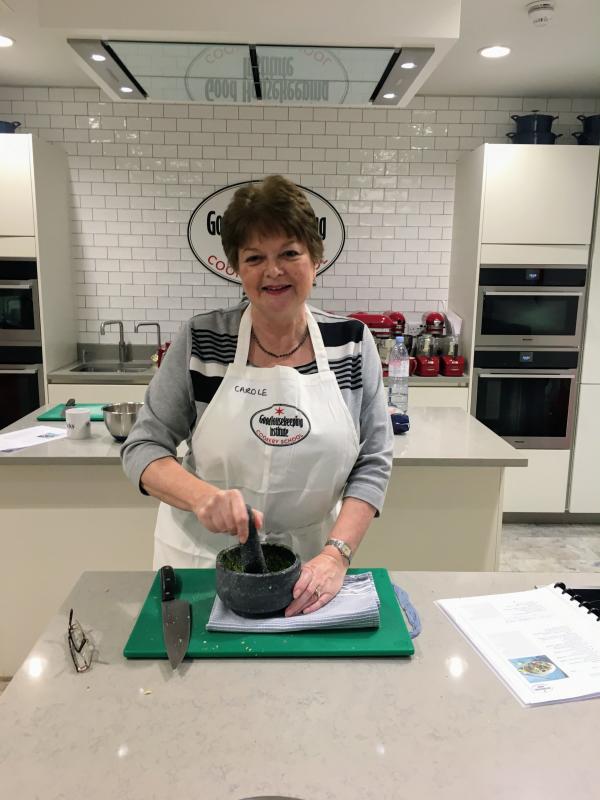 A get together 10-question interview with our Club Secretary Carole Broom who is looking forward to what the Rotary year brings.
1. Tell us a little about yourself?
I was born & raised in London but also have lived in Surrey, Kent, Oxford, Buckinghamshire & then here in Bury, Cambridgeshire since 1994. I have a keen interest in science, so I decided on a career in biological science. I am not squeamish which was just as well considering 40years in Blood Transfusion laboratories and as a scientist with the National Blood service. Studied at Paddington & Slough Colleges and later with the Open University. I am married and have two grown-up daughters, one of which is also a Rotarian, plus recently arrived twin grandsons. I have a passion for foreign travel with Canada, The Maldives (for the marine life) & New Zealand being among my favourite destinations. Apart from travelling, in my leisure time I like to follow Formula 1, I enjoy day trips in our light aircraft, I also like gardening, cooking and have recently rediscovered knitting (for the grandsons!).
2. UK Holiday or aboard?
Both have their attractions. I have enjoyed all our foreign travel, but due to health concerns, holidays may be UK based for the time being. I prefer un-crowded places, good scenery, food, and culture to night life. We have family in New Zealand and Canada.
3. Pub dinner or posh restaurant?
Depends on my mood but posh restaurant as I love good food and the opportunity to dress up!
4. If you could witness any event of the past, present, or future, what would it be?
The release of Nelson Mandela in 1990.
5. What 3 famous people (past or present) you would invite for a BBQ and why?
Charles Darwin and Marie Curie, two famous figures from science for conversation and Simon Weston for inspiration in the face of adversity after his horrendous injuries sustained in the Falklands war.
6. What attracted you to Rotary?
Putting something back into my community whilst making like minded friends and having some fun.
7. How did you get involved in Rotary?
Having seen the Santa float in action over the years I decided that having retired in 2012 I now had time to undertake some voluntary work. In 2013, I approached my neighbours, June & Peter Green, both past presidents of Ramsey club to find out more and the rest is history.
8. What are the best bits of being a member?
Doing something worthwhile in the local community. Developing lasting friendships within the Club and other voluntary groups, supporting each other in times of need.
9. Clearly you know the Rotary 4-way test. What 5th test would you have for Ramsey Rotary Club?
Does it encourage new and existing supporters?
10. Now you are the Club Secretary, tell us what you do, and challenges that are involved?
As Club secretary I support the President in the administration of the Club's activities including the schedule of meetings, speakers, fundraising & social events and keeping members & our website updated. Collating and circulating reports of our voluntary work for our meetings and subsequent minutes to the membership. I respond to any contacts via our website for funding or support & from approaches from other Rotary clubs. I am also a trustee of the Club's charity account. As is often the case, it is the IT that can be challenging especially when you use it infrequently.