Purple for Polio planting in York Cemetery
More than 10,000 purple crocuses are blooming in York Cemetery, recognising Rotary International's 35-year campaign to rid the world of poliomyelitis. The bulbs bring a colourful reminder of the on-going threat of the killer disease.
The crocuses were planted on the front Baby Lawn in previous years to heighten the awareness of the polio threat each year in the Spring. The Friends of York Cemetery and the Rotary York Ainsty joined to deliver this project.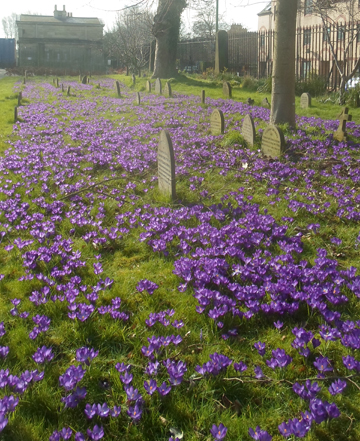 Local school children from St Lawrence's Primary School, St Georges Primary School and Fishergate Primary School assisted in the planting. In total, 200 pupils came to help, including 40 from Fishergate's reception class.
The planting was open to the public with cemetery friends, volunteers assisting and providing refreshments. Rotarians, Geocache group, LifeStyle girls' group and local people – aged from three-years-old to grandparents. The Lord Mayor and Civic Party also helped with the planting and the event was televised by York TV.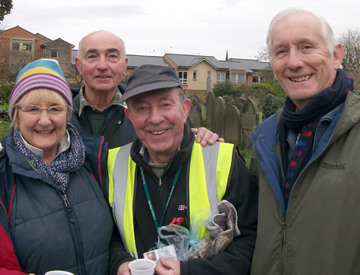 Rotarians seen above at the planting are (left to right) Christine True, Alan Stow, Clive Dawson and RYA club president Martin Simpson. Clive is chairman of the Friends of York Cemetery.
The purple colour of the crocuses has come to represent the Rotary polio eradication campaign… Purple dye is used on a child's left finger in developing countries across the world to indicate they have been immunised against polio.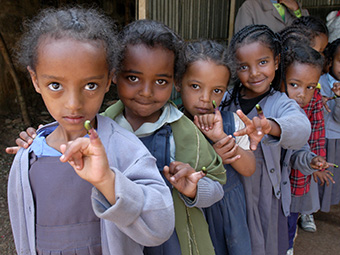 In 1985, Rotary launched its PolioPlus programme, the first initiative to tackle global polio eradication through the mass vaccination of children. In 1985 more than 1,000 children a day were inflicted with polio. Today, the 'wild' version of the disease is restricted to just two countries – Pakistan and Afganistan – totalling only 140 cases a year.

Geographical isolation, poor public infrastructure, armed conflict and cultural barriers are the main factors stopping the total eradication ambitions of Rotary, the World Health Organisation, US centre for disease prevention and others. Until polio is eradicated, all countries remain at risk of new outbreaks. The UK Government - together with other nations – has donated millions to fund the on-going initiative, recognising the dangers the disease posed to the globe's children.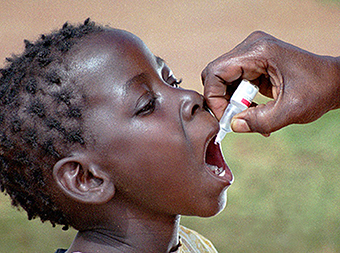 More than one million Rotary members have donated their time and personal resources to end polio. Every year, hundreds of Rotary members work side-by-side with health workers to vaccinate children in polio-affected countries. Rotary members work with UNICEF and other partners to prepare and distribute mass communication tools to reach people in areas isolated by conflict, geography, or poverty. Rotary members also recruit fellow volunteers, assist with transporting the vaccine, and provide other logistical support.