Charity Fundraising for Ukraine
The Rotary club of Thanet held a fundraising event at 'G' Casino Westwood Cross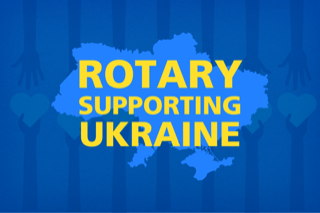 CHARITY FUND-RAISING FOR UKRAINE
over £1,400 RAISED BY ROTARY CLUB OF THANET
The Rotary Club of Thanet held a fund-raising evening at the Grosvenor Casino Westwood Cross Broadstairs on the evening of the 14th November 2022.The club raised £1,348 donations from ticket sales and a raffel and further donations topped this up to £1,400.
A total of ninety-two came along including many Rotarians from other Thanet Rotary clubs as well as their guests.
The speaker was Margate Rotarian Peter Arnold who briefly talked to us about his trip with supplies collected by The Rotary Club of Margate for Ukrainian refugees. He also showed us some pictures of himself whilst on the Polish/ Hungarian border.
The Rotary Club of Thanet is supportingThe Rotary District Appeal where all funds raised will go towards the purchase of 'Pods' where families can live having lost their homes in Moshchum.
Why Moshchum? In the spring, Moshchum was where the Russian column was halted at great loss of life and property to the local residents. They are looked on as heros, hence the special effort for this particular settlement.
Kiev was never overrun because the Russians were unable to get passed Moshchum. However 80% of the village was reduced to a desolate pile of rubble. Local Rotarians are there helping in clearing the ground and assembling new 'Pods'
Pods are temporary homes that can accommodate two adults and two children, with beds, furniture and heating. There is also a shortage of winter clothing for the many homeless including orphaned children, of which there are many so some funds may be directed to that cause.
Richard Gardner, on behalf of the Rotary Club of Thanet thanked all those for attending and supporting the club and raising funds for those suffering in Ukraine. He also thanked all those who provided raffel prizes. Finally, Richard gave special thanks to The Grosvenor Casino Westwood for allowing us to host the event at the casino, and for all their help, and support in making the evening a success.