Students at Sir Christopher Hatton Academy are celebrating after being awarded the prestigious Blue Flag Award from the Peace Advocate Project.
The Peace Advocate Project is a charity set up by Scottish Rotarians Jean and Keith Best. The project enables young people to become peace advocates in schools and community groups. The aims of the project are to recognise and acknowledge the innate expertise of young people, enable them to resolve conflict, embrace success and empower them to become leaders of the 21st century.
The project started at Sir Christopher Hatton Academy in 2018 where we trained a group of over 40 students from Years 8 – 12, delivered by Jean and Keith Best and supported by The Rotary Club of Wellingborough.
From then, the project continued on from strength to strength. The training focused on engaging young people on driving forward positivity amongst their peers, which is a perfect fit with our wider objective to promote and encourage kindness and respect to all.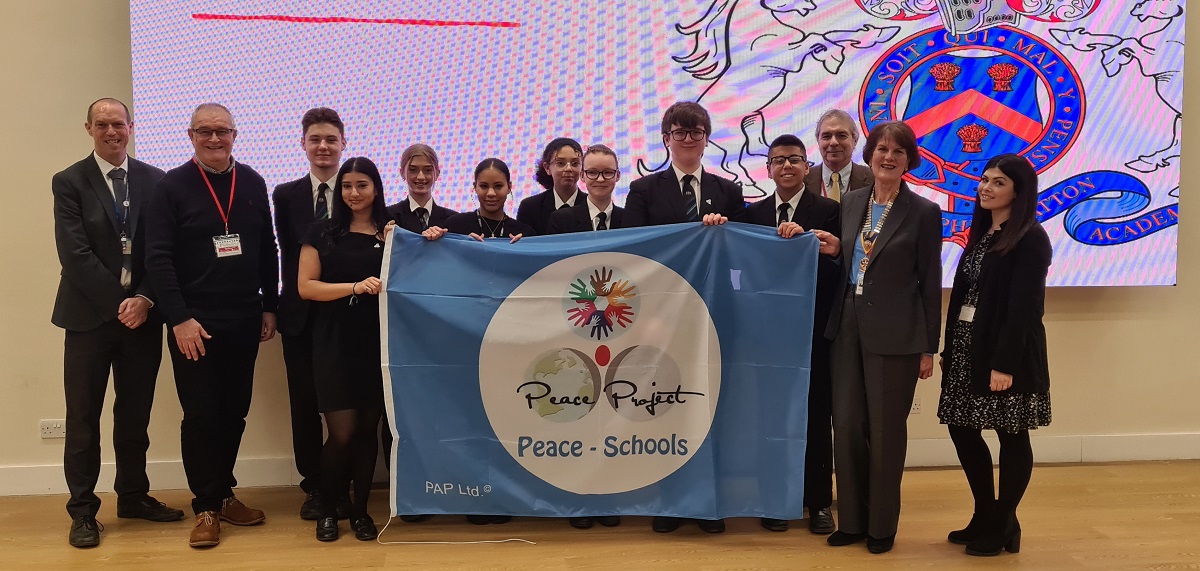 Alastair Mitchell and Nick Salisbury, Co-Principals of Sir Christopher Hatton Academy, said: "We are committed to creating an atmosphere of mutual respect. This project has, and continues to empower our students to be responsible and respectful citizens within and beyond our academy community, and we have been thrilled to see the positive impact of this project on academy life"
Nigel Anderson from The Rotary Club of Wellingborough, said: " The commitment of Sir Christopher Hatton Academy has been tremendous. A project 5 years in the making takes a concerted effort from teachers and students to make sure that the project reached its full potential, finally receiving its Blue Flag. Wellingborough Rotary Club are committed to achieving the next step which is to engage with other Wellingborough Schools to form a community hub to support young people through challenging times. "
Following the receipt of this award, The Rotary Club of Wellingborough have invited our Academy to become a Peace Hub for the Wellingborough Area. The students who have been trained through the programme will assist in training other schools in the local area.