Youth Services
The club is fortunate to have a committee very actively committed to youth work in the local community. Liaison with the Chelmsford High School Interact Club assists activities in raising funds for charities and bring the interactive skills of the younger generation to prominence. Youth Speaks competitions, arranged with help from the committee, engage schools in the area, have been very successful and have had national acclaim. We have strong links with the Chelmsford Competitive Festival of Music Speech and Drama and the Young Musician competition in which the club has a major interest, both locally and in 1240 District, illustrates the wealth of talent and dedication that the younger generation can achieve.
Chelmsford Cathedral C of E School Rotakids Club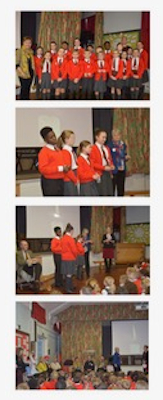 Monday, 13 January 2020, was a proud morning for our Club as we chartered a new Rotakids Club at Chelmsford Cathedral C of E Primary School. Deputy Headteacher Helen Russell has been really enthusiastic and has supported the project throughout. Janice Goodman, our 1st Vice President and Chair of our Youth Service Committee, and Committee member Keith Otter were present as DG Pauline Dean congratulated the children and presented them with their Rotakids badges. District Youth Services Chairman Peter Dowse also congratulated the children and told them about some of the other Rotary competitions that they could enter. Pauline then presented the school with their charter certificate.
An added bonus is that Helen is encouraging some of her children to enter the Rotary Young Writers' Competition.
The Club's Youth Service Committee is looking forward to developing a close relationship with the school as we help and support them with their Rotakids projects.