Fellowship is Rotary - much can be spoken; many a word is quoted, but in Rotary the true meaning will be found that is equal to all.
Club meetings are normally held on Thursdays at 12:30 for 12:45 at the Ivy Hill Hotel, Writtle Road, Margaretting, Essex, CM4 0EH (business meetings are held at the Chelmsford Rugby Club).
The club meeting is held on a Thursday - 12:45 for 1pm at the Ivy Hill Hotel, Writtle Road, Margaretting, Essex, CM4 0EH, or at some other venue in the Chelmsford area. If you would like to attend one of our lunchtime meetings, just contact our Attendance Officer, Malcolm Hamlyn. We'll be pleased to welcome you!
Coffee morning
On Tuesday, 7 July 2020, we were able to hold our first physical event of the new Rotary year. President Janice and her husband Phil (President 2016-17) welcomed us into their garden. The weather was good and Janice laid on a magnificent spread.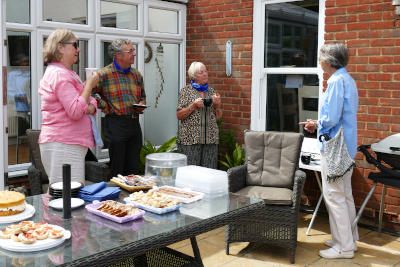 Of course, we had to maintain social distancing and take care when taking items from the buffet.
Those of us there had a good time. The highlight was President Janice's presentation of a Past President's Jewell to Francis Whitbread, which they managed to conduct whilst keeping at a social distance. They had had some practice a couple of weeks ago when Francis handed over the Presdient's Chain of Office in a similar fashion.