Club Chronicle
Owing to the coronavirus crisis, all future meetings and events have been cancelled until further notice. Read the Club Chronicle for reports on the last meeting we held and other past events.
Coronavirus precautions
We regret that, owing to the COVID-19 crisis, all meetings and events are cancelled until further notice. Club members will, however, try to keep in touch with other during this period and continue the great spirit of friendship and fellowship we enjoy in our Club.
We will post another notice on this website when the situation changes.
12 March 2020: African nations
Today's scheduled speakers dropped out yesterday because of sore throats. David Axon, our Programme Officer, phoned Philip Smith, our Bulletin Editor, late last night to see whether he could step into the breach. He usually has a vast fund of jokes he can tell at short notice.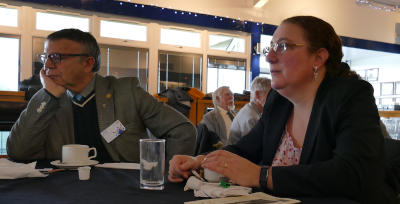 On this occasion he reckoned he had already told us all the jokes he had, so he decided to give us a quiz instead. Each of our three tables worked as a team and there was just one question: "According to the UN, there are 54 countries in Africa. Name them."
Our three teams all did quite well. The winners got 51 of the 54, largely thanks to Keith Dabb's extensive travels in the area. We all managed to remember Burkina Faso. None of us remembered Benin.
Youth Speaks: A Debate
Rotary in Great Britain & Ireland has been running a youth competition for many years now. This year it has been changed and rebranded as "Youth Speaks: A Debate". Instead of a Chair, a Speaker and a Proposer of the Vote of Thanks we now have a Chair, a Proposer and an Opposer to a proposition chosen by the team. The teams are drawn from local secondary schools. The competition is divided into Intermediate and Senior age ranges.
We held the Chelmsford heats at Hylands School on the evening of Friday, 17 January 2020, Unfortunately we had two teams drop out at very short notice this year. A member of one team fell ill and a member of another team suffered a bereavement. That meant we only had three teams in total across the two age categories.
The titles the teams had chosen for their subjects did not necessarily give much of a guide to the issues they were actually going to address but we are used to that.
The first Intermediate team had as their topic "Where have all the bees gone?" The Proposer argued that we cannot survive without bees, that bees are dying in unprecedented numbers and that we need to do something about it urgently. The Opposer argued that we should instead spend the money on things with a higher priority, such as reforming the NHS.
The second Intermediate team addressed the question "Do filters affect the self-esteem of young people?" The filters they meant are those available on social media platforms to allow users to alter their appearances in photographs. The Proposer argued that they are harmful because they help promote false body images and make users dissatisfied with their real appearances. The Opposer argued that there is nothing wrong with being aspirational about our appearances.
The sole Senior team asked "Is higher education essential", by which they meant "Is a university education essential?" The Proposer argued that a university education is not essential for everybody as there are plenty of other useful options people can pursue, such as apprenticeships. The Opposer reckoned that a university education is essential because we would not, for example, want to be treated by a doctor who was not properly qualified, and universities allow students to pursue at a high level subjects which interest them but do not necessarily lead to a definite career.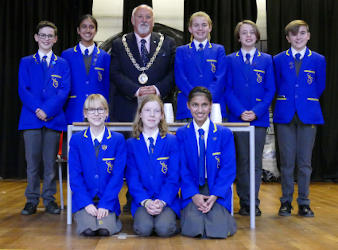 No votes were taken after the debates, so we don't know whom in each team the audience found most persuasive. The adjudicators chose the Intermediate team that discussed filters, which came from Beaulieu Park School, as the winners of their category. The sole Senior team, which was from Hylands School, got an automatic bye to the next round.
The photograph shows the Mayor of Chelmsford with students from Beaulieu Park School.
Young Musician
We held the local heat of the Rotary Young Musician competition on the evening of Friday, 17 January 2020. We normally hold it a week earlier but someone else beat us to our regular booking.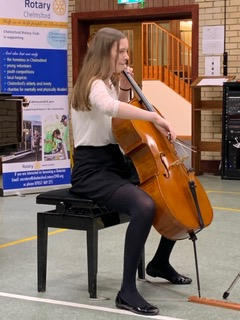 An audience of over seventy people, including Deputy Mayor Janette Potter, listened to our twelve competitors: six instrumentalists and six vocalists. Unfortunately the instrumentalist who had been drawn to perform first was delayed arriving at the venue and couldn't then find her way in. Rtn Jenny Black went out to fetch her and she was given a later slot to give her time to recover from her journey. One of the accompanists also arrived late but was still in time to accompany the first of his two performers.
Each competitor performed two or three pieces. Most of the instrumental pieces chosen were classical, but we also heard something by Gershwin and some other modern pieces. The vocalists' choices included songs in German and Italian as well as English.
Twelve is the largest number of competitors we have ever had for the Chelmsford heat. This is a tribute to the increasing standard among young musicians, as entry to this local heat is by invitation only and we are very selective.
It took just over two hours to complete all twelve performances. We then stopped for refreshments and our two adjudicators, David Pickthall and David Sparrow, retired to consider their verdicts.
When the adjudicators came back we returned to our seats while they gave their comments on each individual performance. These were very constructive and helpful. Issy Howell, a cellist, won the instrumentalist category and Ryan Wuyts won the vocalist category. He is the first male to win the vocalist category for many years.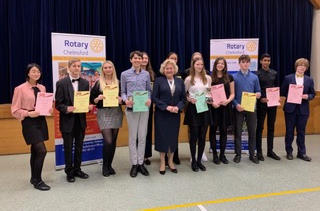 The Deputy Mayor presented certificates and trophies to Issy and Ryan and President Francis presented certificates to the other performers. Ryan and Issy will now go forward to the District Finals to be held in Chelmsford Cathedral on 29 February.
[Update: At the District Finals on 29 February 2020, Issy Howell was Highly Commended for her instrumental performance and Ryan Wuyts won the vocalist section. Ryan would normally have gone on to the Regional Finals but all subsequent stages of the competition have been cancelled because of the coronavirus.]
New Rotakids Club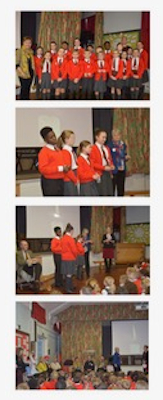 Monday, 13 January 2020, was a proud morning for our Club as we chartered a new Rotakids Club at Chelmsford Cathedral C of E Primary School. Deputy Headteacher Helen Russell has been really enthusiastic and has supported the project throughout. Janice Goodman, our 1st Vice President and Chair of our Youth Service Committee, and Committee member Keith Otter were present as DG Pauline Dean congratulated the children and presented them with their Rotakids badges. District Youth Services Chairman Peter Dowse also congratulated the children and told them about some of the other Rotary competitions that they could enter. Pauline then presented the school with their charter certificate.
An added bonus is that Helen is encouraging some of her children to enter the Rotary Young Writers' Competition.
The Club's Youth Service Committee is looking forward to developing a close relationship with the school as we help and support them with their Rotakids projects.