Club Bulletins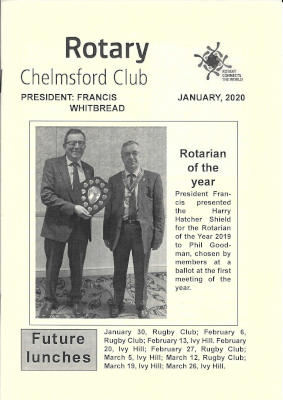 For several years now our monthly Bulletin has been edited by Rotarian Philip Smith and printed by Rotarian Stan Keller.
The Bulletin contains our meeting programme for the next few weeks and indicates which two members are responsible for the hospitality desk on any particular week. There is also a diary of other forthcoming Club and Rotary events and a list of the Club's Council Members and Committee Chairs. Each Bulletin includes "Words from the President", which among other things usually contains a summary of the talks given to the Club over the previous month.
The other items in the Bulletin change from month to month and depend on whom Philip has persuaded to produce something. (Not always an easy task!) If there is any spare space Philip can usually find some jokes to fill it, which is why you will see him at our Christmas Parties collecting the jokes from the Christmas crackers.