/ A fascinating demonstration of flower arranging
Rachel Barnard gives a fascinating demonstration of flower arranging whilst explaining about her Florist business in Acle.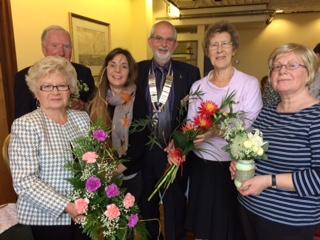 On Tuesday, 31st May, 2016, our guest speaker was Rachel Barnard who is the proprietor of Country Flowers at Acle. Rachel did her training at Easton College and City College in Norwich and after entering numerous competitions she became the outright winner of the South U.K. Florists competition. Following her formal training she took on several jobs, including being the van driver for a Florist, and then twelve years ago she became the owner of the shop in the High Street at Acle. Her partner, Phil Shane, helps out at the shop with deliveries etc. but it is Rachel who does the floral arrangements. She explained that the shop opens every day at 9.00 am when she receives delivery of her ordered flowers and her first task of the day is to condition the flowers ready for display. She would then get on with the preparation of arrangements and bouquets. She explained that stems should be cut at an angle between nodes, and it was also possible to open buds by gentle manipulation. Rachel had with her several flowers and greenery and whilst talking she proceeded to make four different arrangements. It was fascinating to see her plaiting the fine palm leaves together to be used in one of her creations. Her love of what she does with flowers was very apparent and, in a matter of just a few minutes and with relatively a few flowers and greenery she had made an arrangement of which any customer would be very pleased to receive. The four arrangements she had made were presented to the Club and they became additional prizes in our weekly raffle. The picture shows Rachel with President Martin Keable and then four winners with their floral prizes.