Rotary Club of Birstall Luddites
Club Speakers 2018/19
The Club Speaker finder is Secretary Paul Barnes.
Speakers 2018/19
Mon 16th July Phil Fryer - Being Frank.
Mon 3rd Sept - DG Nigel visit.
Mon 17th Sept - PCSO Catherine Brown.
MON 24th Sept - Sally Simpson - Working for ITV.
Mon 15th Oct - Patricia Tayor Rotakids.
Mon Jan 16th - Andrew Barnes Deafblind UK Charity.
Mon June 10th - John Broadhead - How to be an Author.
-----------------------------------------------------------------------------
Rotary Club of Birstall Luddites
Club Speaker Phil Fryer Being Frank
Phil visited the club on Monday 6th July and gave a talk about his life and career.
Phil was the very enjoyable entertainment at Nigels District 1040 Handover evening and he agreed to come to give a talk..
Phil was born in Batley, his Dad played Rugby League for Batley . Phil went to Batley High School and left to work in a carpet mill but soon left to have an apprenticeship as a hairdresser and worked hard to have his own shop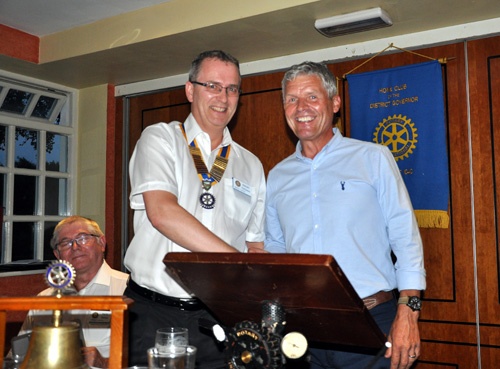 He met his wife Karen in 1976 and they invested in a hairdressing shop in Holbeck.
Phil talked about his charity work organising and running 10K and Marathons for Charities such as Wheatfields Hospice St Gemmas, Candlelighters and British Heart Foundation raising thousands of pounds.
He progressed into Triathlons and then to compete in the Iron Man series.
His next step was to break records cycling for a top Yorkshire cycling club and became a good friend of cyclist Beryl Burton.
He was introduced by a friend to the singing circuit and through hard work progressed to sing at the Crystal Rooms at Batley Frontier. then onto a Yorks TV 30min documentary shown at Christmas featuring Phil singing in Dubai.
He sold his business and after three children and two grand children with Karen he has become a UK wide successful Sinatra tribute singer.
Secretary Paul gave thanks from the club for a very impressive insight into Pauls career.

LINK Phil Fryer Being Frank
----------------------------------------------------------------------------------------------------------------------------------------------
Rotary Club of Birstall Luddites
District Governor Nigels Visit 2018
Monday 3rd September Birstall Luddires DG Nigel Arthurs visited the club to give his speach to a combined RC of Mirfield RC of Dewsbury, and RC of Birstall Luddites Rotarians assembled at
Gomersal Park Hotel.
Nigel spoke of how he first started in Rotary 18 years ago and how he was inspired before that in a polio aid champagn.
Nigel empasized the need for all clubs to focus on Membership. Only in India and Asia were Rotary Clubs expanding and the need for clubs to tell people what Roatary is doing.
Nigel talked about Polio and about communicating through Mediaand Social media
Nigel talked about the Rotactkids and Rotaract and Foundation and grants and Rotary Central.with 7 bulit points.
He talked about his coming District Conferance in Scarourough.




DG Nigel with President Jeremy
Three Luddite District Governors
Keith, Nigel and Robert
---
Rotary Club of Birstall Luddites
Club Speaker PCSO Catherine Brown.
Catherine visited the club Monday 17th Sept whilst on duty and gave a talk about her
role as a Police Community Support Officer in and around Batley district
Catherine explained that she is a civilan not a Police officer and can only make a citizens arrest..She is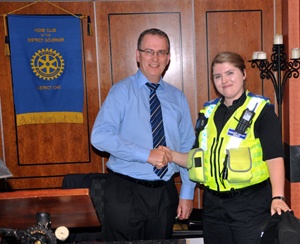 based in Heckmondewike and has to travel by bus and then walking but very rarely by police car.
She told of her differet roles - investigating ani social behavour, shop lifters, criminal damage, tracing missing people , burglaries and shed and garage.
She visits schools and churches giving talks. A concern is Internet saftey and chat rooms warning children of the dangers. She is focused this next week on Knife crime awareness week.
A sourse of local complaints is "bikes screeming local streets and off road". Her team have been logging local riders faces and bikes leads which they are following. Six bikes have been taken off the road this year. Another role is traffic, she can only give tickets for advice. She helps with controlling processions and events
She finished expaining her very busy shedule giving visits talks and over the last week.
Catherine took questions from Luddites.
President Jeremy thanked Catherine for her visit to the club.


LINK - FACEBOOK West Yorks Police Neighbourhood Policing
Link - Nuisance Bikes
---------------------------------------------------------------------------------------------------------------------------------------
Rotary Club of Birstall Luddites
Club Speaker Sally Simpson - Working for ITV. Mon 24th Sept 2018.
Sally said she always wanted to be a journalist from a young age. winning a Brad Argos competition aged only 8. after A levels and trying to get Work Experience she got work with Hudds Examiner and did six and
half years at the Yorks Post in Bradford.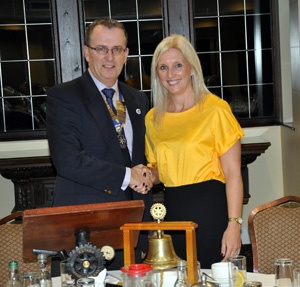 Sally said she didnt want to work for a National and as worked for Calendar for 11 year now.
Sally works all hours reading the headlines during both morning and evening news bulletins.
She works in the news room
as a Journalist, writing

bulletins

and eventually got the opportunity to present Calendar news. Sally explained where they get their sources and that U tube was a big sources of news and that pictures tell the story.
A video was then shown of Sally on Calendar news and on outside broadcasts.
In her Journalist role she as interviewed members or Royalty and famous artists.
Sally took questions from Rotarians talking of what
next for her..
Sally said she was very happy at Calendar
writing

bulletins

presenting news and doing outside broadcasts for the news bulletins.

Rotarian John Sugden gave tanks to Sally for coming to speak to the club. John talked about Sally when she attended the club as a child with her parents , Martin her father is a founder member of Birstall Luddites.
Sally pictured above with President Jeremy.
LINKS - Meet working Mum Sally.
LINK - Sally Simpson on Twitter
------------------------------------------------------------------------------------------------------------------------------------------
Rotary Club of Birstall Luddites


Speaker Evening - Patricia Taylor




ROTAKIDS
On Mon 15th Oct Patricia Taylor from our neighbouring Rotary Club of Batley came to the club to speak about Rotakids . Patricia recently gave a talk at the District 1040 Conference on the subject.
RC of Batley started Rotakids in 2013 and now have two Rotakids clubs - Batley St Marys and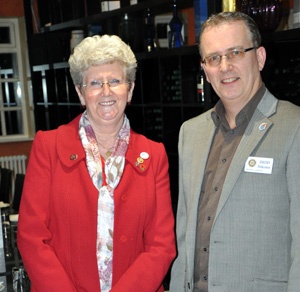 Lydgate in
their local area. plus two Interact clubs. There are now 10 Rotakids clubs in District 1040.
2 in Sowerby Bridge,
2 in Hull, 2 in Batley and schools in Bradford.
Rotakids clubs are for 7 to 11 year olds.
Patricia gave the club details on how to set up a
Rotakids club.
Teaching them how to run the club electing their own President and secretary and their own charity, using English and mathematics to plan and vote for the chosen charity.
A Rotarian should give around half an hour a week to help the Rotakids meeting this period to fit the school timetable.
The Rotarian to be CRB checked.
Ask Rotary GB&I to Charter the club with possibly the DG being present. The Children have to learn the Rotakids pledge.
Possible charities are a Memory Chain, a link in the chain costs say 50p all monies raised goes to
School in a Bag.Charity This enables Children in Africa with the essentials to go to school or
Sals shoes Charity. In many countries you cannot go to school without a pair of shoes.
Helen gave thanks to Patricia for her talk and giving the club the knowledge to start our own
Rotakids Club in Birstall
LINK ROTAKIDS -
LINK Rotart ROTAKIDS - more info about Rotakids
--------------------------------------------------------------------------------------------------------------------------------



Rotary Club of Birstall Luddites
Club Speaker - Andrew Barnes - Deafblind UK Charity.



On Mon 14th January Andrew came to Gomersal Park Hotel and gave a talk about the Charity Deafblind UK.
Andrew is the nephew of Luddite Rotarians Katherine and Paul.
A little history of Andrew and his bother Matthew :-

Matthew is Andrew's older brother and was diagnosed first with loss of hearing aged about 2, just before Andrew was born. Both were then diagnosed with the same genetic problem that causes moderate to severe hearing loss. Both have gone through school and university and their mother has done all she can to get them supported through their education. Andrew was more willing to accept any support available and has always had the vocation to help other sufferers of hearing loss in some capacity. He applied for the role of Engagement Officer for the charity Deafblind UK in June 2018. Because of his own experiences, he has a lot to offer to the role and he covers a substantial area, both raising awareness and giving advice.
It was hard for Luddites to realise that Andrew has sever hearing loss, he speaks and converses very confidently and he talked about how important it is that people m
ake sure they expand their face and lips to help aid
lipreading
The Deafblind Charity is a national charity supporting people with sight and hearing loss, enabling them to live the lives they want.
Andrew gave a short talk about the history of the Charity which was started in 1928 and in 1928 the Rainbow magazine was founded. In 1963 the Rainbow Centre was built in
Peterborough
.
Andrew talked about the Deafblind Charity and his role. This includes fund raising, organising events, grant evaluations, community outreach, info and advice line giving guidance to people living with sight and hearing loss, giving a wellbeing call for a "how are you" or a general chat.
Also a birthday call for isolated people and sen
ding out tactile Christmas card and a free befriending service. Digital Inclusion shows how mobile phone or tablet can make a big difference to someone with
sight and hearing loss.
The charity has two caravans to provide a home from home break at heavily discounted rates.
Andrew talked about the
"
Open Hand Magazine"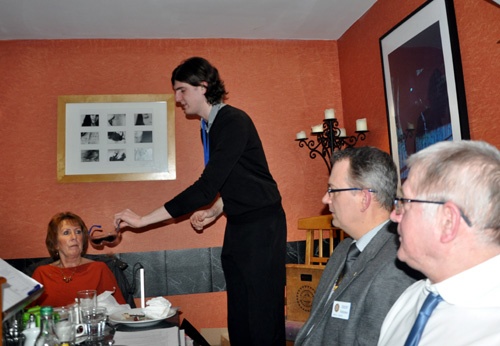 The quarterly magazine is free of charge and available in a range of formats to suit all levels of accessibility: Large print, braille, audio, XL print and XXL print.
To give an insight into hearing and sight conditions Andrew passed around different spectacles that reproduced various symptoms -such as peripheral vision quity vision and ear phones to simulate deafness.
Above
Andrew passing glasses that reproduce slight impairments to his Aunt Katherine. his Uncle Luddites secretary Paul on right with President Jeremy.
Paul gave a vote of thanks to Andrew for his talk and said how proud he was that his nephew had made such a success of his life and Charity work.

Above striped red white walking cane for deaf blind impairment users
LINK - What is Deafblindness
-----------------------------------------------------------------------------------------------------

Rotary Club of Birstall Luddites
Club Speaker - Rotarian John Broadhead
"How to be an Author"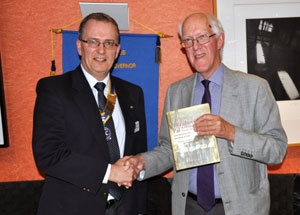 Monday 10th June
Club speaker Luddite John Broadhead gave a talk on "How to be an Author."

John started with a refresh of the early life of his father George William Broadhead, a Town Hall clerk from Batley and his enrolment into the army and into WW1. John's father was a volunteer soldier with the Bradford Pals (18th West Yorks). His army travels to Egypt and France and the Battle of the Somme and being moved into a clerical role.

Being disbanded in 1918 he stayed in France courting and marrying a French girl from Rouen.
John talked about his father being divorced and moving back to Batley and in 1941 married again with Johns arrival in 1945.

Johns research was inspired by his fathers diary of 1916 which he handed to John shortly before his

death in 1980 saying, "Here lad you might be interested in this". Like many old solders he rarely spoke
about the war but the diary and Johns use of official records, newspaper reports and memoirs reveal the stark horror of what faced the nations youth and led him to write a book initially for his family and then took the big step to try to publish the book.
A BRADFORD PAL

John talked of his dealings with the publisher Pen and Sword and Unicorn.
The outcome is that Johns book is now on the shelves in Waterstones in Leeds
Congratulations John.


Johns book in Waterstones




---
----------------------------------------------------------------------------------------------------------------------