Web Site for
World Polio Day
24th October
Luddite Rotarian Robert Jackson
is the District 1040 END POLIO
Representative
Web Site for
World Polio Day
24th October
Robert is very active promoting the End Polio and the Polio Plus champaign in Yorkshire & Lincs .Robert visits Rotary meetings giving updates on the latest news on Polio in the diferent countries of the world.
Robert promotes the Frugal meal - a simple meal with Robert giving an update on Polio Plus .

Roberts iniative for a "A POLIO PAL"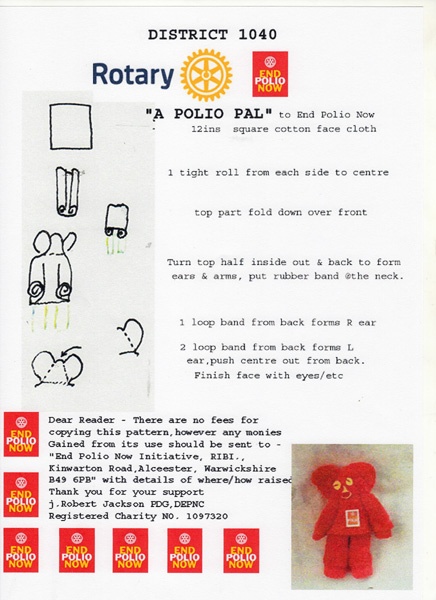 There are no fees for copying this pattern, however any monies gained from its use should be sent to "End Polio Now Initiative, Rotary GB&I, Kinwarton Road, Alcester, Warwicshire B49 6PB with details of where/how raised. Thank you for your support j. Robert Jackson PDG, DEPNC.

Link to Polio Pal sheet
Polio Pal


Other Polio projects

Purple for Polio--- 'Purple4Polio' awareness campaign - planting 10,000 crocus corms, organising Jam and Tea events and displaying the children's iron lung at many events and venues.
This initiative has almost doubled our annual contribution to End Polio Now.

Frugal Meal for Polio --- Rotarians all over the world will be raising money for the final push in polio eradication by taking part in The World's Greatest Meal to Help End Polio
Those taking part in the event are being reminded that every US$1 raised will be matched by US$2 by the Bill and Melinda Gates Foundation. Every dollar matched will immunise seven children
Our Frugal Meal -- Oct 2nd 2017 Soup Sandwiches Chips tea coffee £15 at weekly meeting Healds Hall.
The frugal meal 2016 raised over £500 with 50 guest atending.