Sophie Tibbitts: British Heart Foundation
Thu 15th August 2019 at 1.00 pm - 2.15 pm
Sophie is the Foundation's Essex Fundraising Manager.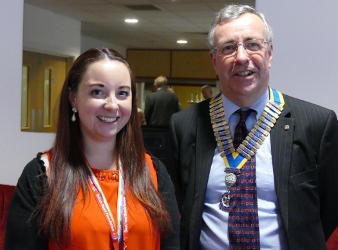 Our speaker today was Sophie Tibbitts from the British Heart Foundation ("BHF"; the photograph shows Sophie with President Francis). She started by telling us that in 1961, the year the BHF was founded, anyone suffering from a heart attack was likely to die or lead the rest of their life as an invalid. There was no treatment.
Heart attack victims now have a good chance of a successful outcome if intervention is early enough. Efforts have been made to recognise the risk factors, such as high blood pressure and diabetes. Among other things the BHF has financed research projects into the genes which could indicate a risk of inherited heart disease or an increased risk of a heart attack. They have also financed research into treatments designed to reduce the damage suffered after a heart attack or a stroke, including a cheap patch that could be applied to someone's head immediately after a stroke to relieve the pressure in the blood vessels.
To my mind the most intriguing research project is one being conducted into a species of fish living in South America. This was originally a river species whose hearts healed themselves following any damage. Part of the species started living in caves and mutated, losing their sight, their pigmentation and the ability to heal their hearts following damage. The research is designed to identify the genetic difference between the two parts of the species that means some can repair their hearts and the others can't.
The BHF also runs training programmes designed to alert people to heart risks and the action to be taken if problems do arise. The BHF is asking the government to make training in CPR compulsory in secondary schools. Some secondary schools already arrange such training and it has already saved lives.
Another of the BHF's missions is to get every public defibrillator registered. When there is a 999 call because someone is suffering a heart attack the call handlers try to tell the caller where the nearest public defibrillator is located. This would be easier and more efficient if they were all registered.