Felicity Clarke: Trekking in Romania
Thu 22nd August 2019 at 1.00 pm - 2.15 pm
A personal account.

We had three visitors today from the Rotary Club of Billericay, which we sponsored 60 years ago. They were their President Ben Clarke PHF, who is also one of their Founder Members, and two other officers. Ben spoke to us briefly and mentioned Rtn E R Sorrell, who was President of our Club when theirs was chartered so many years ago.
Our main speaker was Felicity Clarke (no relation), who had gone trekking in Romania with a group raising funds for Farleigh Hospice; we had been one of her sponsors. She reminded us of the excellent work the hospice does and the support it gives to those with terminal illnesses and their families.
From what she said, the trek must have been fairly arduous, Romania having had the heaviest snowfall for fifty years. Their first stop was in Sinaia, from which they began climbing up a steep path through woods and eventually came to the snow line. We saw one photograph which showed Felicity up to her knees in snow, although we gathered that was one of the deepest parts.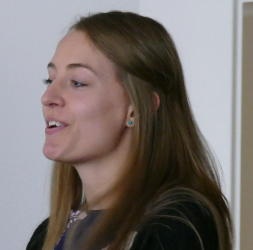 They had been warned that the mountain huts would be very basic but the hut where they slept for the first night proved to be fairly comfortable. It even had hot showers, which were very welcome after the climb.
The following day they gradually made their way down to the hut where they would be spending the next night. The combination of the slope and the snow meant they had to proceed very carefully. Another photograph showed some members of the party fallen in the snow, although fortunately without any injury.
This second hut was very basic. The toilet was a hut outside.
More trekking brought them to Bran, where they spent a short time looking around the castle. The final leg took them to Brasov. The total raised by the trek was about £25,500, of which Felicity raised over £2,000.