DG Pauline Dean
Thu 12th September 2019 at 1.00 pm - 2.15 pm
Pauline is our District Governor for 2019-20

We had three guests at today's meeting: District Governor Pauline Dean, her husband Past District Governor Terry Dean and Assistant Governor and District Governor Elect Keith Brownlie. Our member Past District Governor Stan Keller was also present, prompting President Francis to ask what the collective noun for District Governors is.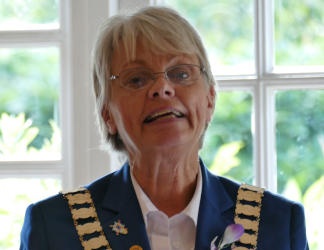 That's a question we didn't resolve. Instead Pauline talked about some of the forthcoming highlights of her year in office, including the District Conference at Wyboston next month. The event is now fully booked, as one might expect, but the District is maintaining a waiting list.
She also mentioned other Rotary highlights. Thanks to Rotary's very successful campaign to eliminate polio, nearly all the world's countries are now officially polio-free and Nigeria should be officially clear of the disease soon, as no new cases have been reported there for two years. The only countries where polio is occurring at the present time are Afghanistan and Pakistan.