Concert - A brief History of Music 30 Sep 2020
Wed 30th September 2020 at 7.30 pm - 9.00 pm
Hosted by Rotary Club of Thatcham - please see details below including ticketing information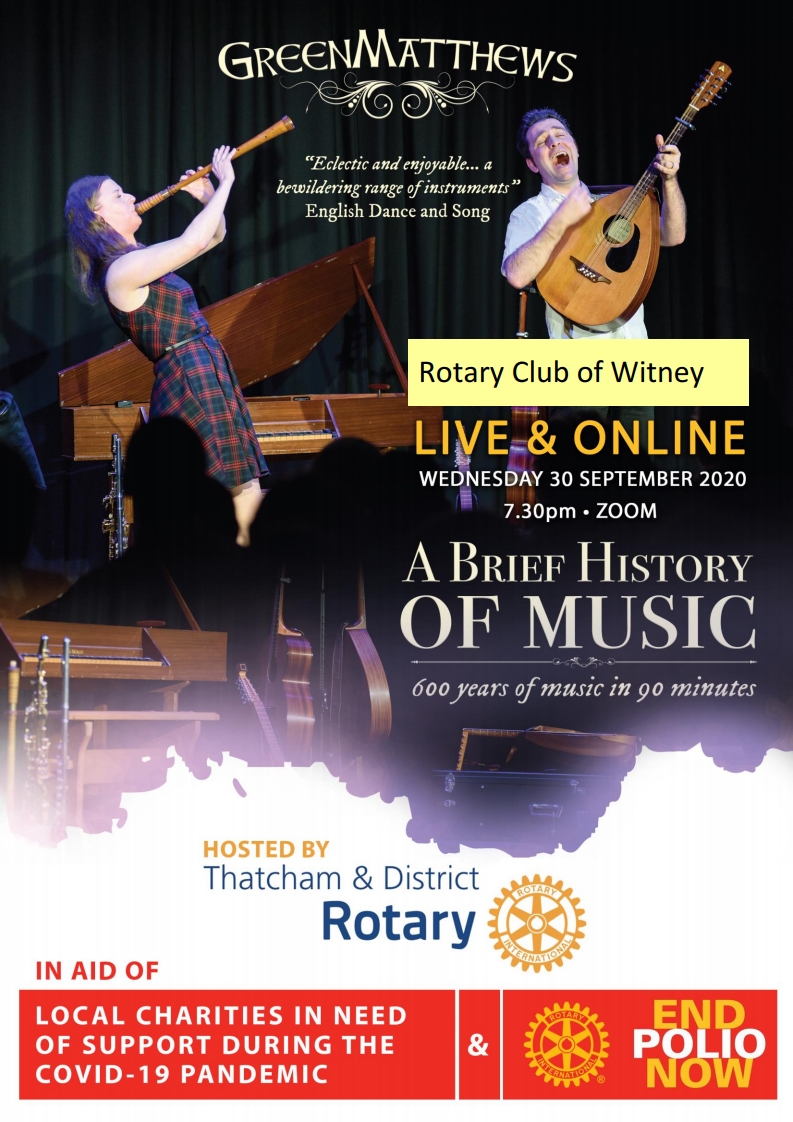 Hello and welcome........
This is to introduce you to a Zoom Webinar Concert that will take place on WEDNESDAY 30 SEPTEMBER 2020 at 7.30pm.
The concert is being given by a duo called Green Matthews and is entitled 'A BRIEF HISTORY OF MUSIC'
The Concert will be in aid of END POLIO NOW and Local Charities and the cost of registering for it will be £12.00
For tickets please follow this link
Buy tickets
Payment is done by Paypal, but you can pay on credit and debit cards as well as your own paypal account and you will get an email back with your own unique link which can only be used once by you. Reminders for the concert will be sent out a week and a day before the event. The Rotary Clubs of Thatcham and Witney will equally share the proceeds from tickets sold via this link from the Witney Rotary website. In the registration process please indciate that the introduction came from Witney. Each ticket sold will contribute towards END POLIO NOW and the local charities chosen by the Rotary Club of Witney
So what is the show?? Chris Green and Sophie Matthews are modern-day balladeers, specialising in telling stories through song. 'A Brief History Of Music' takes in 600 years of musical history in 90 minutes! Beginning in the Middle Ages and ending up in the 20th century (and incorporating everything in between!) this fun and fast-moving show is a whistle-stop tour of Western musical history. The show combines the vigour of the medieval period, the musical intricacy of the Renaissance, the grandeur of the Baroque and the pomp and bombast of Victoriana. Add to that the wit of Blackadder and 1066 And All That and the stage is set for a veritable musical feast! - yes I've just copied that off their website, but go there yourself and you can watch clips of their performances and realise that it is a fun and interesting performance that you don't have to be a fan of folk music to enjoy. Check their web link to see what they do https://www.greenmatthews.co.uk/shows/abriefhistoryofmusic/
In a webinar you come in as attendees, essentially an audience as you can see and hear everything but can't be seen or heard. The only people who you will see and hear are our compere for the evening, John Smart, the performers GreenMatthews and possibly John Gleeson as President of the hosting Rotary Club. The organisers can see who is watching and you can send in chat messages and register your appreciation. The performance consists of two sets of 45 minutes each, with a 15 minute interval where you can put the kettle on and we might show a short film about "End Polio Now".
To attend the webinar you need to buy a ticket (or link), each ticket allows one device to log in to the concert (i.e. the webinar). Any number of people can watch from the one device. Please see link above.
We would very much like you to join us in this venture which we feel will both entertain and raise some charitable funds in this very difficult time.
Yours in Rotary
Janet Eustace - President, Rotary Club of Witney
in association with John Gleeson, President, Rotary Club of Thatcham