Aims of the Sponsored Walk
Mirfield Rotary Club arranged a sponsored walk in aid of charities supported by the club at home and abroad
Ten Rotarians and friends walked 1000 miles over a period of ten days.
You may still donate if you wish
Ways to donate right now
Click on the following link:
Donate using credit/debit card or PayPal
or
Post a cheque made out to 'Rotary Club of Mirfield' to the club treasurer:
Keith Steeples, 6 Dunbottle Close, Mirfield, WF14 9JD.

Please indicate in the envelope that it is a 'Sponsored Walk Donation' with your name and address and whether you are able to Gift Aid it. If possible, include a completed Gift Aid form (see below).
or
Put cash or a cheque in an envelope and give it to any member of Mirfield Rotary Club to pass on to the treasurer.

Please mark the envelope 'Sponsored Walk Donation' with your name and address and whether you are able to Gift Aid it. If possible, include a completed Gift Aid form (see below).
or
Scan this QR code with the camera on your smart phone:

or
By bank transfer, if you have the club's charity account details. Please add a 'sponsored walk' reference to the transfer and email the treasurer (with a completed Gift Aid form if possible) to inform him of the transfer: mirfieldrotary@uwclub.net
If you don't know the account but are known to the club or you know a member, you can ask the treasurer for the account details using the email address above. If you are not known to the club, please use one of the other methods.
or
Directly sponsor an individual walker for a certain cash amount. Put your name and address on the sponsorship form, together with the cash amount and whether you can gift aid it.
Gift Aid
If you are able to Gift Aid your donation, please complete the form below.
Download Gift Aid form in
Word
format:
RC_Mirfield_Gift_Aid_Form.docx
or in
PDF
format:
RC_Mirfield_Gift_Aid_Form.pdf
If your computer has Microsoft Word you should be able to edit the Word version of the form on your computer without having to print it. If you don't have Microsoft Word, you can print the PDF version, complete it my hand and return it by post or scan it and return it by email.
Completed Gift Aid forms can be returned to the treasurer in the envelope with your cheque/cash or by email:
mirfieldrotary@uwclub.net
The treasurer's postal address: Keith Steeples, 6 Dunbottle Close, Mirfield, WF14 9JD
PayPal Issues
If PayPal gives any errors when you attempt to pay, it is suggested that you try to log in to your own PayPal account and see if it is expecting any security confirmation from you. Then try to donate again using the link above.
There is an alternative link for PayPal only donations (not credit/debit cards) that you can use: Donate using PayPal
Sponsored Walk on Social Media
Please add a Like to the Sponsored Walk on our Facebook Page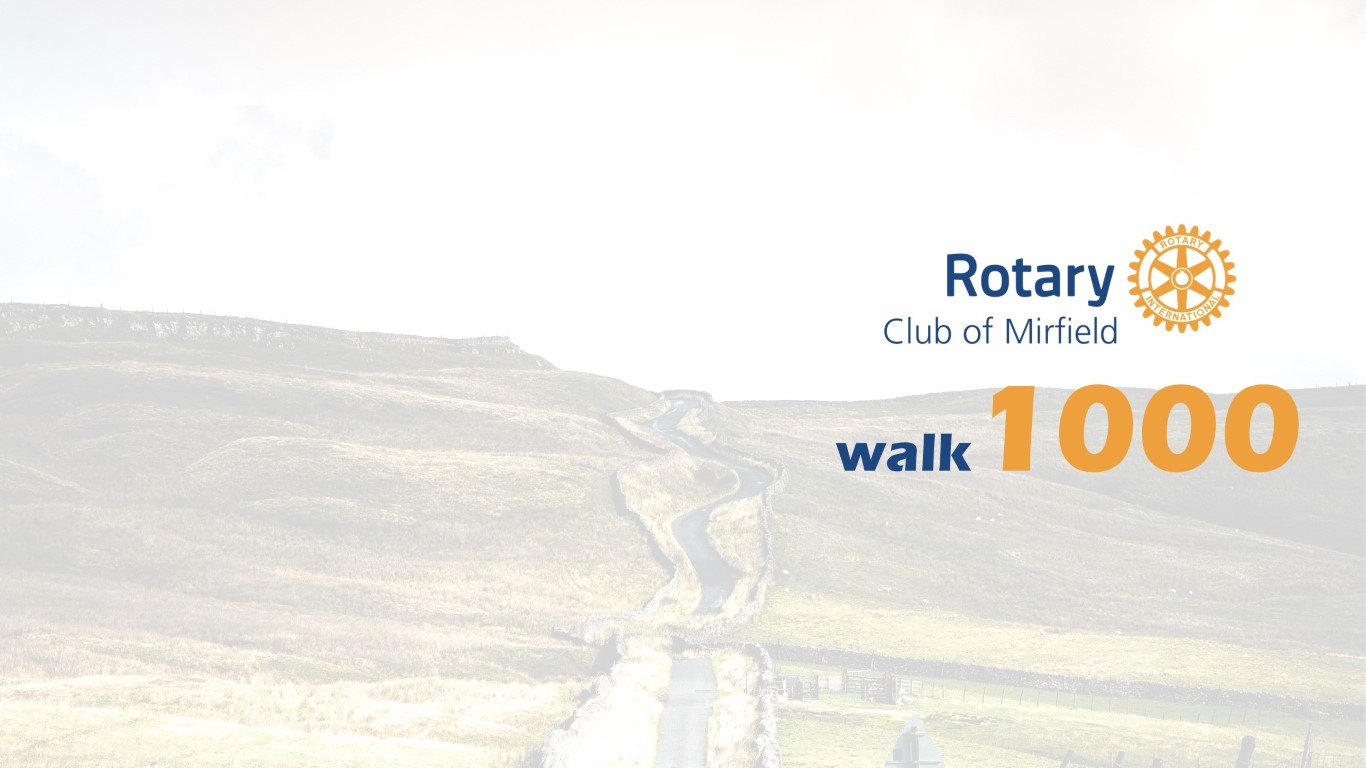 Walk Progress
The walk has now finished and photos of walkers can be seen here:
Two walkers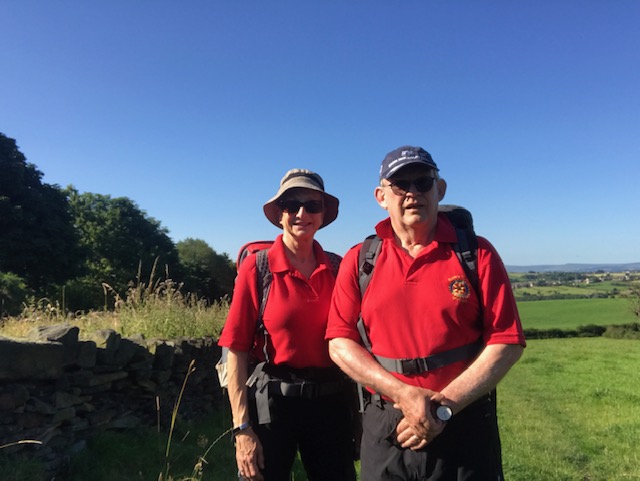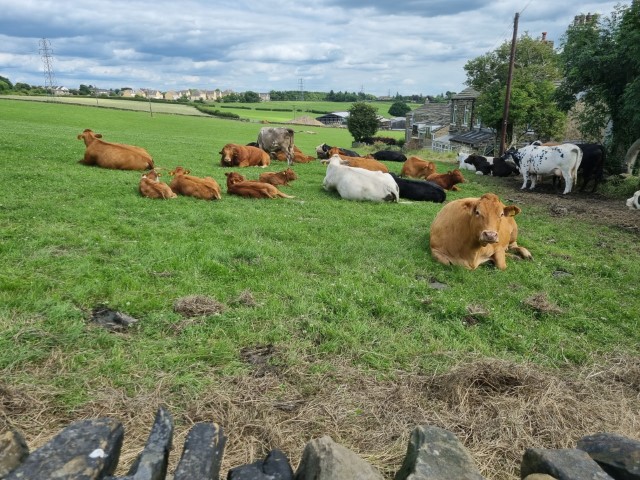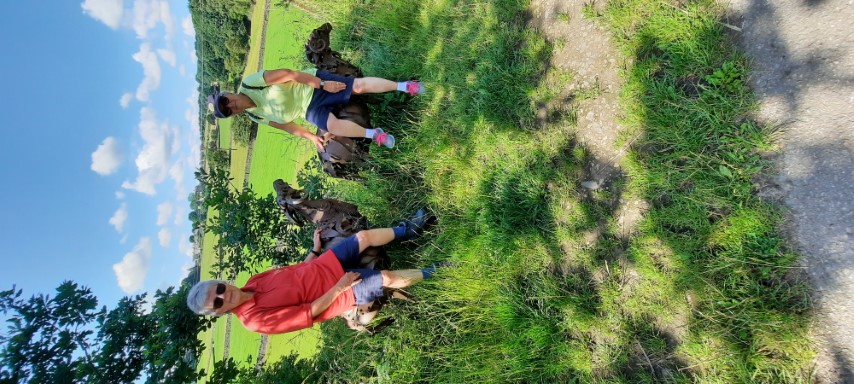 Spen Valley Greenway (National Route 69)
Enjoying a break on the metal sheep sculptures.
Roberttown Post Box sporting a fabulous knitted hat.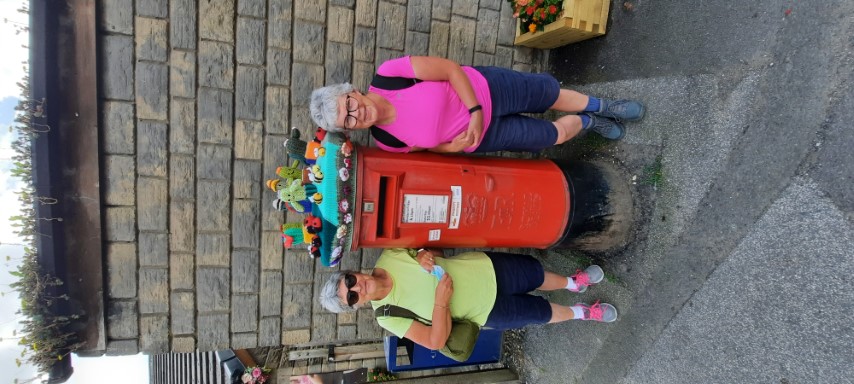 Some walkers wear the club shirt. Maybe they will get sponsorship along the way ...
Spen Heritage trail is still a splendid walk - 11 miles at Oakenshaw going up to East Bierley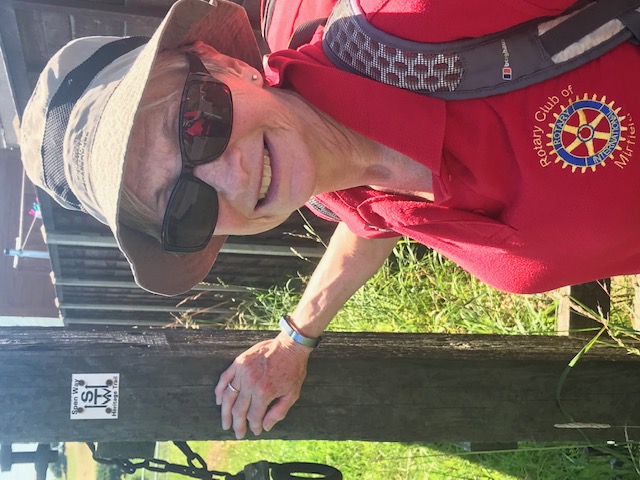 Sometimes a little rest is needed ...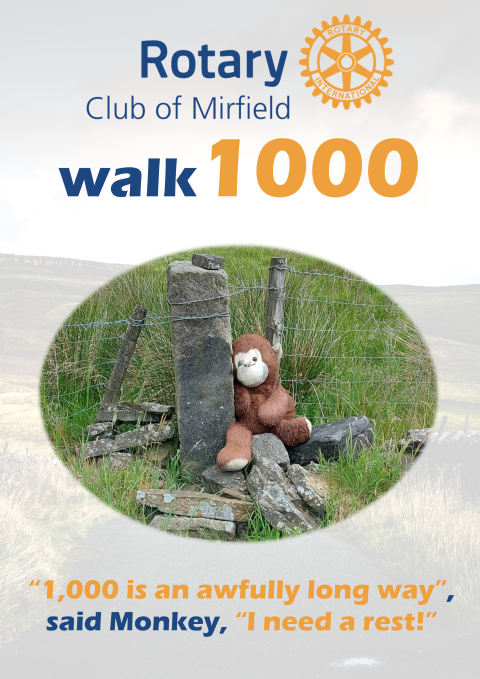 Eleven miles each - well done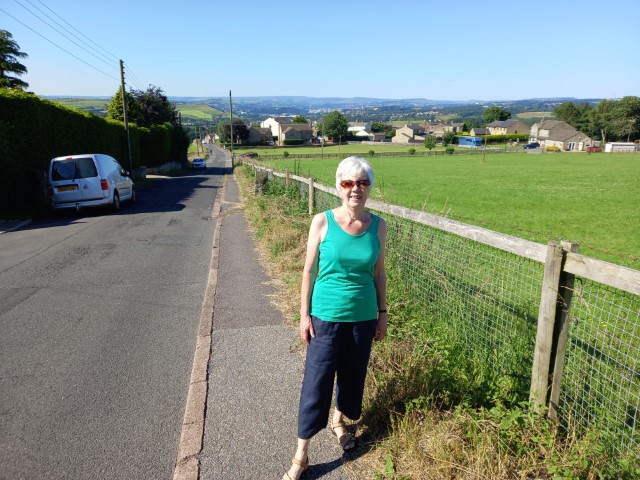 Goit stock woods. Merciful shade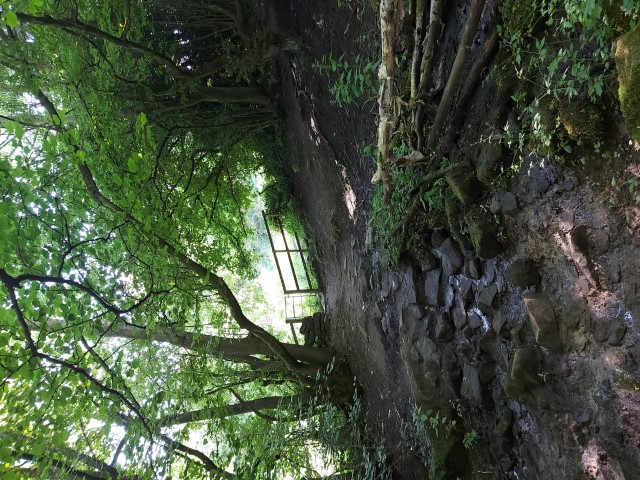 Done my 1st walk down the Shibden Valley with my rotary friend who had to take refuge on a toadstool growing out of a tree !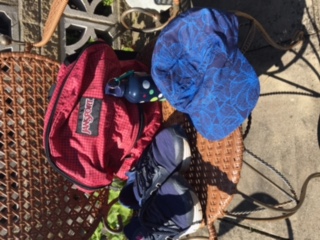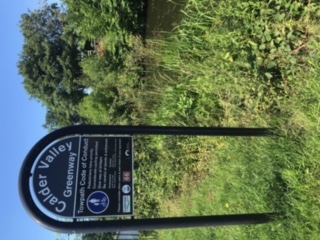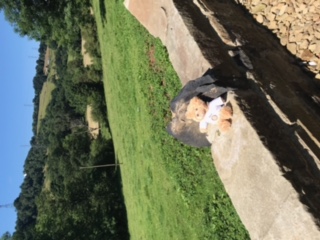 Reached my destination with my friend who sat on the fence to recuperate
I am now well and truly blethered !
I need a lie down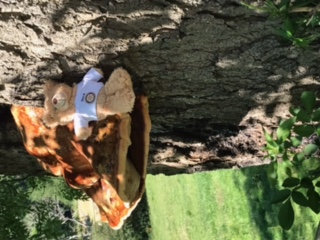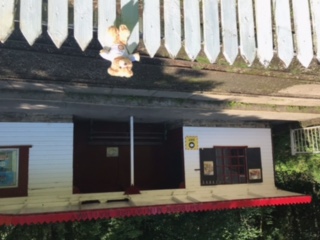 Spen Way - Heritage Trail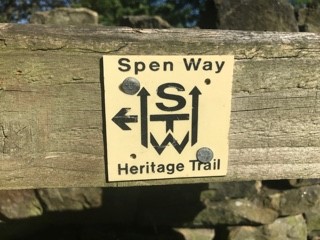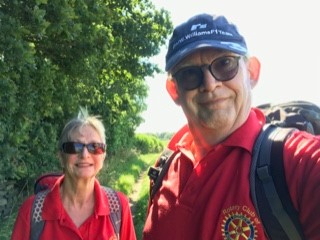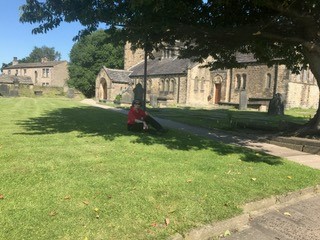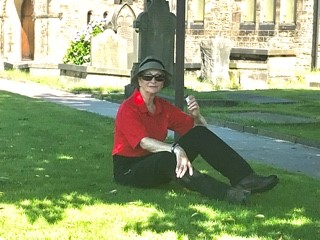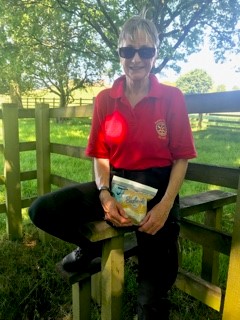 These walkers are finished for the day (in more ways than one)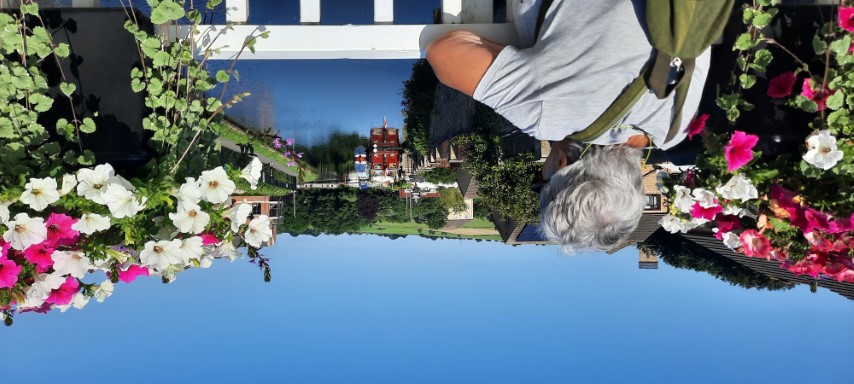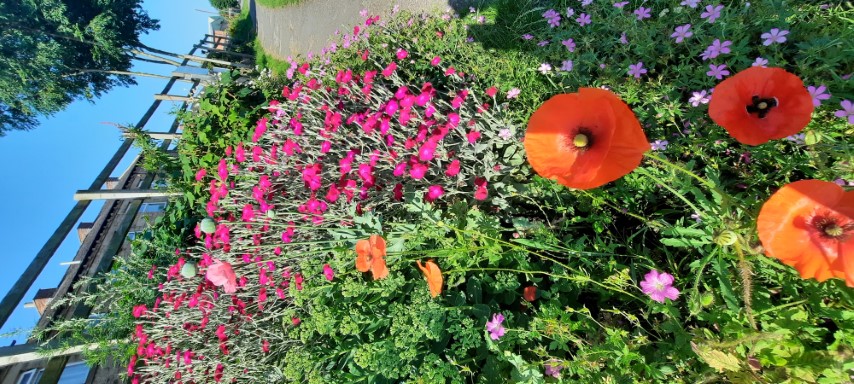 Am early morning walk along the Calder and Hebble navigation and part of the Luddite Trail. Cooler and for the most part in the shade.
Can't beat a bit of tree hugging.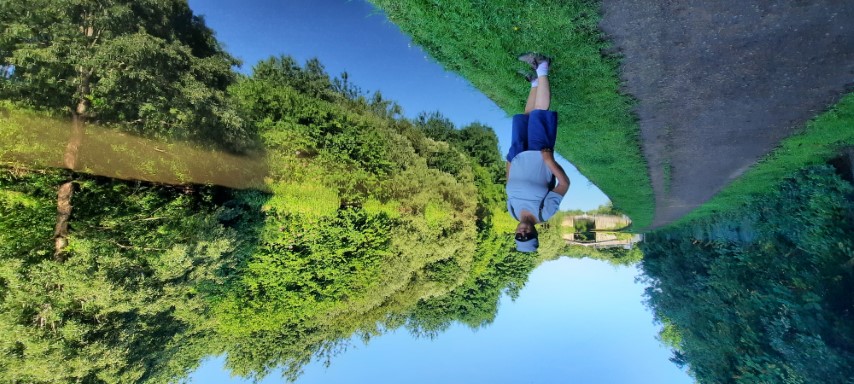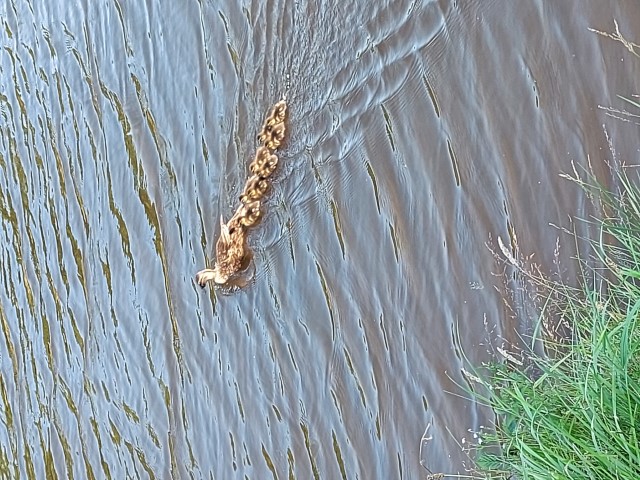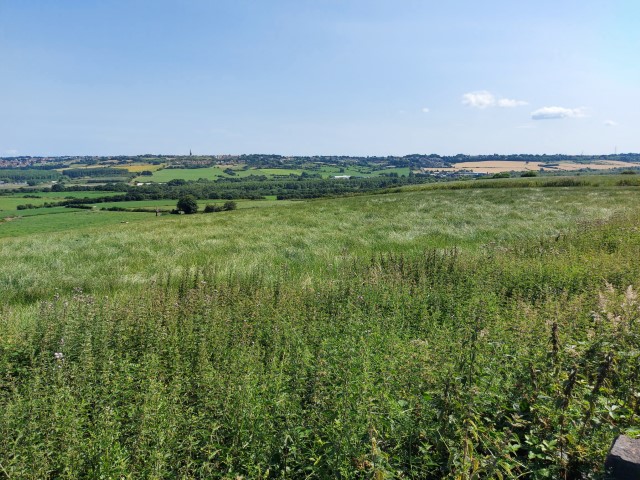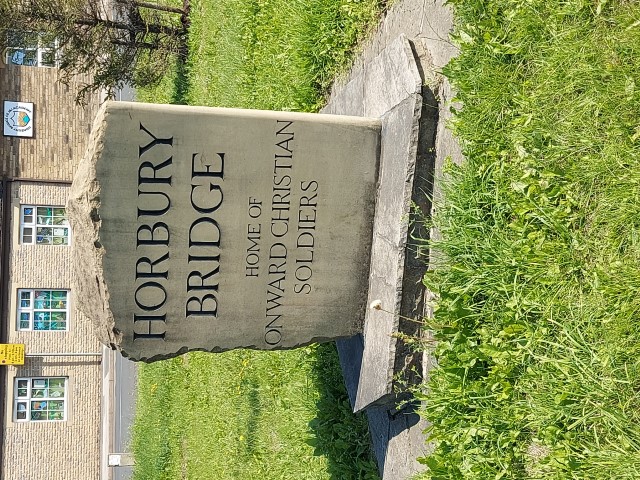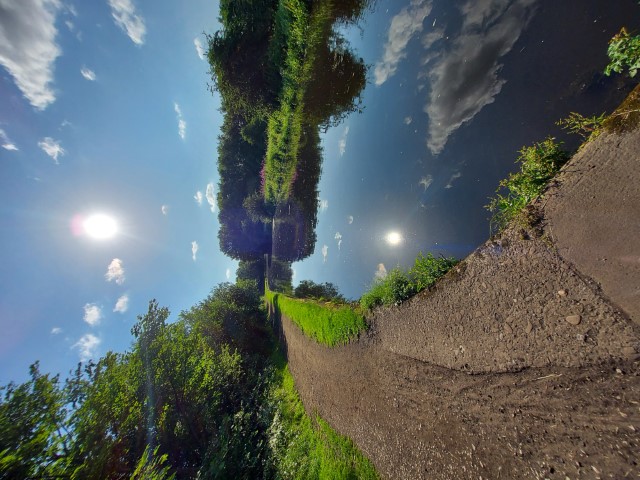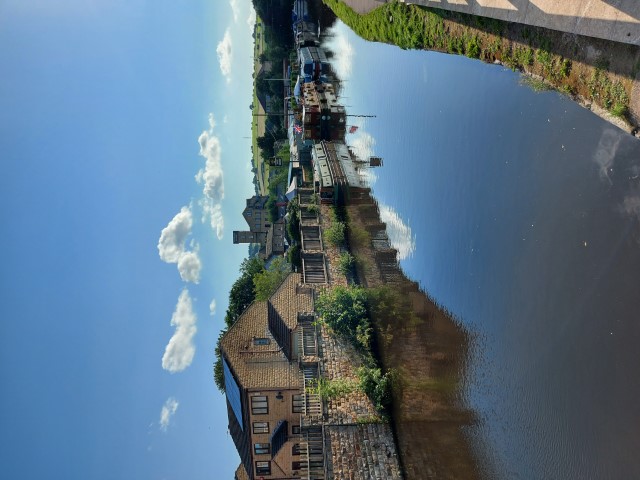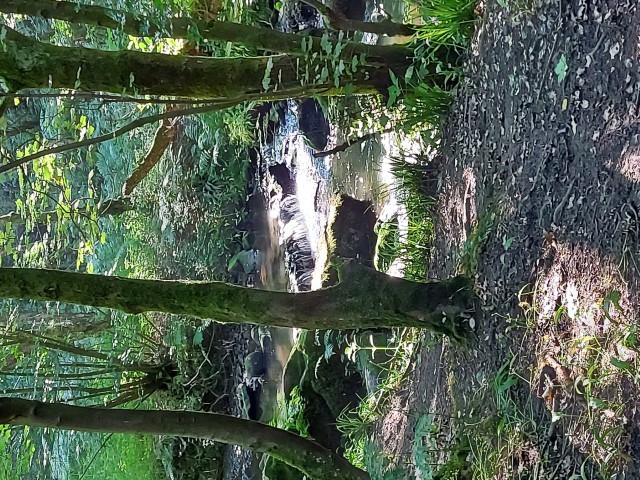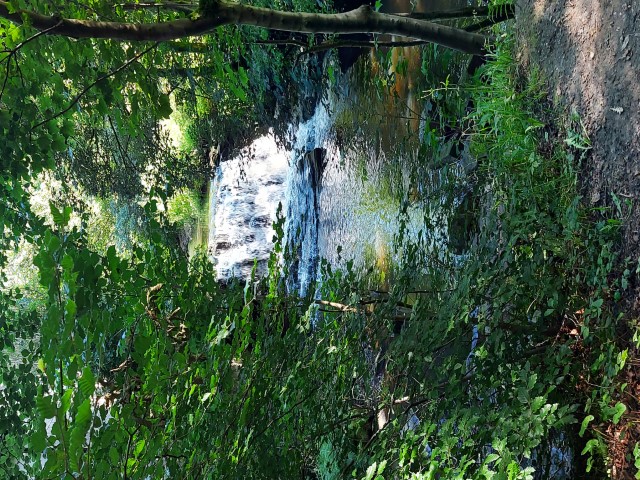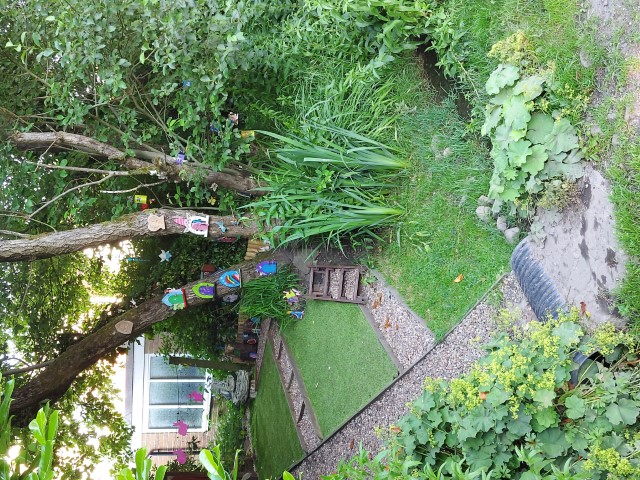 Hilary's third walk ...
Today's walk was through Hagg Wood up to Whitley back through Jordan Wood, along Lower Hopton and home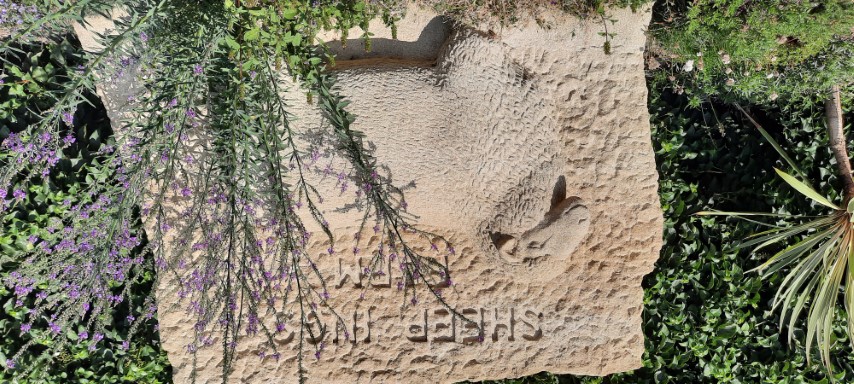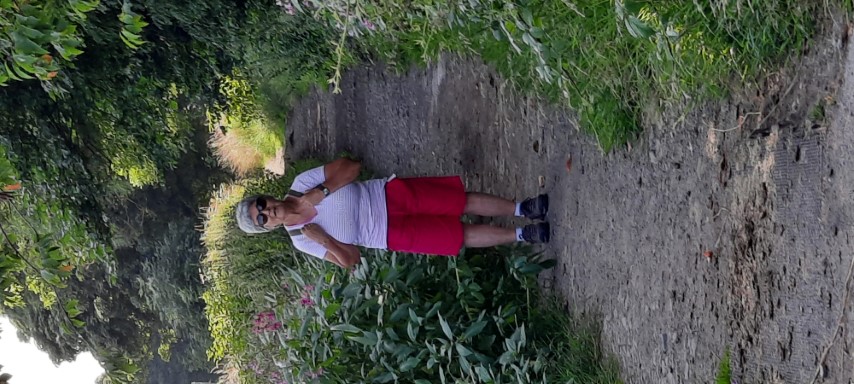 We have walkers in London too ...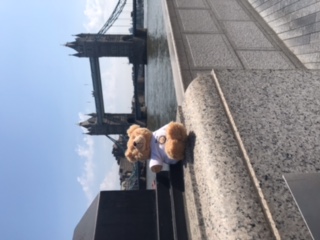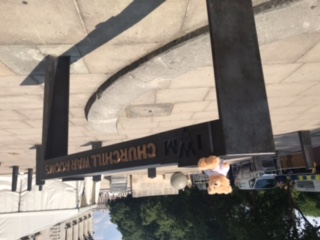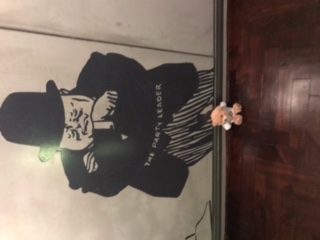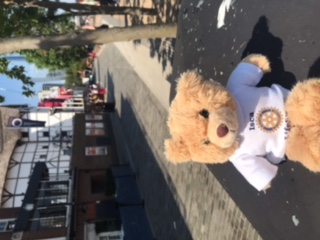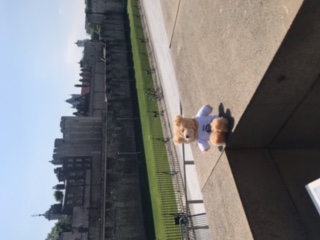 There are always interesting things to see on the walks: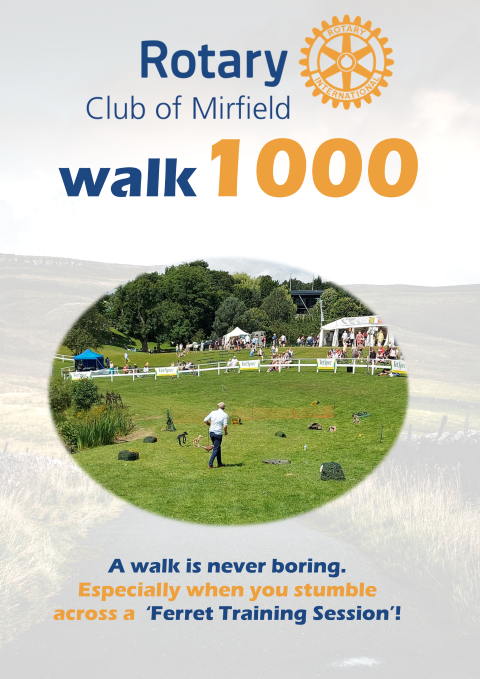 Paul came accross some nice animals ...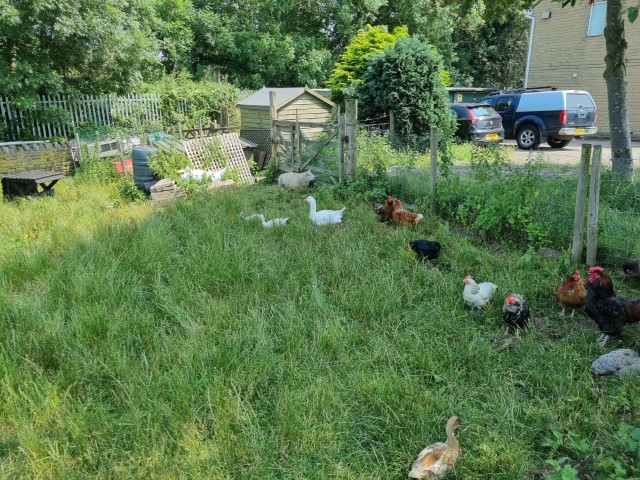 and some woollen ones ...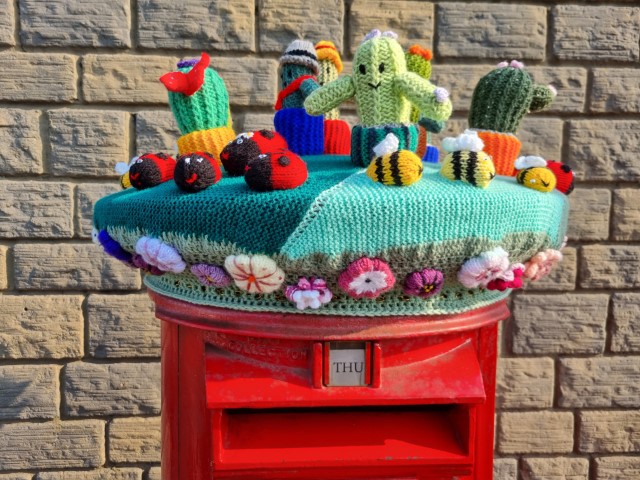 Hilary says - Mini walk Garforth to Allerton Bywater called The Lines Way. Didn't quite make it but my granddaughter had a lovely nap.
Brighouse to Elland canal round trip and Cromwell Bottom.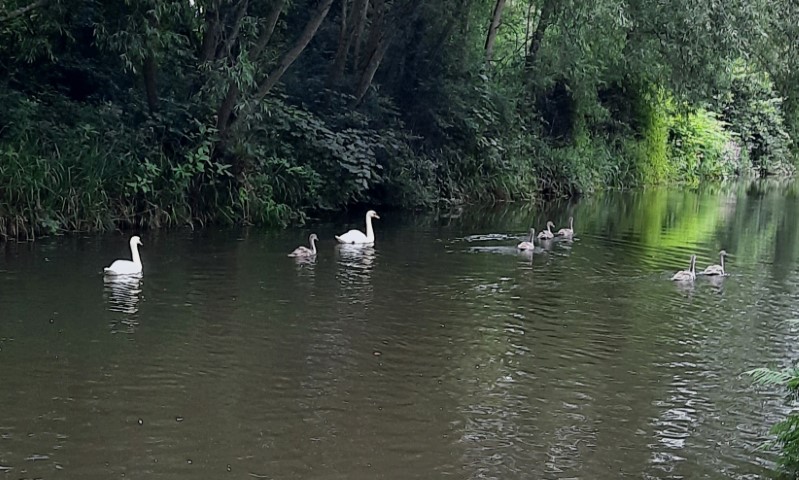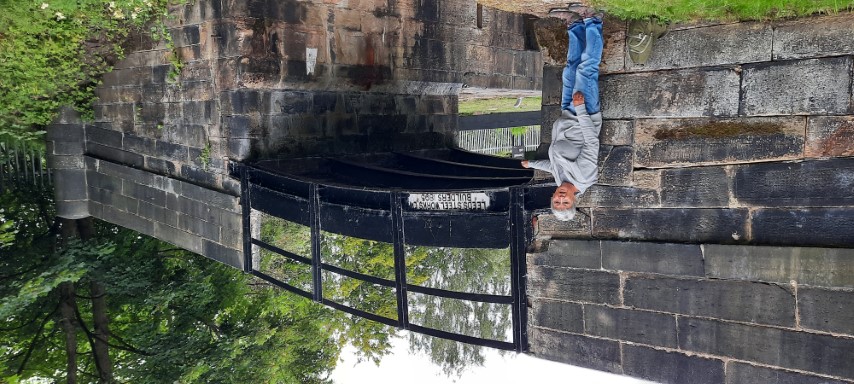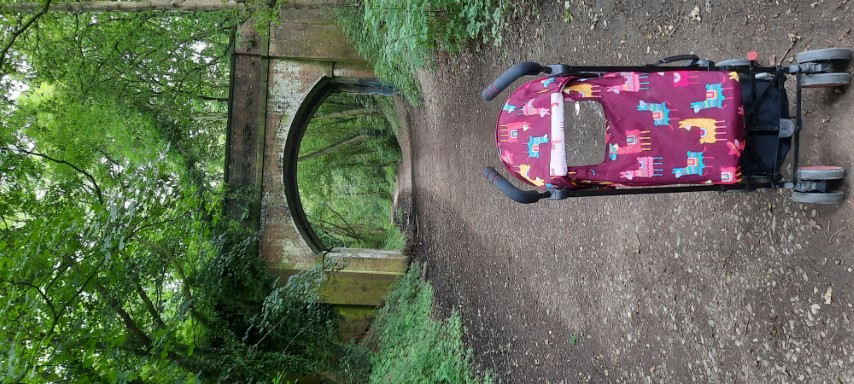 Sunflowers fromTour de Mirfield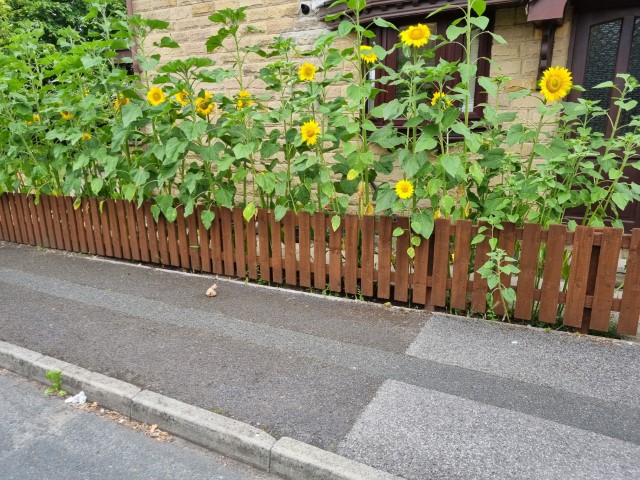 Barge near Brighouse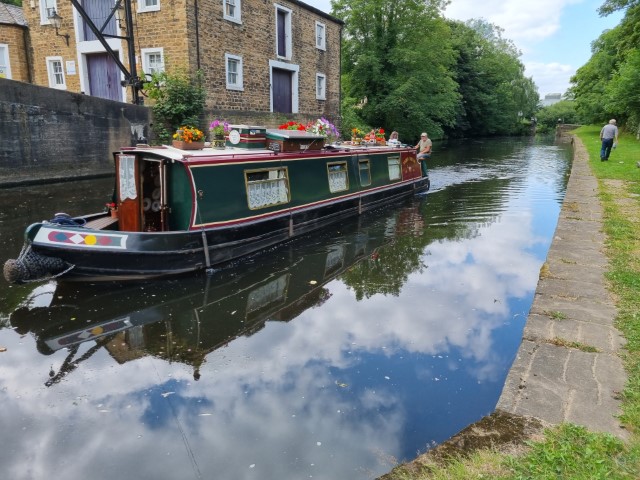 Alan writes - can report now we have completed our third day - 12 miles each.
A combination of stairs and laps of the deck on our journey from Dover to Belfast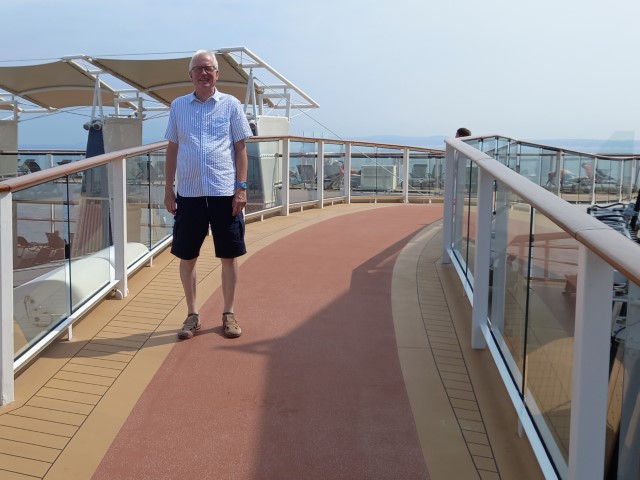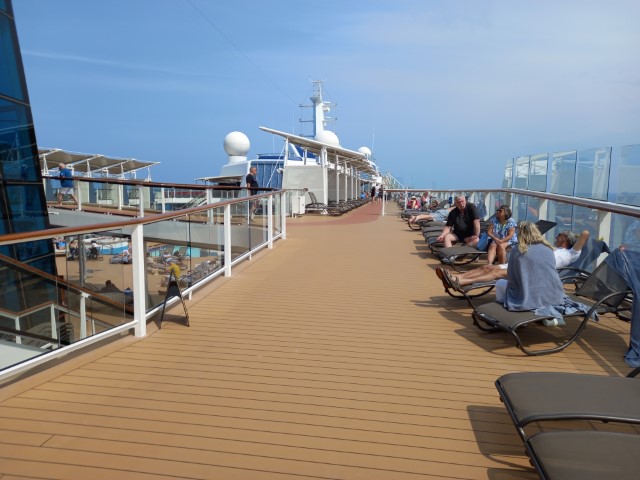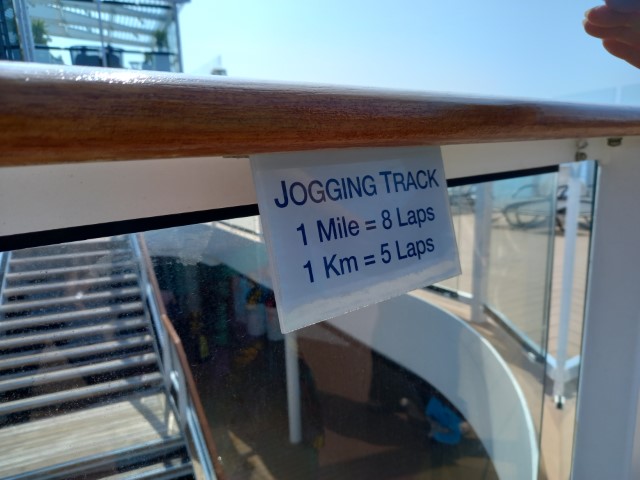 Hilary writes - Today's walk up through Liversedge, down to the Spen Valley Civic Society's project the Jo Cox Community Wood. Onto the Greenway, through Heckmondwike and back along the Calder and Hebble Navigation to Mirfield.
Delicious crepe lunch and cake at Cupushi's.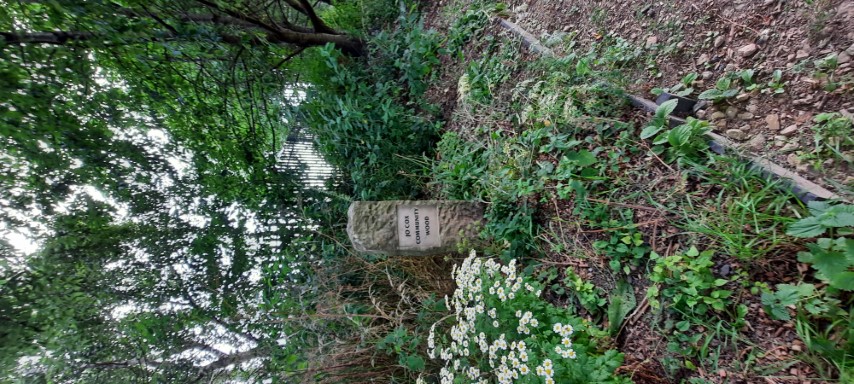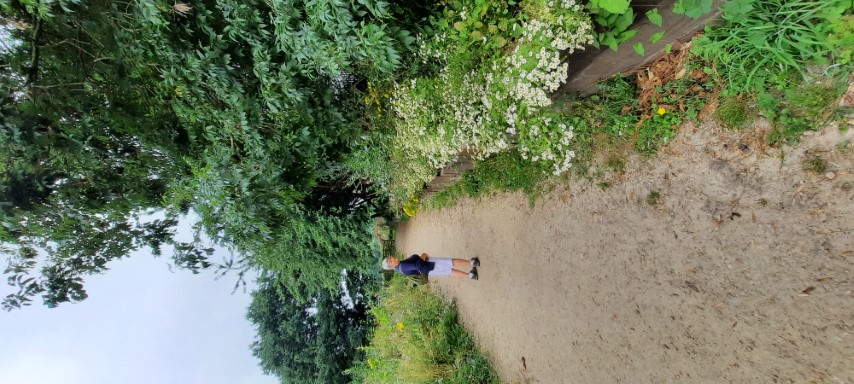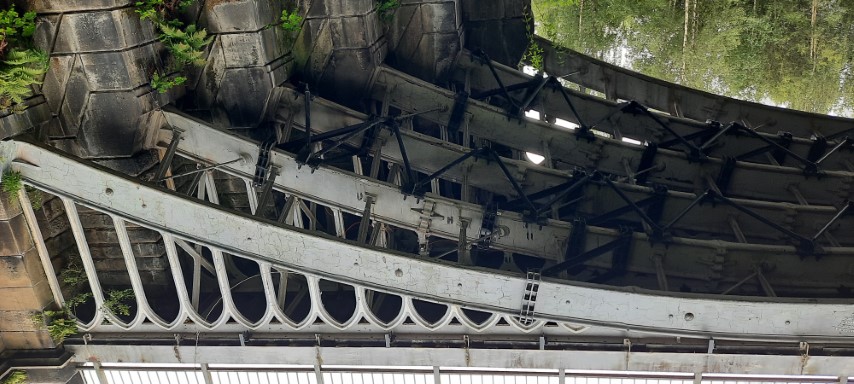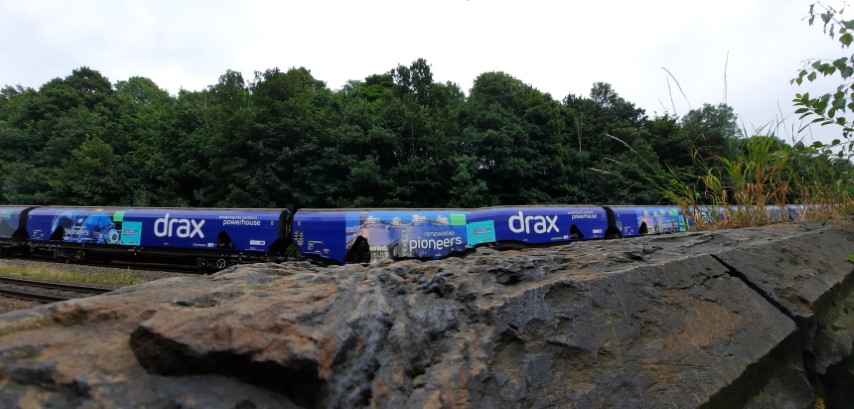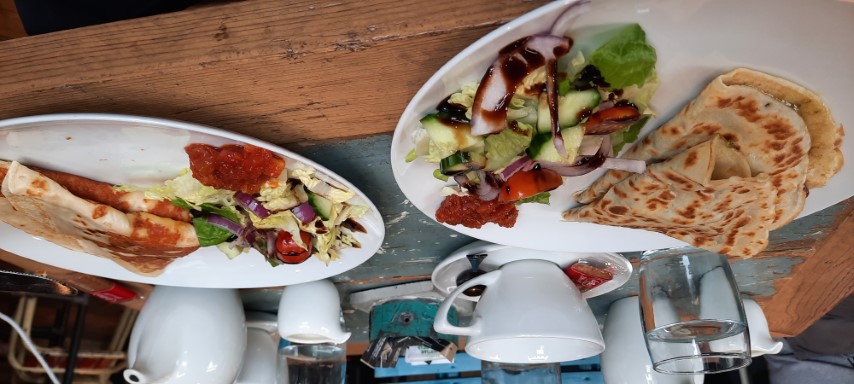 Gordon writes - a good 14+ mile walk today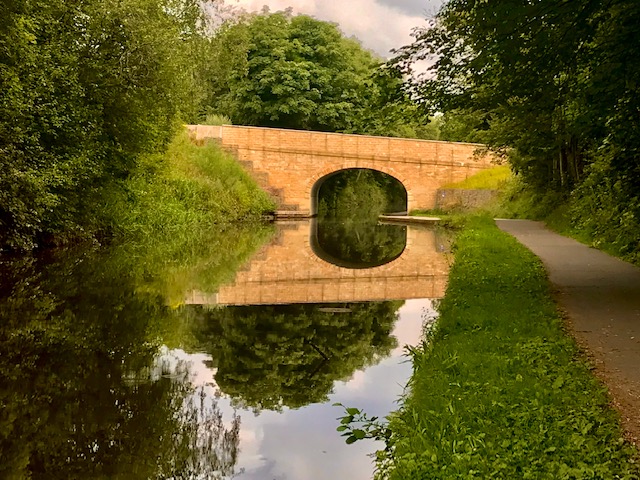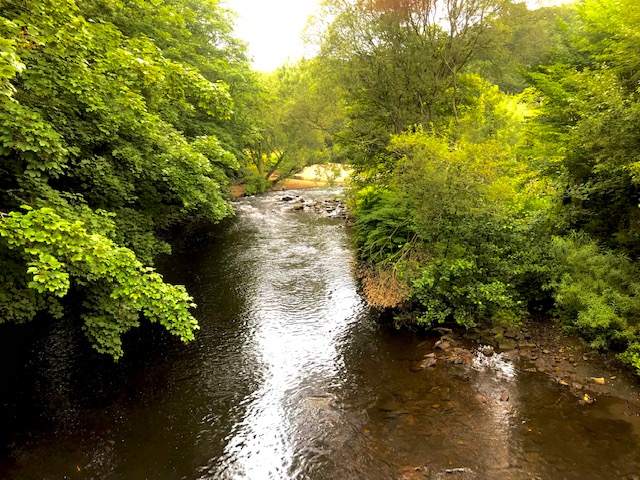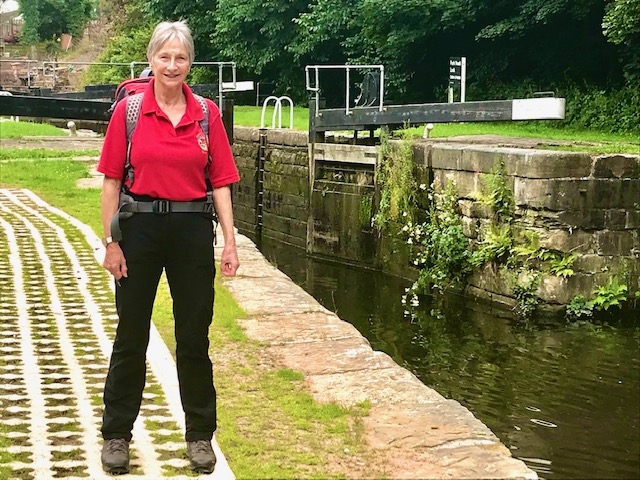 Gordon says - A very hilly and at times wetter walk today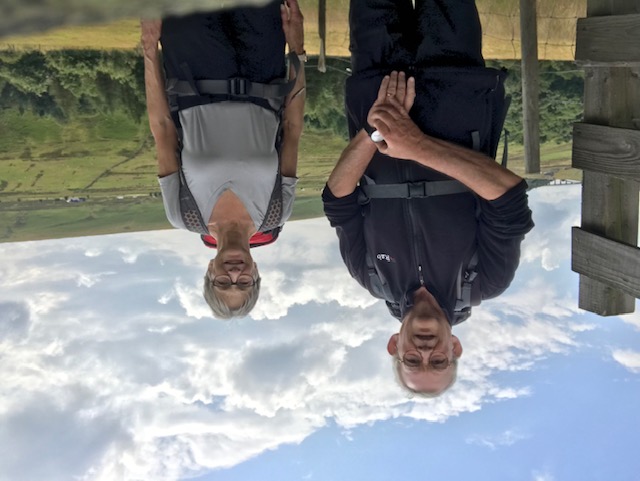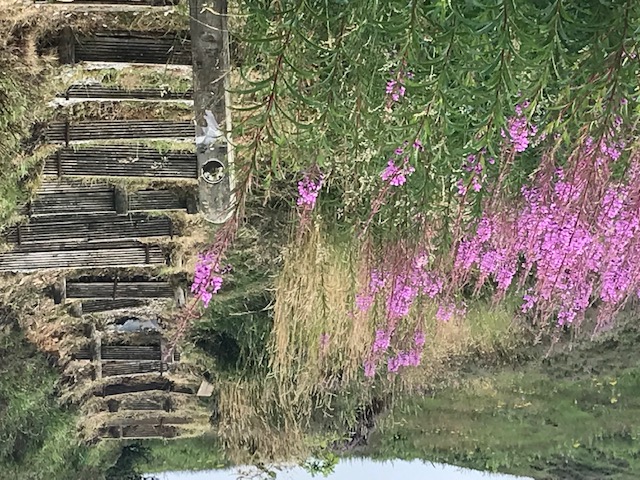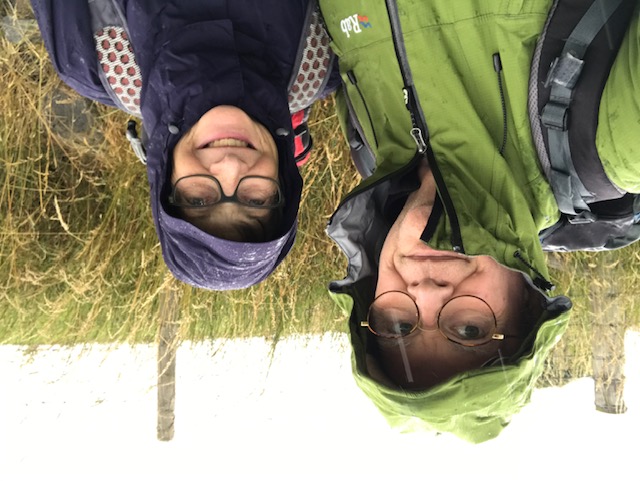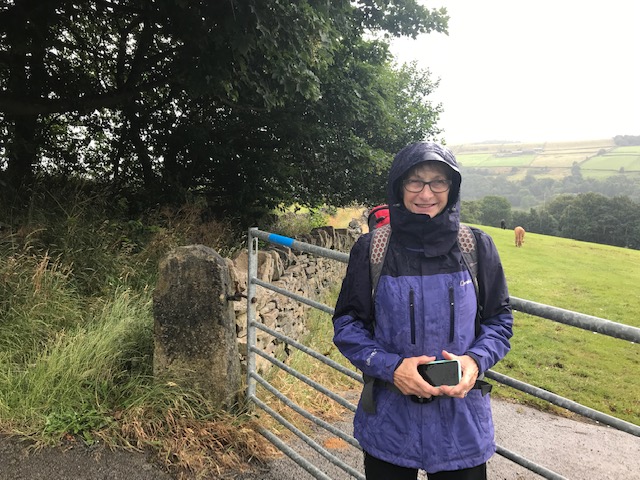 Gill writes - Today's walk with my friend included helping at the Jo Cox bike ride starting at Princess Mary Playing Fields and ending in London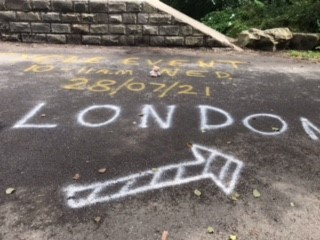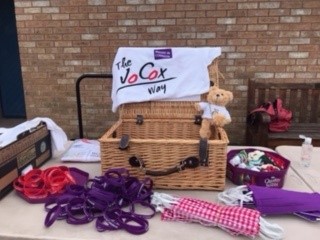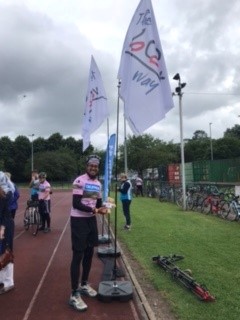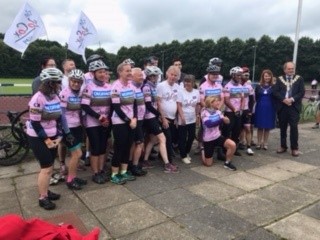 61 riders set off to make the 5 day ride. 1st day Cleckheaton to Buxton tough ride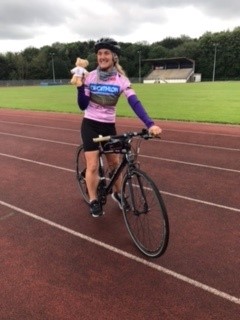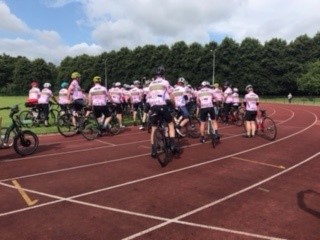 Two of our members joined in but didn't get very far!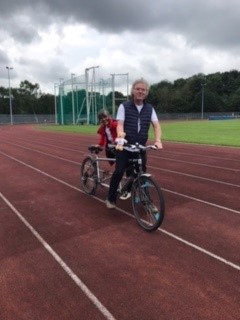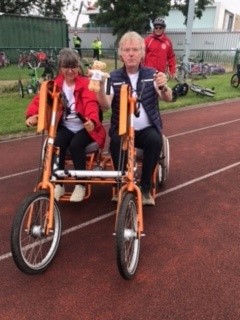 Dawn says - I completed a late night walk from Skipton to the Bingley 5 rise Locks on Wednesday night. Started at 7pm in the rain, arrived in Bingley in the dark at 10.45pm.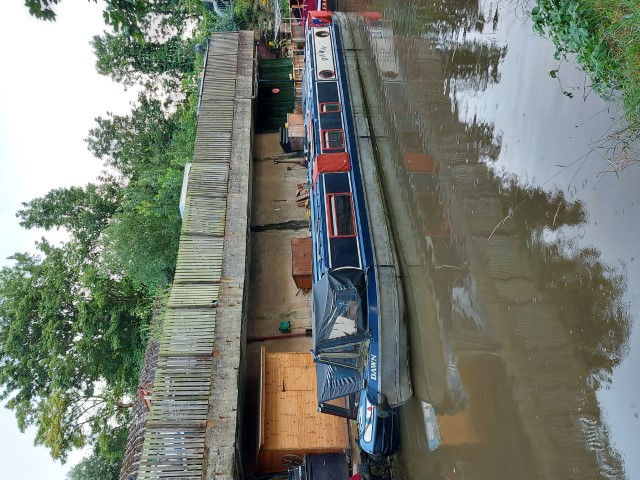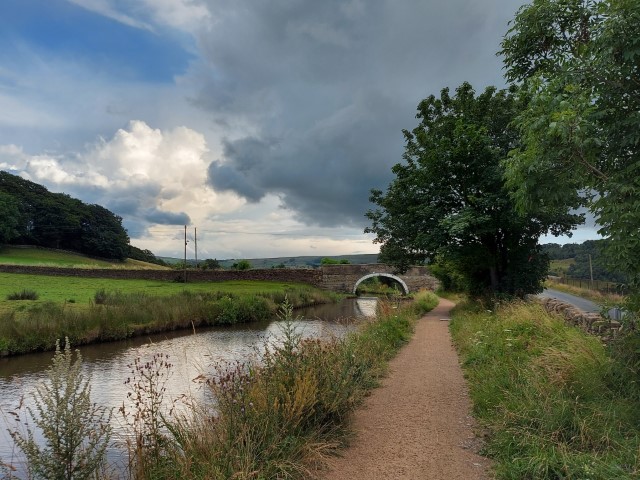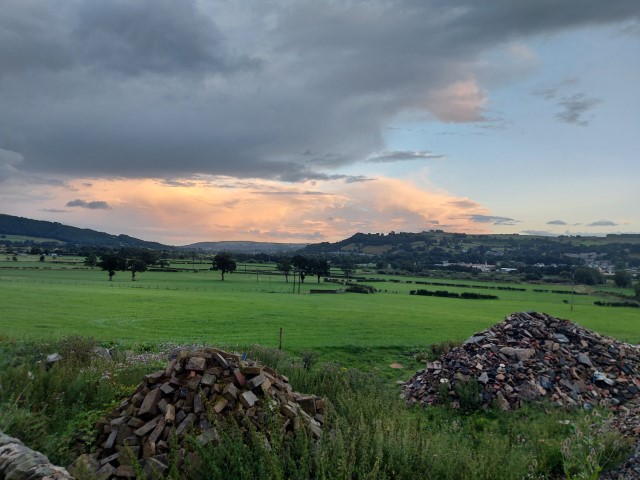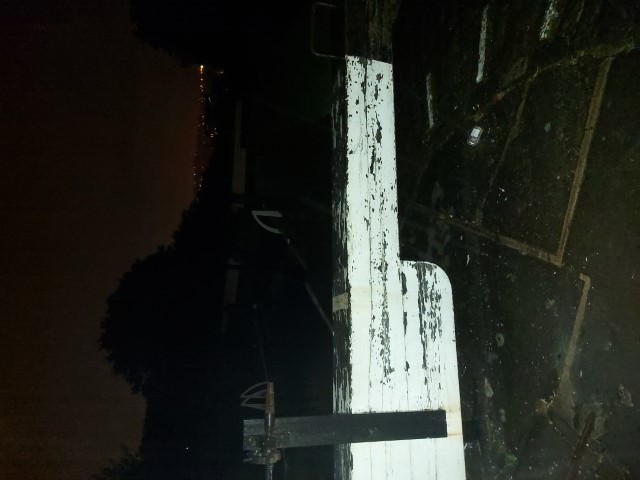 Dawn writes - The ungodly hour I had to get up. Dewsbury at 6.55am Ossett at 7.40am
Way home. Ossett at 6.05pm Dewsbury at 6.50pm. Mirfield clock doesn't work 8.10pm
Please pray for my feet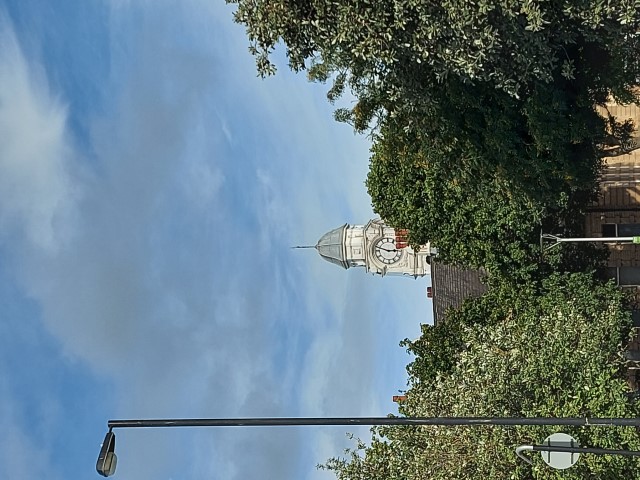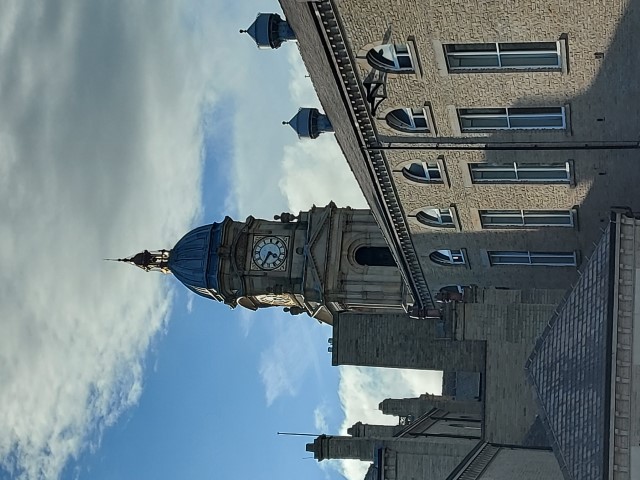 An alternative to walking ....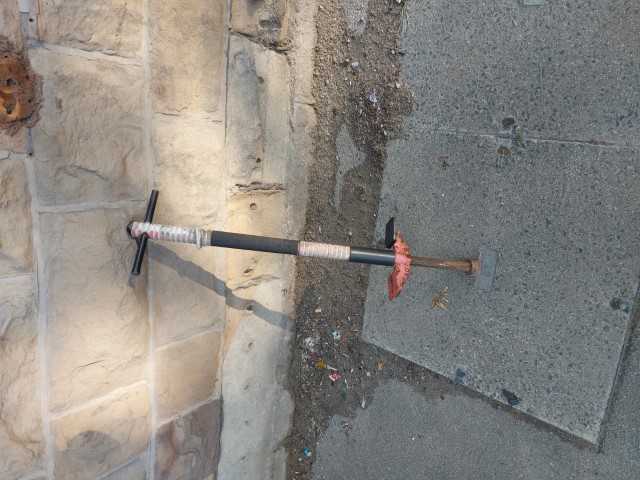 Some walkers are getting tired?
Gordon says .. It's getting wetter with every walk - forced to take shelter in the Savile Arms Hunsworth - followed Rotary Motto of "Service above Self" and supported the local economy by buying beer and a sandwich - 10.13 miles each.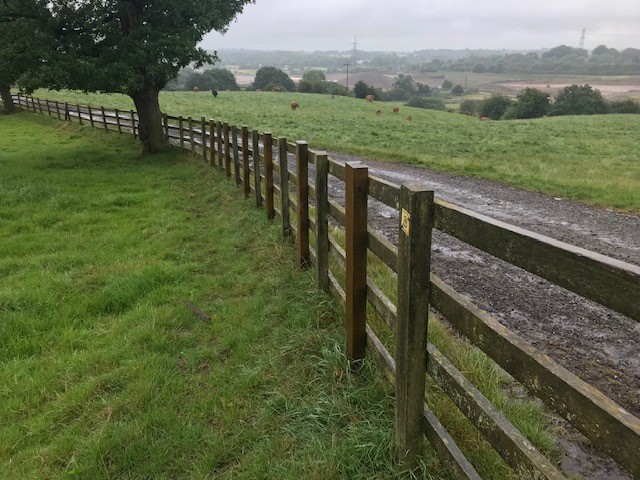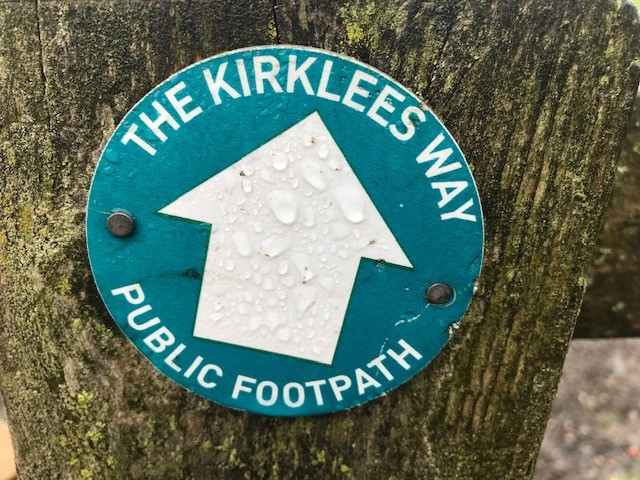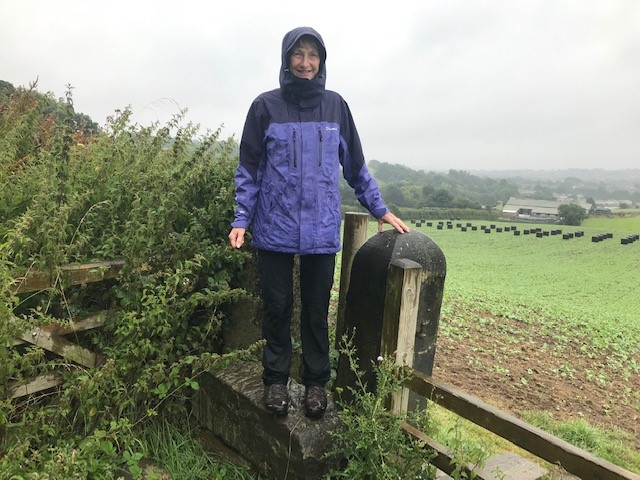 Gill says ... The weather was kinder today for walk number 5 Part of this was on the canal towards Halifax .
My friend and I thought about hitching a lift but resisted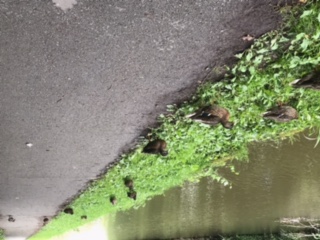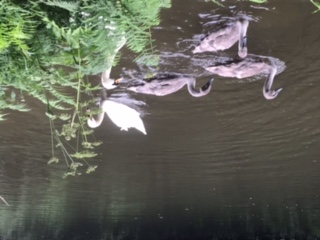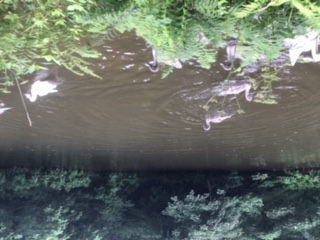 Hilary says ... our 7th effort, two walks totalling 10.35 miles.
Time for a walk to feed Stella's donkeys, Rupert and Honey their favourite treat of bananas and carrots.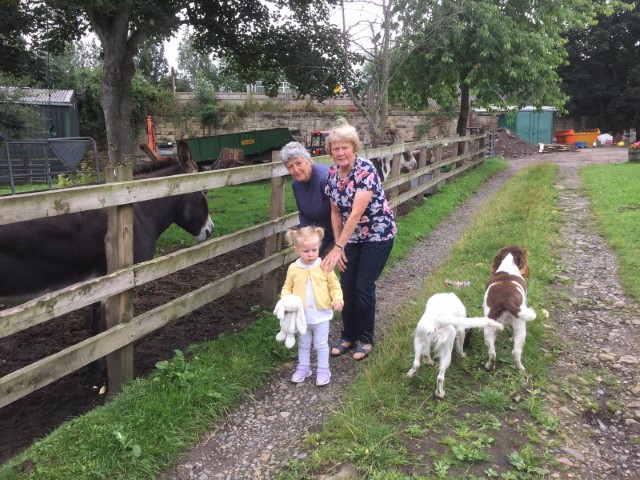 Hilary says .. Keep fit first and then a pretty boring walk today on my own, circumnavigating Dewsbury District Hospital whilst on transport duty. 10.1 miles in total.
Funny how silly things you discover along the way make you smile.
Only 2 to go.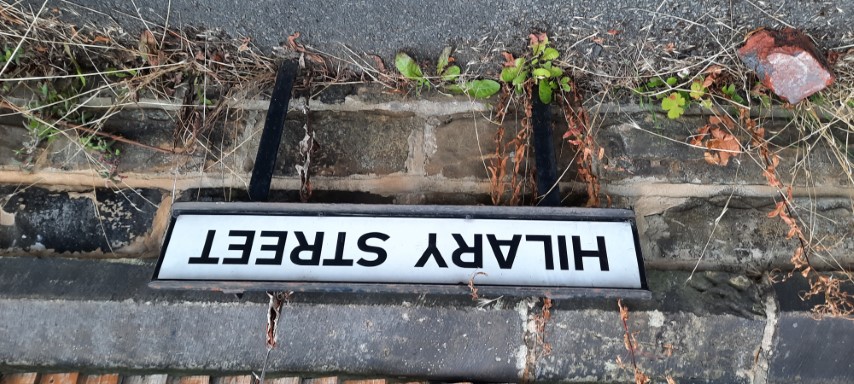 Gill .. Today's walk was with a new friend my daughter as the bear chose to stay at home. Along the Great Northern Railway Trail . A disused railway line running from Cullingworth to Bradford with some really interesting information boards in the way.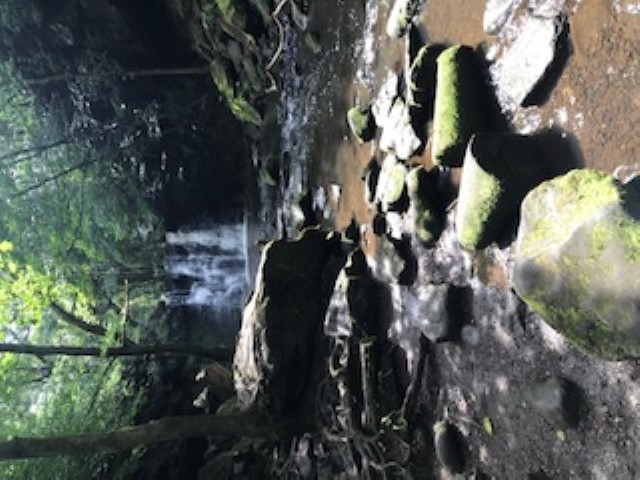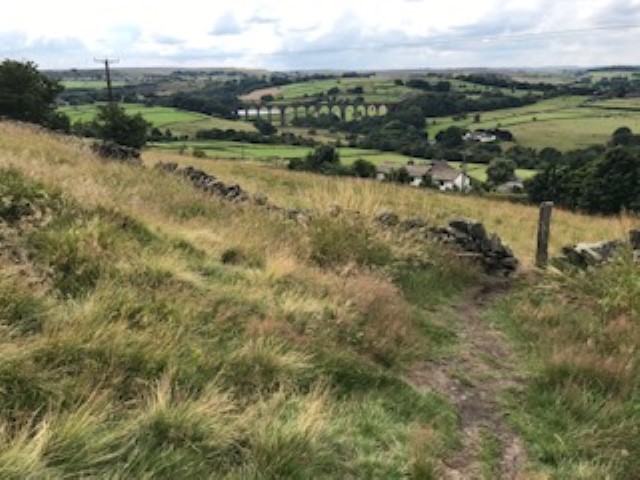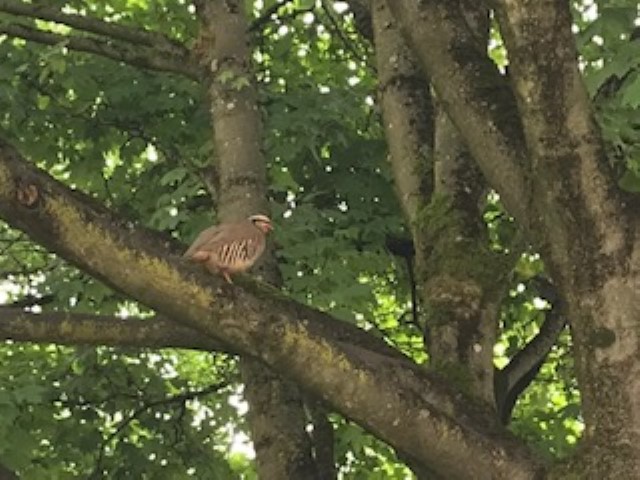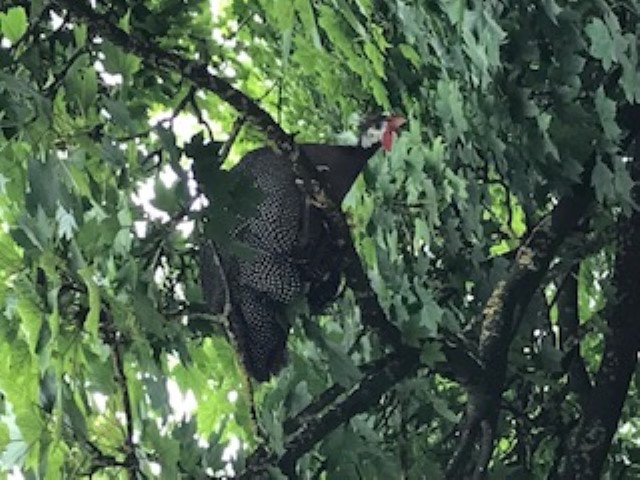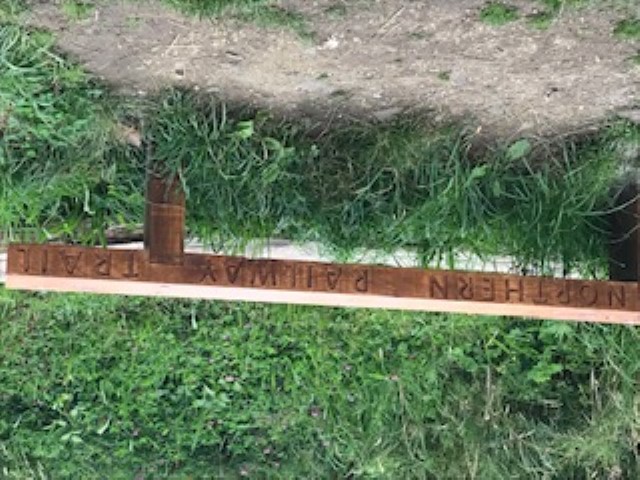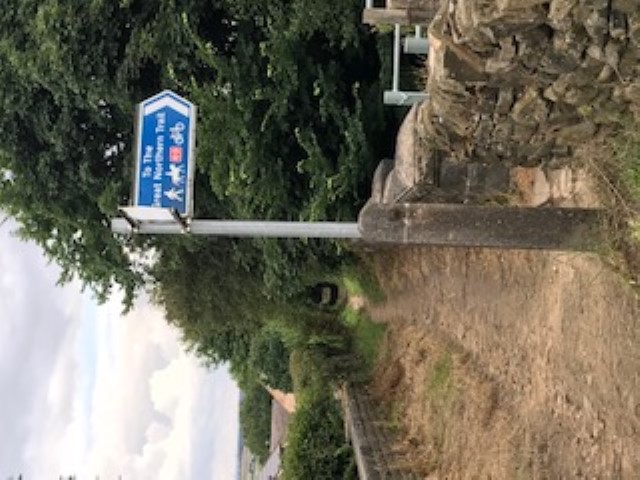 Hilary writes ... 11.49 miles today, Marsden, Standedge Tunnel, Huddersfield Narrow Canal and a walk through Slaithwaite down to Huddersfield. Beautiful scenery.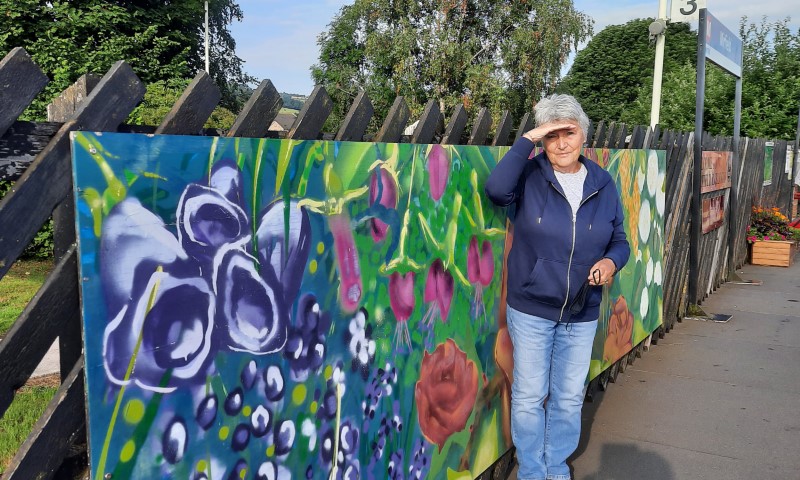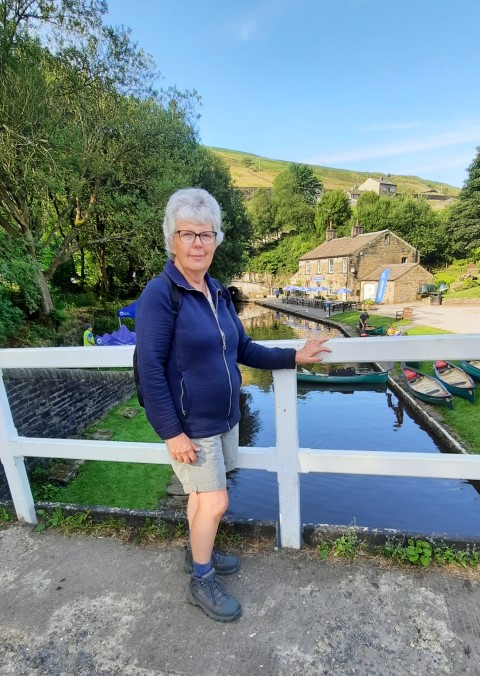 Alan says ... We have completed the 10th day and both done 7 miles. A total of 102 miles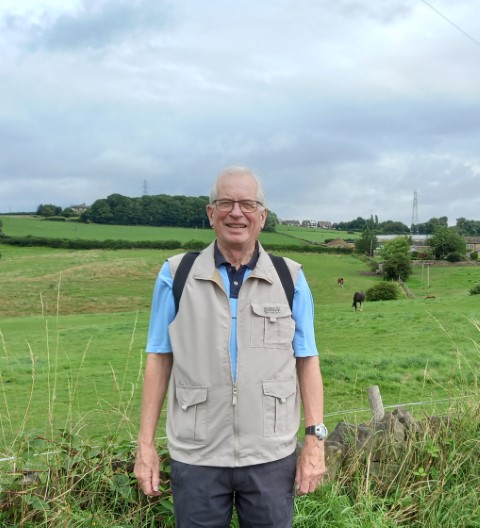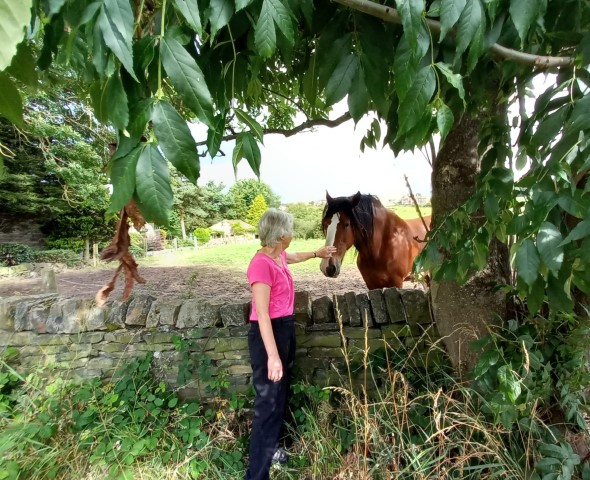 Dawn says ... Today I completed the Leeds Dinasaur trail. It was fab. Please see highlights below.
he taxidermy fox was by far the scariest beast of the lot.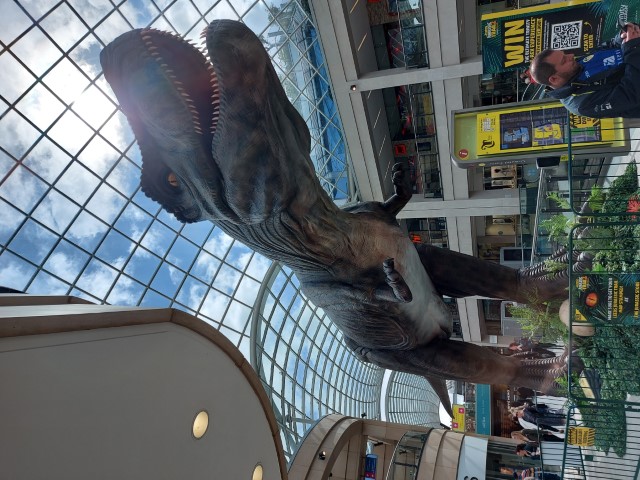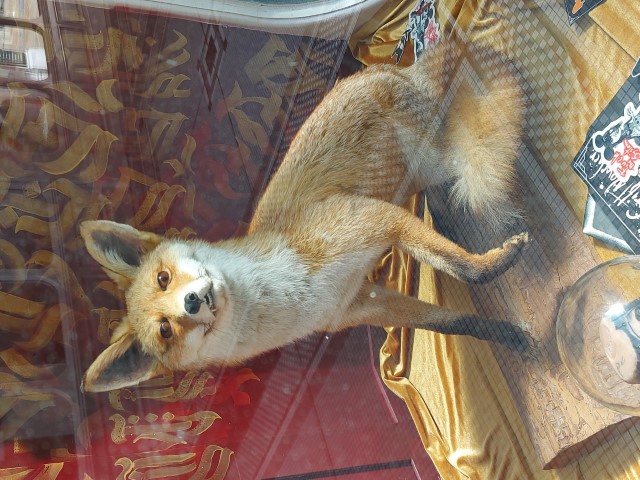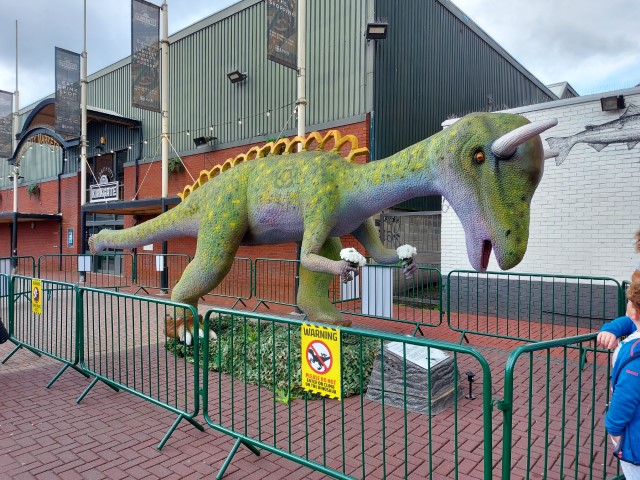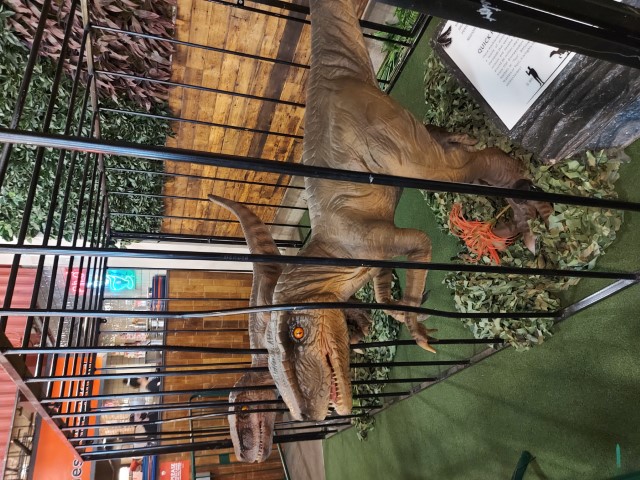 Total miles walked so far
Over 1000 !!!