A large gathering of Rotarians, members of Inner Wheel, guests and visitors attend the Christmas Dinner on Tuesday 11th December 2012 at St Augustine's, Westgate-on-Sea.
After a splendid meal, the highlights of the evening were the induction of Christine Laming as a new member of the Club and the presentation of the John Moulsdale Trophy to Rotarian Eddie Doody in recognition of his outstanding service to the Club, particularly as Dining Steward.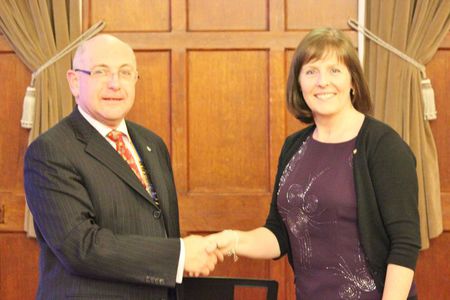 President Chris Hedges welcomes Rotarian Christine Laming to the Club.
Christine is the Business Manager at The Foreland School and was proposed for membership by Rotarian Mick Stokes. The Club has enjoyed a close relationship with the Foreland School in recent years, funding a number of projects to improve the educational environment for the children.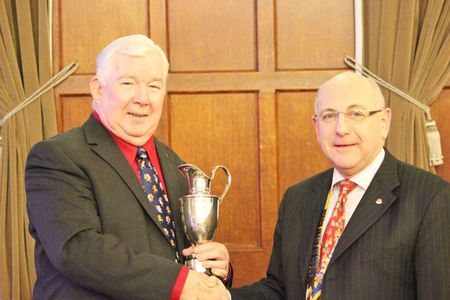 President Chris Hedges presents the John Moulsdale Trophy to Rotarian Eddie Doody.
Eddie has been Dining Steward for the Club for many years and his dedicated hard work behind the scenes, ensuring that every meal, whether it be a regular Club Meeting or a major event with hundreds of guests, is minutely organised and immaculately served. Eddie joins an illustrious band of Rotarians who have been honoured to receive the trophy which is awarded in memory of the founding President of the Club, John Moulsdale.
Once the formal business had been concluded, members and guests let their hair down and participated in an interactive "Noisy Nativity Story", complete with musical instruments and sound effects, led by members of the Inner Wheel Club. There was much banging of drums, shaking of maracas and braying of "eee-aw"!
The evening concluded in the traditional way with lusty carol singing. Excellent soloists were persuaded to lead "We three Kings" and there was the usual, riotous rendition of "The 12 days of Christmas" and "We wish you a Merry Christmas!"