Twelve Rotarians and Inner Wheel ladies from Westgate & Birchington attended a special Evensong Service at Rochester Cathedral to Celebrate Rotary in District 1120.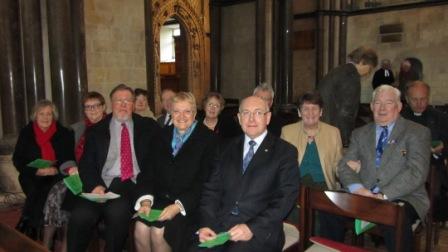 The service began with the Cathedral Choir singing the introit "Cantus Missae" by Joseph Rheinberger leading a procession of the Clergy into the Quire.
The Dean of Rochester, The Very Rev. Mark Beach welcomed everyone to the service and then the Precentor and Choir sang the Opening Responses to a setting by Peter Nardone.
The congregational hymn "To God be the glory" was sung to thundering organ accompaniment and then the Choir sang Psalm 119 to a traditional chant.
The 1st Reading from Jonah, chapter 3, was read by a Rotarian from Rochester and then the Choir sang The Magnificat to the setting by Francis Jackson in G.
The 2nd Reading from Luke, chapter 18, was read by the District Governor, Stewart Grainger and then the Choir sang the anthem "Ne irascaris Domine satis" (Be not angry, O Lord) by William Byrd.
Our very own Reverend Rotarian Jan Dash then gave a refreshing and encouraging address from the pulpit - a rare opportunity for her to preach in the Cathedral.
The Rotary Hymn was followed by prayers led by Past President David Howells which took as their theme the Object of Rotary.
Following the final hymn, "Guide me, O thou great Redeemer", the Dean gave the blessing.
The recession of the Choir and Clergy was accompanied by the organ voluntary: "Prelude & Fugue in E minor (BWV 548) by J S Bach.
The congregation then moved to the Lady Chapel to enjoy refreshments and a cake sale organised by the Rotary & Inner Wheel Clubs of Rochester.
The collection taken during the service will be given to the Rotary "End Polio Now" campaign and funds raised from the sale of cakes and refreshments will be given to the Rural Community College of Karanai Village, Chennai, South India.