The Children at St Crispin's School, Westgate-on-Sea were invited to bring in the welfare items which are needed to fill seven Aquaboxes. The children in each class were given a list of the items which were required (see the Aquabox website for the full list: http://www.aquabox.org/boxes.asp) and each child chose which items to donate. The Aqua boxes were then filled with the items that would provide primary assistance to help someone in a disaster area, but especially they contain a water purification kit as this is the single most important item to maintain life.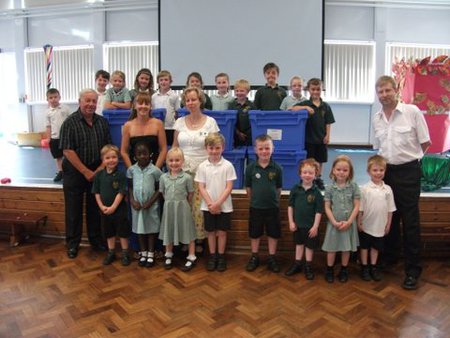 At a recent school Assembly, Rotarians Charlie Brightling, Angelo Dondi and John Hawkins thanked the children for their donations and explained how the Aquaboxes would be sent to a holding area in Matlock, Derbyshire and wait until they were required in a disaster area. Although the children thought that Africa was a likely destination, the reality is they could be sent anywhere in the World. The children also learned a little about the work of Rotary and how we have fun raising money to help a wide range of different charities and heard the story of how the Aquabox was "invented" by the Rotary Club of Wirksworth, near Matlock.
Each box has a unique number, so these boxes can be tracked to their final destination.
Disasters come in many forms - earthquake; cyclone; flood; refugee displacement - but all share a common factor: The most urgent single problem facing the relief agencies is the provision of a supply of safe drinking-water.
In some cases, it may be possible for the relief agencies to supply water from outside the affected area. In others, there is clearly a need for those suffering in the aftermath of a disaster to achieve an early, if temporary, self-sufficiency in the supply of safe drinking-water.
The Solution is AQUABOX, a robust plastic tank with a family-sized filter unit known as the AQUAFILTER and packed with essential welfare items for a disaster situation.
Once the welfare contents have been removed, each AQUABOX can be used to purify up to 18000 litres of polluted water, making it safe and pleasant to drink. That