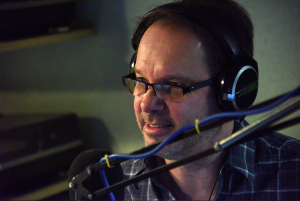 Rotarian Neil Whiteside appears regularly on local radio.
Neil handles Outreach & Community Development for Cambridge 105 Radio and appears regularly on the station with his own programme.
Cambridge 105 Radio is the community radio station for the city of Cambridge, a volunteer-run, community-owned, not-for-profit organisation. The station broadcasts from its studios on the Gwydir Street Enterprise Centre across the City and South Cambridgeshire on 105FM, online and DAB Digital Radio seven days a week.
Neil also covers IT support on a freelance basis and produces podcasts for a number of organisations. In his spare time Neil is a radio ham.
---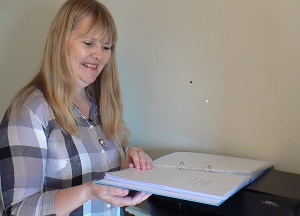 Rotarian Clare Waterhouse runs her own relocation business, Cambridge Property Search Limited.
Founded in 2007 her business became successful and is now thriving. Clare started with work from the Judge Business School and now has contracts with all of Cambridge University.
In her spare time she teaches English and American Literature at the U3A and has an interest in art and art history as well as an interest in Russian and Spanish cinema.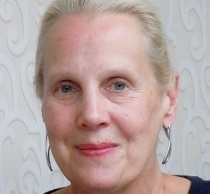 Rotarian Jenny Chapman-Hay is the former Business Editor of The Cambridge News.
Jenny has written a number of books, both novels and non-fiction, and since retiring she has started a small antiques business. She is a volunteer with Cambridge Re-Use, the charity based on The Paddocks Industrial Estate off Cherry Hinton Road where good quality donated furniture is sold to those on low incomes. She also tackles the Daily Telegraph cryptic crossword and enjoys reading.
---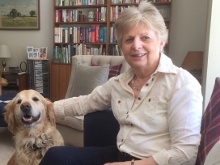 Rotarian Rosemary Turner helps with Victim Support for those who have experienced criminal incidents.
Rosemary also has three dogs from unsettled homes that she exercises twice a day with her husband John. That is George in the photo.
Formerly she was Head of Education at Meldreth Manor Scope School for youngsters with profound and multiple learning difficulties.
---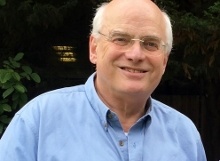 Rotarian Julian Landy, a retired Solicitor, started Homes for the Homeless in 2017 with a mission to reduce rough sleeping in Cambridge.
He has also written a number of books.
He started Friends for the National Trust for Scotland raising about £15,000 since this was formed and has also launched a dual-gender book club in Cambridge.
---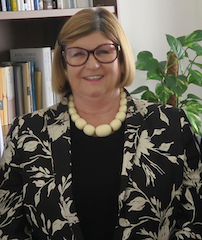 Patsy Glazebrook BEM retired from her professional career of Nursing in 2018 after 47 years service.
She was awarded the British Empire Medal in 2015 for her volunteer role as Vice President and Event Organiser since 2000 for The Cambridge Fundraising Committee for The Sick Children's Trust Charity. The charity owns Acorn House and Chestnut House where families can stay when a child is ill in Addenbrooke's Hospital.
She was the Cambridgeshire Assistant County Organiser for 18 years for The National Garden Scheme, judging gardens for entry into the NGS Open Days calendar.
As a Granta Arts Society Committee member she enjoys organising their Special Interest Days at Churchill College. She is also a member of three other Arts Societies.
She is a Committee member of the Cambridge Friends of the National Trust for Scotland.
She has been a member of the Cambridge Women's Luncheon Club for 27 years, and an enthusiastic member of the Gog Magog Golf Club for 28 years; her handicap is unprintable.
She and her husband Clive have 2 dogs and they enjoy dog walking, travelling and gardening.
---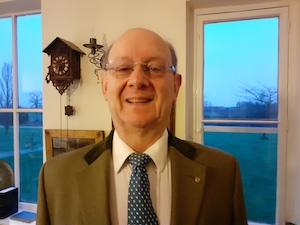 Jeremy Waller has been a member of Rotary for 25 years since he joined in Nairobi, where he presided over a Club. In Africa he helped distribute Polio vaccine and supported disabled children. He has been a member of our Club for 15 years.
Jeremy has always been interested in British art and design since studying art as a student and as an artist himself. He likes designing and making things as he has done over the years, and now owns and directs a British contemporary Art and Crafts gallery in Cambridge - Primavera - with three windows opening onto the street in the City - on King's Parade, Magdalene Street and Northampton Street. When out of lockdown it displays over 6,000 items of fine British contemporary jewellery, together with many more items of ceramics, studio glass, sculpture and paintings. Primavera is now concentrating on reaching out through its website - www.primaveragallery.co.uk
As a director, engineer and designer, in date order, Jeremy has lived and worked in London, Beirut Lebanon (during the civil war), Paris, Nairobi, Lusaka, Dar es Salaam and Johannesburg. On his return to the UK he owned and directed First Edition Translations in Cambridge for many years. He is a qualified cost and management accountant, and studied law to become a barrister.
He read history at Cambridge University, likes music, is interested in foreign languages and cultures, enjoys gardening (he and his wife Sheila open their garden at College Farm Haddenham each year for charity - https://ngs.org.uk/view-garden/30941) and he supports the history of British manufacturing (every year in September co-hosting the Haddenham Steam Rally).
Currently Jeremy is building a new arts centre at College Farm to support British artists and makers, where he already has a permanent gallery of British artwork, as well as his own.
---
Robert Ransom spent 50 years practising as a Chartered Civil Engineer working in South Africa and Hong Kong as well as the UK, where he was a Technical Director with one of the country's largest consultancies. Following retirement he acted as Secretary for the Cambridge Forum for the Construction Industry for a number of years. His interests range from travel to things mechanical, combining both in his passion for classic cars. He sits on the committees of two car clubs, one of which he helped set up in 1995, and edits magazines for both.
---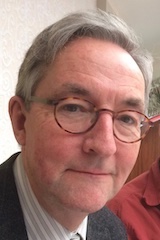 Rotarian Dr Antony Warren was a GP in Cambridge for 30 years up to 2012 following medical training in Oxford. He had a wide range of patients from both Town and Gown and got to know the City and its surrounding villages well. He took a special interest in medicines, dermatology, family planning, child care, asthma and GP IT
In retirement he is Chairman of the Foundation of Edward Storey almshouse charity, which houses 90 residents on three sites and financially supports clergywomen and others with links to the Church of England
He is a qualified Local Observer for the Institute of Advanced Motorists, mentoring drivers who wish to take the Advanced driving test.
His main hobby is choral singing to a high amateur standard. He is currently a regular or occasional member of four choirs, performing in and around Cambridge and London, and in English Cathedrals.
---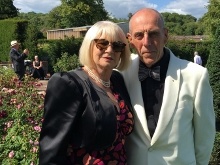 Rotarians Ed & Gill Coe have a passion for opera and classical music. Our picture shows them at Glyndebourne
Ed was a Chartered Quantity Surveyor and a partner of one of the foremost QS firms in the UK and latterly worldwide. As a former Trustee of the Arthur Rank Hospice Charity he was involved with planning and building the new hospice.
Gill paints in oils and is a member of the Cambridge Drawing Society.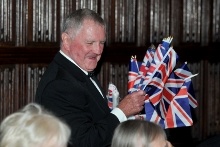 Rotarian Paul Henry has been a member of our Club for over 35 years.
In the Rotary Club of Cambridge Paul is always ready to lend a hand and outside our club he assists with the Arthur Rank Hospice as well as continuing to take a business interest in home improvements and specifically conservatories, doors and windows.
He puts his back into any of the events that we organise – and he says "very often puts it out!"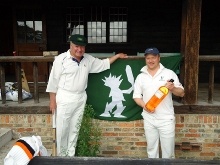 Rotarian Colin Greenhalgh was Principal of Hills Road Sixth Form College. In 2003 he was appointed CBE for services to education. A lifelong cricketer, Colin is a member of MCC and kept wicket for Jack Frost Cricket Club after his 75th birthday.
Colin is seen in our picture wearing his green Jack Frost Cricket Club cap. He was also Vice Chair of Cambridge University Hospitals and currently, he is a Deputy Lieutenant of Cambridgeshire, Trustee of Cam Academy Trust,a Governor of Long Road Sixth Form College and an Honorary Fellow of Anglia Ruskin University.
He is also a Member of St Botolph's Church PCC and Stapleford Parish Council, and Johnian Obituaries Editor at St John's College, Cambridge.
Rotarian Peter Jones is a keen cruising sailor and has his own yacht.

Although retired he is very involved in Camsail and is a member of BENERA, the Cambridge Rambling Club and the U3A.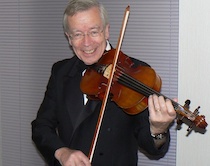 Rotarian John Grieve plays viola in the City of Cambridge Symphony Orchestra since retiring from his well known and eponymous Cambridge veterinary practice.

Amongst his other commitments John is Visits Organiser for Cambridge Society for the Application of Research.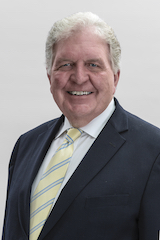 John Barrett is an ordained Methodist Minister who has spent almost all his working life involved in Methodist education. He has been a College lecturer and chaplain, and Head of three Methodist schools, including The Leys School in Cambridge, and founding Principal of the Anglo-Chinese International School, Singapore. He was also the first Chair of the World Methodist Council Education Committee, and was subsequently elected as President of the World Methodist Council (2006-11). Following his retirement, he has served part-time as Minister of Wesley Church, Cambridge and now assists in the Anglican parish of Harston, where he lives with Sally, his wife. He is also Vice-Chairman of the Trustees of Landmark International School, Cambridge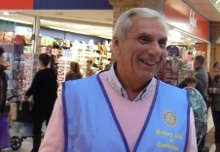 Rotarian John Martin, seen here taking part in our Children in Need collection at the Grafton Centre, is a former Chairman of Cambridge Magistrates.
A retired builder, John was formerly Eastern Area Chairman of the Federation of Master Builders. He is a Trustee of The Cambridge Royal Albert Homes charity.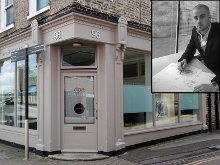 Rotarian Chris Senior's growing reputation as one of the lead designers in Cambridge is a result of his intuitive approach. Visit his website http://www.dpaarchitects.co.uk/ for more information.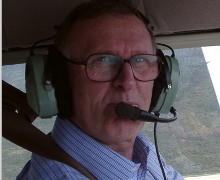 Rotarian Rudolf Hanka has been a keen amateur pilot. "Flying keeps you so busy that you can't think of anything else and you land with your mind completely refreshed"
He has also served during his working career as the Chief Scientific Adviser to the Czech Government, Vice-President of Wolfson College, Cambridge and a Professor of Medical Informatics
---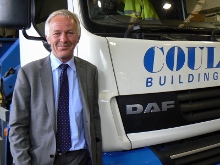 Rotarian Philip James is Chairman of the Coulson Building Group which has been established for 130 years and turns over £13m per annum on building projects throughout East Anglia.