"STRICTLY COME ROTARY" 2015
Fri 24th April 2015 at 6.30 pm - 11.00 pm
The successful annual dance competition was held at St Augustines this year.
The Club staged the annual "Strictly Come Rotary" Dance Competition recently in front of a packed house at St Augustine's, Westgate-on.-Sea. After an excellent dinner, the "dance-o-philes" were treated to a demonstration dance by children from the Telemark School of Dance and then we got into the serious business of the competition proper. Five couples had been trained by Dance Teacher Sharon Stevenson over the previous ten weeks and were now ready to "strut their stuff" in public. Beverley & Mike Aitken danced the "American Smooth"; Chris & Leah Howard performed a vigorous "Jive"; Tim & Claire Seward glided elegantly through a "Viennese Waltz"; Dean Gough & Catryn Beynon gave us an exotic "Mambo"; Loraine Bant & Michael Hart swirled through a modern ballroom "Waltz". The audience were supplied with voting sheets and ranked each couple as they danced and, in the final analysis, Tim & Claire Seward were adjudged THE WINNERS!
Rotary President David Hearnshaw presented the victorious couple with the coveted salver.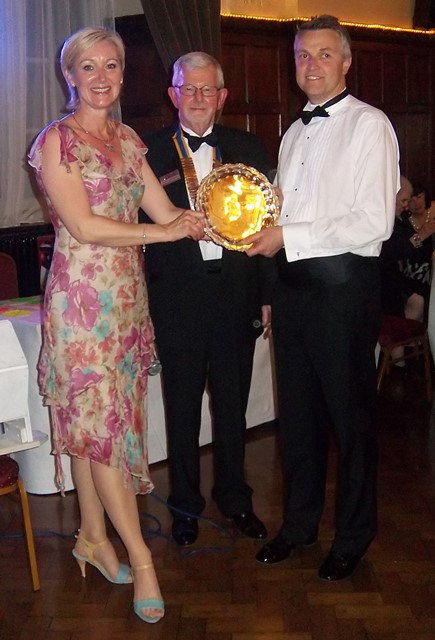 The primary purpose of the Dance Competition is to raise money for charity and, this year, the Alfie Gough Trust will be presented with well over £2,000 when all monies have been received.
In recognition of the huge effort she has expended over recent years, preparing the dancers for "Strictly Come Rotary" by creating their dance routines and giving each couple ten weeks of lessons, Telemark School of Dance teacher Sharon Stevenson was presented with the ultimate Rotary accolade – a "Paul Harris Fellowship" – an award which is given to a select few, recalling the Rotary Founder, Paul Harris. President David Hearnshaw made the presentation on behalf of Rotary International.