District Governors Meeting
Mon 9th September 2019 at 7.15 pm - 9.30 pm
DG Manoj Joshi visit to Birstall Luddites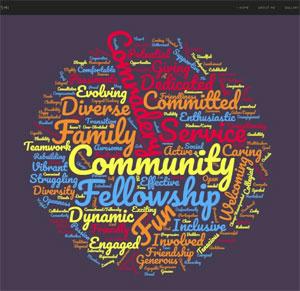 Rotary Club of Birstall Luddites
Rotary District 1040
Club Visit of District Governor Manoj
Birstall Luddites hosted a joint meeting at Gomersal Park Hotel Monday 9th Sept

with Inner 9 Rotarians from Dewsbury, Cleckheaton Morley Ossett and Mirfield
Rotary Clubs.
Manoj theme of

"fun, food and fellowship"

as Rotary District 1040 Governor 2019-2020 for the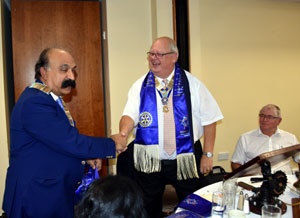 Yorkshire, Humberside and north Lincolnshire region, comprising of 102 clubs and 3000 Rotarian's.
DG Manoj Joshi and his Rotarian wife Bhavna. enjoyed a meal with gathered Rotarians.
Manoj started his talk explaining he was a Ugandan Indian, he fled in the Idi Amin crisis in 1972
where the South Asian minority were expelled.
He said England was the best country in the world
England gave sanctuary with no restrictions to the Ugandans
He joined Bradford RC in 1968.

Manoj addressed those present with an inspirational talk about raising the numbers of Rotarians and raising awareness of Rotary with public image and awarenessof
Rotary in all we do.
He plans to have a Hospice day showing how Rotary gives support and fund raising to local Hospices
He then kindly gave Rotary shawls, in vivid blue sporting the Rotary Wheel and his name and message, to the assembled Club Presidents, he suggested they could be a talking point, raising the profile of Rotary.

Past District Governor Nigel Arthurs gave thanks to Manoj for his talk on behalf of the assembled Rotarians.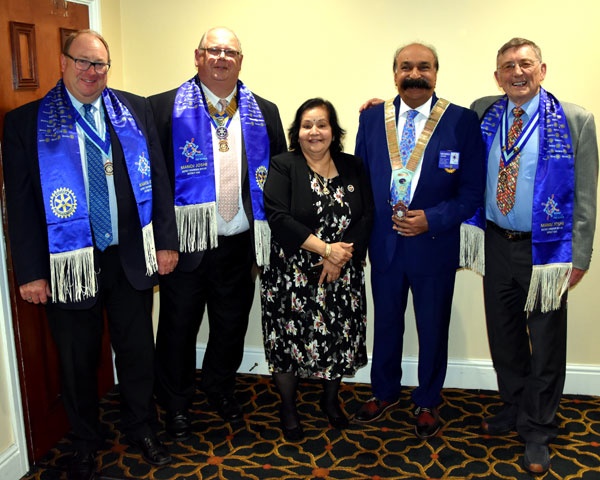 Pictuerd from left Past DG Nigel, Past DG and Birstall Luddite President Nigel, DG Manoj wife Bhavna, DG Manoj, and Past DG Robert.
--------------------------------------------------------------------------------------------------------