Rotary Cub of Birstall Luddites
Club Speaker Wyne Periman - The Real Heartbeat
Wyne visited Gomersal Park Hotel on mon 15th July and talked about his experiences being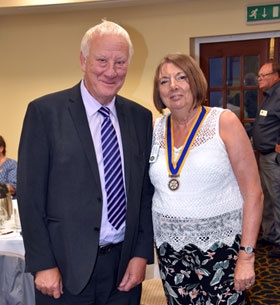 a PC for 15 years.
Wyne was born in East London and talked of his life his life as a PC in the Met. He talked of knowing the Kray family
Wyne transfered to being a PC in Ossett and the big differances between London and West Yorks.He talked of knowing Paul Sykes a big villan in Ossett and how he befriended Wyne.
Wyne joined the flying sqad as a driver and talked of his patrols on the A1 and chaseing cars.
After15years in the police he became area manager for BOSE.
Wyne talked of how friendly his new negbours were when he settled in Netherton and the big differance to his life in Dagenham.
Wyne took questions from members.

Patrician Waite Wright introduced Wyne knowing Wyne from being JPs.
Peter Wait Wright thanked Wyne on behalf of the club for his talk.
Wyne picued on left with President Elect Margaret.
------------------------------------------------------------------------------------------------------------
Rotary Club of Birstall Luddites
Club Speaker - Rotarian Jill Poole. - Club committee organisation.

Rotarian Jill from the Rotary Club of Mirfield came to the club to talk about the
changes that she has introduced at Mirfied RC in respect of Club committees..
She taked of the committee reorganisation, how it works the advantafes and differances to the old committee chairs and members system.
Secretary Paul thanked Jill and said how helpful her talk was to the club
in their path to replicating the new systam.

------------------------------------------------------------------------------------------------------------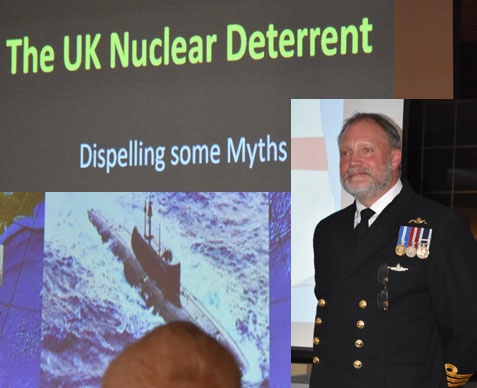 Rotary Club of Birstall Luddites
Club Speaker Paul Blyth Royal Navy.
The UK Nuclear Deterrent

Commander Paul Blyth came to the club and spoke of his life in the Royal Navy.
His talk "The UK Nuclear Deterrent - Dispelling some Myths". was a powerful look into the world of Nuclear submarines and the life of the crews who spent months underwater keeping their position secret so as to provide the UK with a Nuclear Deterrent.
Paul retired after serving thirty years in the Royal Navy, to a shore based role in
Whitehall advising the Cabinet Office on nuclear deterrent policy, having previously gained considerable experience on submarines of many types, culminating in him being a Commander of a Trident nuclear missile submarine.
He became Captain of a fast attack nuclear submarine armed with Tomahawk Cruise missiles and gave an outline of some of the many tasks undertaken, including anti-piracy, counter trafficking (slave trade), transporting of special forces and counter narcotics activities. A convincing case was made by Paul for the logic behind the policy of maintaining a nuclear deterrent. It was fascinating to learn of the degree of autonomy given to submarine commanders and of the many facets of "Mission Command" when the most crucial aspect was essentially to avoid detection and the great lengths which were taken to achieve this. The patrols last a considerable length of time and one of the most interesting parts of Paul's presentation was his account of everyday life on board, during the long period submerged, which in his case had included two Christmases spent underwater and the efforts made by the crew to provide appropriate seasonal entertainment.
Paul took Q&A from Rotarians and friends.
Past DG Rotarian Nigel Arthurs gave thanks on behalf or the club for a very impressive talk.


Below - Video of Nuclear Submarine life.
UTube video showing life iabord HMS Vengeance Nuclear Submarine.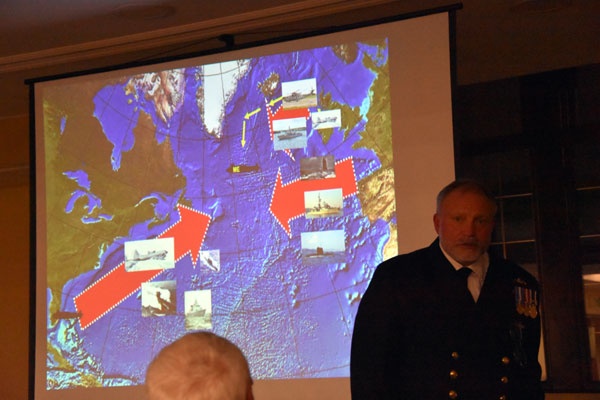 Paul showing an example of submarine shadowing.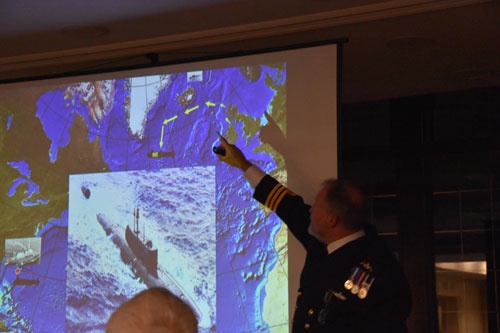 Pauls illustrations of staying undetected on their tours of duty.
-------------------------------------------------------------------------------------------------------
Rotary Club of Birstall Luddites
Rotary District 1040
Club Visit of District Governor Manoj
Birstall Luddites hosted a joint meeting at Gomersal Park Hotel Monday 9th Sept

with Inner 9 Rotarians from Dewsbury, Cleckheaton Morley Ossett and Mirfield
Rotary Clubs.
Manoj theme of

"fun, food and fellowship"

as Rotary District 1040 Governor 2019-2020 for the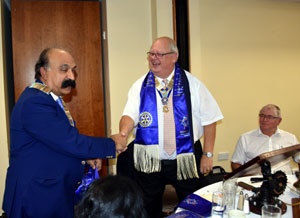 Yorkshire, Humberside and north Lincolnshire region, comprising of 102 clubs and 3000 Rotarian's.
DG Manoj Joshi and his Rotarian wife Bhavna. enjoyed a meal with gathered Rotarians.
Manoj started his talk explaining he was a Ugandan Indian, he fled in the Idi Amin crisis in 1972
where the South Asian minority were expelled.
He said England was the best country in the world
England gave sanctuary with no restrictions to the Ugandans
He joined Bradford RC in 1968.

Manoj addressed those present with an inspirational talk about raising the numbers of Rotarians and raising awareness of Rotary with public image and awarenessof
Rotary in all we do.
He plans to have a Hospice day showing how Rotary gives support and fund raising to local Hospices
He then kindly gave Rotary shawls, in vivid blue sporting the Rotary Wheel and his name and message, to the assembled Club Presidents, he suggested they could be a talking point, raising the profile of Rotary.

Past District Governor Nigel Arthurs gave thanks to Manoj for his talk on behalf of the assembled Rotarians.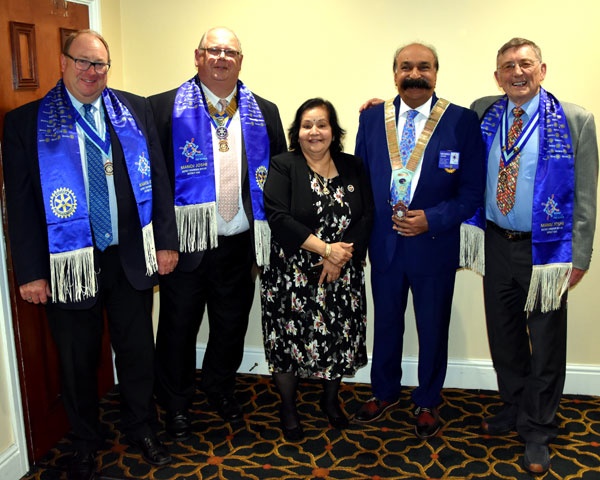 Pictuerd from left Past DG Nigel, Past DG and Birstall Luddite President Nigel, DG Manoj wife Bhavna, DG Manoj, and Past DG Robert.
--------------------------------------------------------------------------------------------------------
Rotary Club of Birstall Luddites
Club Speaker RYLA Candidate Bethany Marsden.
On Mon 30th Sept Bethany and her mum visited the club for Bethany to give
an update to the club of her week at RYLA.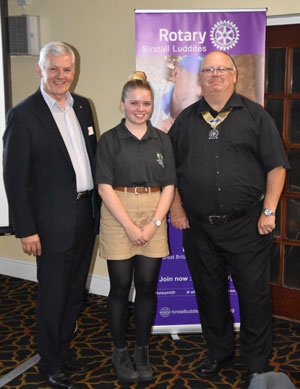 Bethany started telling Rotarians about the "ice breaker" exercises.
She explained that after each day her diary and her mentors report from Rosemary were given.
She spoke of the days starting with Rule Britania and 2hrs of exercise each day.
She spoke of the night exercises including when
they slept out.
On day 3 Bethany talked of her leadership role.
On Day 4 they traversed the river then Bethany leading stretch exercises.
On day 5 they built an inflateable raft with it rainin all day.
On day 6 they started at 04:30 doing double Jepardy exercise again the
day finished with a Disco at night.
Bethany thanked the club for the week at RYLA.
For the club Tony spoke of the students week at RYLA and how well Bethany
had done from the reports of her week.
Bethany pictured between Tony and President Keith.
---------------------------------------------------------------------------------------------------------------------
Rotary Club of Birstall Luddites
Club Speaker Micheal Scorgie
The sweet taste of success

Micheal is a member of the Rotary Club of Pontifract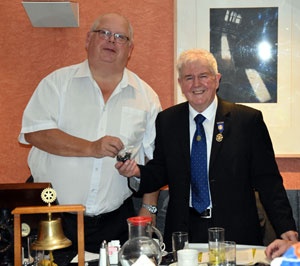 --------------------------------------------------------------------------------------------------------------------
Rotary Club of Birstall Luddites
Club Speaker Mike Adams - PhysioNeT
Mike is a member of the Rotary Club of Horbury & Ossett Phonix. Mike came and gave a talk about the Charity PhsioNet.
Physionet, a registered charity based in North Yorkshire, sends pre-used special needs children's equipment, wheelchairs, mobility items and some hospital hardware to developing countries around the world. Equipment is collected in bulk from NHS and local authority sites around Britain along with items from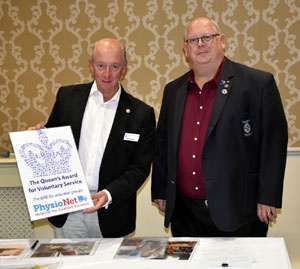 other healthcare addresses. Items are repaired if necessary and ready t



The Rotary Club of Saferon Walden help - He said that in 2017 the club's PhysioNet van had covered almost 17,000 miles to collect the equipment locally and deliver it to Yorkshire. This involved almost 30 trips to Yorkshire and over 70 other trips.

He noted that the club had collected over 120tons of equipment for PhysioNet in the past three years.



Mike said

In June PhysioNet was awarded The Queen's Award for Voluntary Service 2017. The award was created by The Queen in 2002 to mark her Golden Jubilee, to recognise excellence in voluntary activities carried out by groups in the community.

o use by the recipients.
Link Read all about PhysioNet
-------------------------------------------------------------------------------------------------
Rotary Club of Birstall Luddites
Club Speaker for Marie Curie Charity

Margaret Evans a Marie Curie Ambassador visited the club Mon 18th Nov and gave a talk about the
Marie Curie Charity. Margaret lives in Wetherby .
Marie Curie give patients end of life care in their home. Margaret talked of their vision of a better life for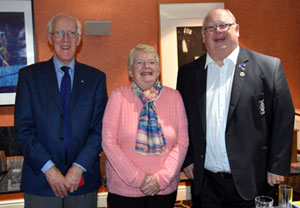 people and their families living with a terminal illness.
Their mission is to give to help to people and their families living with a terminal illness to make the most of the time they have together by delivering expert care, emotional support, research and guidance.
Their Nurses can give night care 10pm to 7am in at a cares home. Marie Curie have to pay the nurses £180 for the night care.They can also look after carers giving them a talk and guidance. The Nurses can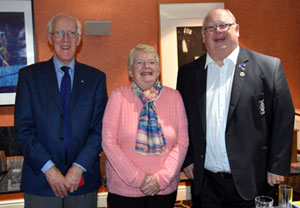 also give 3 hour care so as Carer can have a break.

Marie Curie have 9 Hospices. They are the largest charitable provider of hospice care outside
of the NHS in the UK. They offer inpatient and outpatient care and a broad range of day therapies
To stay for the day costs £70 and to stay overnight costs £400 and it costs Marie Curie £19K per year for a nurse. Our nearest is in Bradford.
In the Hospice it is most important to control pain, the Hospices having their own pharmacies.
They treat not only pure cancers but other health problems.
A big success Marie Curie is rolling out is the provision for day care with 4 visits a day
Marie Curie have a Help Line for emotional support and practical information about terminal illness, including for family and friends. It costs £150 million to run the Charity one third is supplied from the NHS.
There are 12000 volunteers and have local Fund Raising committees.
Margaret is part of the Wetherby group.
Margaret took questions from the Rotarians and John Broadhead who introduces Margaret thanked her for her talk and also spoke of the WW1 Ray lorries.

Marie Curie
was the first woman to win a Nobel Prize, in Physics, and with her later win, in Chemistry, she became the first person to claim Nobel honours twice. Her efforts with her husband Pierre led to the discovery of polonium and radium, and she championed the development of X-rays


At the start of of WW1 X-Ray machines were only found in city hospitals, far from the battlefields where wounded troops were being treated. Curies solution was to invent the first "radiological car"- a vehicle containing an X-Ray machine and photographic darkroom equipment - which could be driven right up to the battlefield where army surgeons could use the Rays to guide their surgeries.
LINKS --- Marie Curie X Ray vehicles
LINKS --- Marie Curie Charity
--------------------------------------------------------------------------------------------------
Rotary Club of Birstall Luddites
Club Speaker Vivienne Rawnsley Wellbeaning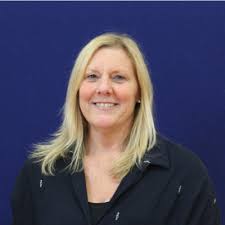 Vivienne spoke to the club about Wellbeung.
Vivienne promotes helping women release anxiety, breakthrough self doubt and reset their
mined set, to achieve increce confidence, freedom and success.
Also Hypnotherapy and Precision Coaching.
LINK Vivienne Rawnsley
--------------------------------------------------------------------------------------------------
Rotary Club of Birstall Luddites
Club Speaker Jeff Jacklin Life in the NHS
It only hurts when I laugh

Jeff Jacklin visited the club on 20th Jan and gave a talk about the NHS.
Jeff retired after serving for 30 years as an I.T. Director in a number of NHS Hospitals up and
down the country
Jeff gave many statistics on the NHS its size 138000 and more than 100 volunteer roles.It is the 5th largest employer in the world. Among the statistics he talked about the number of bed blockers and the reasons this occurs.
He talked of the 3 principles of the NHS, cradle to grave healthcre, All pay, all benefit, and Services free at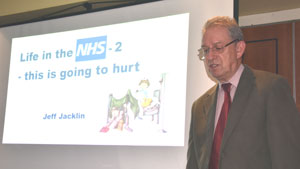 the point of delivery.
He talked of the Polio epidemic in 1958, the first hip replacement in 1962, the first transplant in 1968 and CT scans in 1972 and more.
He talked about the Architect of the NHS Welfare State WH Bevan.
Jeff talked of the factions that were against the founding of the NHs prior to its founding on the 5th July 1948.
Jeff showed a very moving Labour MP taking about the poor being unable to afford medical care pre NHS
A video showing Tony Hankock "The blood donor" and a very funny video of Ronnie Barker acting in the HNS,
John Sugden gave a vote of thanks to Jeffs on behalf of the club for his talk.
----------------------------------------------------------------------------------------------
Rotary Club of Birstall Luddites
Club Speaker - Milton Friary - Wheelchairs for Africa Charity.
On Mon 2nd March Milton came to Gomersal Park Hotel and gave a talk about the Charity
Wheelchair Foundation UK.

Wheelchair Foundation UK is a non profit organisation leading an international effort to create awareness of the needs and abilities of people with disabilities, to promote joy of giving, create global friendship and deliver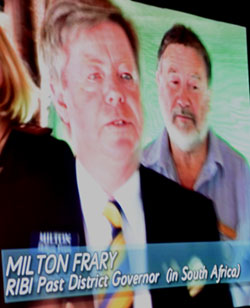 a wheelchair to every child, teen and adult in the world who needs one, but cannot afford one.

From the humble beginning in District 1040, Yorkshire with the goal to send one 40 foot container of 280 wheelchairs to Lesotho all 29 districts have been supportive in the sending, to date in excess of 33,000 wheelchairs to 30 countries.

Milton gave a short history of the Charity.
In 2001 at the RI Convention RI launched a joint venture with Ken Behring founder of Wheelchair Foundation a US organisation. With Kens assistance he launched in 2003/4 a separate UK
independent Wheelchair UK charity.
In 2007 Rotary INT in GB backed the Charity a special logo was drawn up as Wheelchair Foundation GB & I and this appears on all the wheelchairs that they fund..
efforts would be concentrated in Eastern Europe and Africa plus other deserving areas.~
Milton talked about 100 million without mobility causes - conflict, disease accident illness ageing and post polio syndrome. He talked about partnership in secondhand disability equipment working with Physionet to expand into wider communities.
The cost to build and deliver to its location is £95.

Rotary Foundation
Over the past 2 years we have been able to support the writing of 3 global grants and many district grants that has resulted in Clubs/Districts gaining funding from Rotary Foundation.Since 2004 the Foundation has donated in excess of US$900,000

| | |
| --- | --- |
| | |
Video showing what a good cause this charity is

LINKS - Wheelchair Foundation UK
--------------------------------------------------------------------------------------
Rotary Club of Birstall Luddites
Club Speaker - Ann Sutcliffe
Rotary Membership.
Ann is a member and currently President of the Rotary Club of Sowerby Bridge.
Ann hails from Southport and as worked as a Scientist Anne gives her time to environment causes having started in Environmental Chemistry and as worked in Law.
Ann discovered Rotary in Howarth and joined Howarth RC in 2013
and after 2/3 years moved to Sowerby Bridge RC.She as risen in Rotary gaining experience at District involved in 5/6 district conferances.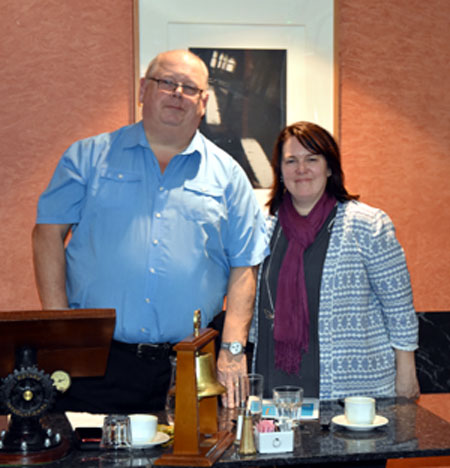 Ann talked of the worries of most clubs in the topic of membership.
She talked of Sowerby Bridge RC setting up a Business Network to help the Businesses get together
with the local council and government agencies to help with th flooding through to xx Valley
This led to 10 people from this setup coming and helping in Rotary projects.
Ann tried to project this to Birstall Luddite projects asking how we could replicate involving other local people to help with our club projects.
Ideas were put to the Luddites and Ian gave example of Birstall in Bloom and PPG
Ann talked about Cooperate Membership and how it works.
Keith thanked Ann for her talk and the ideas she brought forward..
-------------------------------------------------------------------------------------
Rotary Club of Birstall Luddites
Speaker Luddite John Keen
Zoom meeting.
Due to the Corovirus Rotary times John voluntired to be the first Club speaker using Zoom technology.
John was Club President in 1915/96.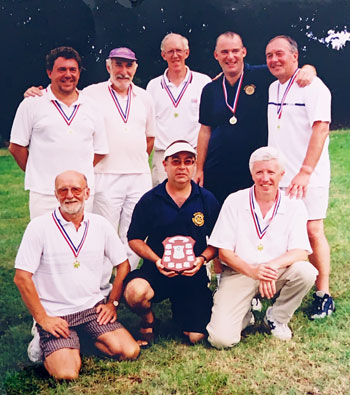 John spoke of his many involvements in Rotary events over the years .
John did a 75 mile march "Birstall to Scarborough Scramble 17th to 20th Oct 1995" from Birstall to Scarborough raising money for the Rendezvous Batley a local club helping mentally ill adults adjust to normal life.The walk was to the conference in Scarborough and was coordinated by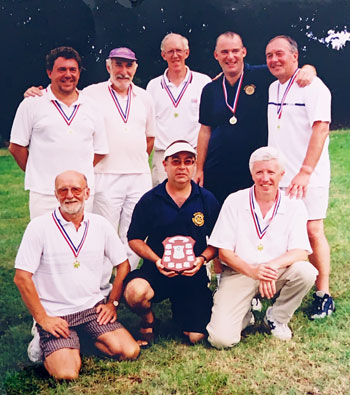 Robert Jackson.
The walk raised over £4000.
John talked of Luddites Sailing at sea, potholing, absailing , and dry stone walling.
He is pictured with the Luddites' successful Cricket team.
John talked of his visit to Sydney Australia for Englands Rugby World Cup victory and walking over the Sydney Harbour Bridge also the visit to Hong Kong 7s.
John talked of the startup of the Santa Sleigh.
In 2014 John sold his Retirement Home.
John talked of his travels in his motor home around Spain and Portugal and a long trip to Greece via a ferry sailing from Venice.

John can be seen top left in the Luddites cricket team.

---------------------------------------------------------------------------------------------------