H&W Rotary support for the Wheelchair Foundation
Amazing Local Community Response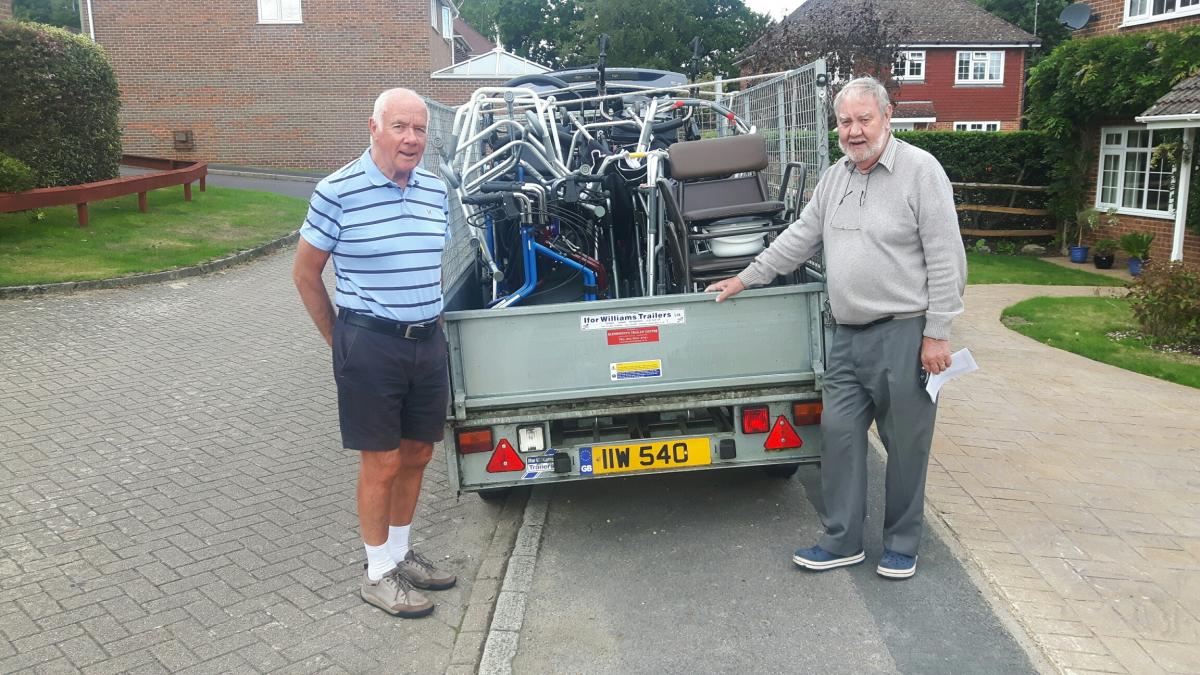 HYTHE AND WATERSIDE ROTARY SUPPORT WHEELCHAIR FOUNDATION UK
Maurice Rowles & Mike Fenn collect another load.
Our final equipt tally was;
14 Wheelchairs
13 3&4 Wheeled Walkers
13 Zimmer Frames
3 Toilet Frames
3 Commodes
1 Bath Seat
1 Knee Brace
6.5 Pairs Crutches
4 Walking Sticks(one multi-footed)
2 Ankle Boots
1 Leg Brace
2 Pairs of spare Wheelchair Foot Rests
Amazing Local Community Response
During lockdown, Hythe & Waterside Rotary were determined to keep busy and continue to support good causes. Following an appeal in the local press and on Facebook, we were delighted to receive donations of unwanted mobility aids, such as wheelchairs, walking frames and crutches that could be forwarded to the Wheelchair Foundation. This organisation then refurbishes or repairs as necessary so that they can meet their aim to ensure that every child, teen and adult in the world who needs a mobility aid, but cannot afford one, is able to have one.
The response from the local community was amazing and Hythe & Waterside Rotary would like to thank all those who supported this project. No further donations can be accepted.
In the past, Hythe and Waterside Rotary has taken part in the Yorkshire Tea Bar Code Scheme, which helps to buy and deliver wheelchairs across the globe to people in need. The club has now gone one step further and is appealing to the local community to donate unwanted mobility aids such as wheelchairs, walking frames, and crutches. The club will collect items and arrange for them to be forwarded to Wheelchair Foundation UK.
Wheelchair Foundation UK is leading an international effort to create awareness of the needs and abilities of people with physical disabilities. They aim to deliver a wheelchair to every child, teen, and adult in the world who needs one, but cannot afford one. As well as raising money to provide new items the organisation sources second-hand disability equipment and ensures they are in good order before delivering to where they are needed. This is where Hythe & Waterside Rotary plan to play an active part in supporting the project.
It is estimated that at least 100 million children, teens, and adults worldwide need a wheelchair but cannot afford one. The number could be as high as 6% of the population of developing countries. Bosnia, Ethiopia, Eritrea, Sierra Leone, and Mozambique have extremely high physical disability rates and with the improving quality of life in some countries, the needs of the elderly cannot be catered for. The Wheelchair Foundation UK delivers hope, mobility, freedom, dignity, and independence.